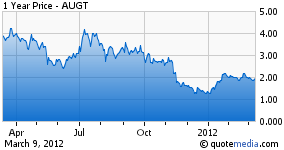 Augme Technologies (AUGT.OB), one of the mobile marketing emerging leaders took direct aim at its competitor Velti (VELT) on Friday. Augme Technologies filed suit for patent infringement citing three separate patents(6,594,691,7,269,636,7,783,721) on Friday in the Delaware courts.
Both companies have performed well year to date in my Mobile Market Index, Augme Technologies(+44%) and Velti(+44%). These new patent infringement assertions come on the heals of Augme's recent successful settlement with Lucid Media, settlement terms have not yet been publicly disclosed.
Late last week there was also another article, "The Real Winner in Yahoo vs. Facebook," related to Yahoo (YHOO), which Augme already has a trial date with in approximately just eight short months, after filing against Yahoo who acquired Blue Lithium for $300 million. The article illustrates how Augme could be on the verge of playing a major role in some of the large players quest to both enter the exploding mobile arena while also securing valuable foundational patents which could serve as a barrier to entry.
While some like Yahoo are now threatening to use their patents against others like Facebook, a strong defense means for a good offense where having your own patent portfolio can cause others to think twice.
In an ironic twist of fate, both Augme and Velti will be presenting back to back on Monday March 12th at the Roth Capital Partners 24th Annual Growth Stock Conference. While Velti executives were probably amply prepared for their presentation and audience questions, Augme may have sent them quickly back to the drawing board in preparation for the questions now soon to come. For instance, how much of your revenue is generated through the use of this patented technology and what should shareholders expect should the company lose?
In addition to this recently filed lawsuit against Velti, Augme also pre-announced their fourth quarter ending February 29, 2012. For the fourth quarter, recognized revenues were $5.1M compared to just $960K the prior year. Bookings climbed an impressive 23% from the third quarter. This growth comes with the quarter encompassing the two notoriously slow months of the year for the advertising industry, January and February. It should also be mentioned that just last week, Singtel acquired Amobee for $321 million, a fellow finalist with Augme's Hipcricket division in the GSMA's Annual Global Mobile Awards' last week in Barcelona.
"The way we value this company is not based on just the net tangible assets. We value this company based on what we think eventually it will be worth," said Allen Lew, SingTel's newly designated head of digital business. "The mobile marketing industry is embryonic, it has huge growth potential."

While patent infringement suits can be hard fought and take time, patent law is unique in that it provides that not only is the company selling the product infringing, but so are all their customers using it. Therefore, this suit not only affects Velti, but it also affects their customers potentially making them liable for infringement. With Augme having now stated its claim, one must consider the possible implications to Velti's growth going forward. This could prove to be a very powerful sales tool for Augme in further competitive situations. Generally large brands want to ensure they are fully protected from such a liability. Augme's patents would appear capable of fueling a migration of customers away from Velti, seeking the shelter and safety of Augme's only patented end to end mobile marketing platform. Investors would be well served to keep a close eye on both companies' financials going forward looking for early evidence of this issue playing a material role in both of their futures.
Disclosure: I am long AUGT.OB.