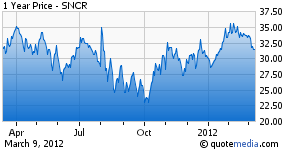 If you own a smartphone or tablet computer, you're probably using the slick software of Synchronoss Technologies (NASDAQ:SNCR). As their name implies, they synch up your e-mail account on your smartphone with your desktop computer among other things. Synchronoss does a lot of the heavy lifting that makes your life easier.
In a recent press release, the company explains: "With Synchronoss, operators can better manage bandwidth constraints by seamlessly switching subscribers between 3G, 4G and Wi-Fi networks for the best user experience without the complexities associated with finding a secure network and login procedures."
An Investor's Business Daily article adds to the conversation: "Their software activates wireless accounts and lets mobile phone users automatically transfer data, such as contact lists and calendar notes, to new devices. Wireless companies load mobile phones with Synchronoss software."
Their industry leading customers include service providers such as AT&T (NYSE:T), Verizon Wireless (NYSE:VZ) and Vodafone (NASDAQ:VOD), OEM/e-Tailers like Apple (NASDAQ:AAPL), Dell (DELL), Sony (NYSE:SNE) and Nokia (NYSE:NOK) and, cable operators like Cablevision (NYSE:CVC), Comcast (NASDAQ:CMCSA) and Time Warner Cable (TWC). According to the most recent 10-K: "These customers utilize our platforms, technology and services to service both consumer and business customers, including over 300 of the Fortune 500 companies."
Because of their strong relationship with Apple, I would think that when the much ballyhooed Apple TV is released, Synchronoss may be a beneficiary. However, one caveat to the stock is a disproportional dependence on the iPhone and AT&T. Granted, they have been doing business with Ma Bell since the formation of Synchronoss in 2001, and, they have a fairly big moat around them, but if they lose their contact with AT&T, the stock would get crushed.
Chairman, President and CEO Stephen Waldis addresses the problem in the February 7th, Q4 conference call: "... the diversification of our business was an important focus during 2011, and we are very pleased with the progress made. Our non-AT&T related revenue grew to nearly 50% of our total revenue for the year. That's up from 40% of our total revenue during 2010, and we expect continued focus, efforts and success on customer diversification in 2012."
One step Synchronoss has made to combat the overexposure to AT&T is the acquisition in early February of Miyowa. The purchase of Miyowa expands their existing mobility platform by adding powerful social networking device capabilities. This enables social and mobile to come together, delivering a significant unified and easy to use social experience for their Service Providers and OEM customers.
As the press release states: "Miyowa's customers include Tier One carrier Orange, as well as device manufacturers such as HTC, Samsung and ZTE. Additionally, the company has partnerships with the world's best known social networks and messaging providers, including Facebook, Twitter, Windows Live (NASDAQ:MSFT), Yahoo! (YHOO), Gtalk (NASDAQ:GOOG) and AIM (NYSE:AOL), many through privately accessible API's. The combined technology stacks will enable Synchronoss to enhance its cloud strategy across multiple devices and operating platforms." This gives them a big exposure to the Android operating system.
Although the company expects the acquisition to be at least neutral to its non-GAAP earnings per share for 2012, they have a history of reporting mind-numbing numbers that exceed analyst projections. Early last month, Synchronoss beat views and gave 2012 guidance above expectations. In fact, for 2011, they upped analyst numbers every quarter, and bettered the average estimate in December by a whopping 47%. This was probably primarily due to the popularity of Apple's mobile products.
Since its IPO in 2006, the company has been profitable, and, carries very little debt. Synchronoss currently trades at $31/share, roughly in the middle of their 52 week range of $22 on the low, and, $39 on the high side. Current fiscal year average earnings estimates are $1.10/share, and, for 2013, $1.31/share. These same analysts project earnings growth of 12.2% for 2012, 19% for 2013, and, a 5 year compound annual growth rate of 20%. These estimates may prove to be conservative if smartphone and tablet proliferation continues to grow at a rapid pace.
With a P/E ratio of 30, the stock might have gotten ahead of itself, which could account for its range bound performance the past 12 months. Synchronoss has moved sideways since the beginning of 2011 after an incredible 7X increase from the 2009 lows. Even a recent initiation of coverage as an outperform, and, an elevated price target of $41-$44/share by Wells Fargo (NYSE:WFC) didn't budge the equity.
The markets have come a long way in the past four months and are probably due for a correction. With a short float of 19%, Synchronoss can probably be bought for a reduced rate. That said, I really like this company and would like to add some to my portfolio because of their growing importance in the expanding mobile computer marketplace.
Disclosure: I have no positions in any stocks mentioned, and no plans to initiate any positions within the next 72 hours.