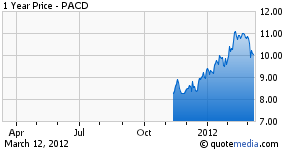 Pacific Drilling (NYSE:PACD) owns the newest and most technologically advanced fleet of ultra deepwater (7000 ft. +) drilling ships in the world. Three new ships are in service in the three core deepwater areas of the world: The Gulf of Mexico, Brazil and West Africa. Another ship is scheduled to begin operations in June. Two more are under construction. The fleet can drill in water depths up to 12,000 feet. It can drill wells as deep as 40,000 feet under the seabed. Three ships are designed for Dual Gradient drilling, a state-of-the-art technology which requires fewer casing strings than is the case with conventional deepwater drilling.
Deepwater oil and gas production has grown consistently in the last five years. Though day rates for deepwater rigs were temporarily cut in half during the recent economic downturn, 95% of the world's deepwater fleet continued in operation during that period. Rates have since rebounded. Seadrill's (NYSE:SDRL) CFO recently predicted that day rates for ultra deepwater drilling ships would exceed $600,000 this year. Three major oil and gas companies currently lease PACD drillships: Chevron (NYSE:CVX), Total (NYSE:TOT) and Petrobras (NYSE:PBR). Since over 40% of "floaters" (as these rigs are called) are more than 20 years old, the newest and best equipped vessels should experience strong demand for years to come.
Founded in 2006, PACD is led by a team of offshore drilling veterans with an average 26 years of experience in various aspects of offshore oil and gas drilling. The stock debuted on the NYSE on November 11, 2011 at $8.25. It closed on March 9 at $10.07. It currently trades at only 94% of book value. PACD's forward PE estimate for its fiscal year ending 12/31/12 is 12.28, according to Thompson-Reuters. Financing includes a judicious mixture of equity offerings and debt. As of March 1, debt was a reasonable 50% of equity - making PACD more conservatively financed than competitors Seadrill at 164% and Transocean (NYSE:RIG) at 85%. The company reported earnings of .04 per share in the latest quarter.
Many offshore oil services stocks have experienced strong appreciation since the October 2011 market bottom. As PACD becomes better known the value of its stock should not only reflect its sub-industry trends but also the premium quality of the company's management, equipment and strategy. Little of this premium appears to be reflected in the current stock price.
Disclosure: I am long PACD. I receive no compensation to write about any specific stock, sector or theme.