Apple (NASDAQ:AAPL) is the largest publicly traded company in the world and has completely transformed every industry it operates in. Steve Jobs' focus on innovation has permeated the company and created a commitment to consumers that has handsomely rewarded shareholders throughout the years.
I have recommended option strategies for Apple since 2010 with tremendous results (remember, past results do not guarantee future results). For reference, please view the first and other articles in the series to fully understand the strategy and its strong potential returns. In essence, the investment objective is to capitalize on Apple's volatility by selling out-of-the-money options to generate weekly income without sacrificing long-term returns.
right

A brief recap of this week in Apple [Down $.25 (-0.0%)]:
Apple announced the "resolutionary" new iPad on March 7th so surely you expected Apple to rise substantially during the week, correct? If you have been following Apple during product announcement weeks you would be able to recognize the pattern in which the stock rarely appreciates materially. If you were able to time Apple this week and either sell calls or puts you were able to substantially outperform Apple. For example, last week I sold March 9 545 calls at $8.98 and faced backlash for not being "optimistic enough" about Apple.
To put this trade in context, Apple would needed to reach $555 (a new all-time high) for me to have faced opportunity costs. Selling covered calls can cause you to forego profits in some weeks but other weeks when the underlying stock depreciates you can quickly make up for loss profits. Steve Sears has an excellent article that captures my investing strategy quite well: Moneyball. The majority of my portfolio is oriented towards hitting singles and doubles rather than homeruns and selling covered calls does exactly that. While volatility has died down after the new iPad announcement, the time value ratio on the at-the-money 545 monthly options is 1.23% versus less than 1% for a "normal" week.
Given that Apple will not have any major product launches until the next quarter's earnings release, you have an opportunity to continue to sell calls. I do expect to see a pop in Apple early this week as the market digests the iPad preorders and updates their models, but I would rather book my profits on covered calls than gamble all week. The speculation will return to whether Amazon (NASDAQ:AMZN) or Google (NASDAQ:GOOG) will respond to the new iPad with a competitive device but Apple did more than enough with the new iPad to hold off competition for the foreseeable future.
Investors who are betting on those companies to out-innovate Apple should refrain from holding their breaths. Tim Cook teased the audience at the iPad announcement by saying that "Only Apple could deliver this kind of innovation in such a beautiful, integrated and easy to use way. It's what we stand for" of the new iPad. "And across the year, you're going to see a lot more of this kind of innovation. We are just getting started."
Below I present three possible scenarios and the potential returns for the Apple options. The first scenario represents a negative outlook for Apple while the final two scenarios are more reasonable. These scenarios are just projections and there is no guarantee that they will come to fruition. Even if you are optimistic it is important to generate both positive and negative circumstances in order to stress your assumptions.
As a general rule, selling calls with higher strike prices has greater potential return but additional risk of loss due to the lower (or lack of) downside protection. For more information on the fundamentals of covered calls, consult Investopedia.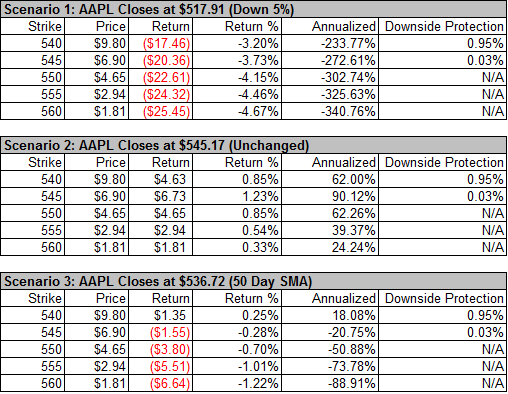 Additionally, if you would like even more information, I have prepared a sensitivity analysis for absolute return and percent returns, respectively. After studying the information above, these two charts make it easy to pick a strike price based on where you believe Apple will close at the end of the week. Estimate where you believe Apple will close and select the strike price with the highest return.

With this information, executing a buy-write on AAPL March 17 (Monthly) 550s is the optimal risk-return strategy. Please note that there is a higher probability of being called with these at-the-money options; therefore, you may wait to avoid them for tax purposes. Please consult with your accountant or personal financial planner.
If you are uncomfortable with this strategy I suggest a buy-write 540s, 545s, or 555s. Even if you are extremely bullish you can still profitably sell covered calls; Apple is volatile enough that you will have opportunities to repurchase on dips. An alternative approach is to sell out-of-the-money 540 puts and collect the premium without having to purchase the stock outright. Note that if the stock declines to the strike price, you are obligated to buy the stock (or closeout the position).