Jefferies Financial Group Remains Significantly Undervalued
Jefferies Financial Group (JEF) is still selling well below its inherent true value, even after publishing its latest financial statements. This article shows how we derived this true value calculation for the stock, building on the original analysis in our article in Seeking Alpha on April 23, 2019, "Jefferies Financial Group is Deeply Undervalued." Since that article was written, the stock rose 7% to $21.43 as of July 9, 2019. At that time, we argued the stock was worth $29.38 per share. Now we believe the stock is worth at least $32.08 per share.
On July 3, 2019, JEF published its financial statements, including its book value and tangible book value, which rose 1.37% to $33.98 per share (book value per share) and up 2.21% to $25.88 per share (tangible book value):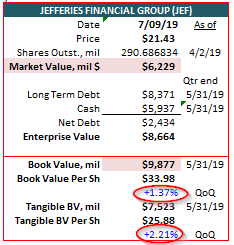 Source: Hake computations, based on SEC filings July 3, 2019, by Jefferies
So JEF is still trading well below its book value and tangible book value:

Source: Hake
In addition, on a historical basis, as I pointed out in the last article, the stock is still trading well below its historical levels of Price/Book Value, Price/Tangible Book Value and its historical Dividend Yield: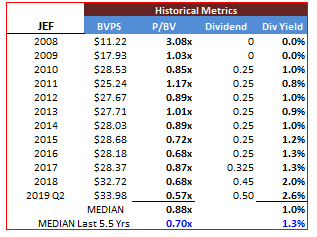 Source: Hake
Valuation. Based on these ratios, the updated valuation for JEF can be computed:


Source: Hake estimates
These tables show that the updated valuation estimate for JEF is $23.98 based on the historical P/BV (using a ratio of 0.70x for the past 5.5 years), and $38.29 based on historical dividend yield (using a 2.3% average dividend yield for the past 5 years). In addition, using the historical price/tangible book value, the stock should be trading at $27.05 (using a historical ratio of 1.05x).
Sum-of-the-Parts (SOTP). I also computed a simplified SOTP value, using JEF's own updated analysis of its private equity holdings (which it calls its merchant bank portfolio) and adding those to its investment bank and asset management businesses: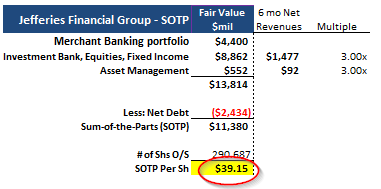 Source: Hake estimates
Based on this analysis, the stock is worth $39.15 per share. So, averaging all four of these values, the median valuation for JEF is $32.08 per share, or 50% higher than today's price: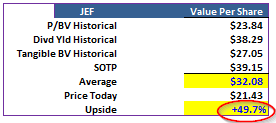 Source: Hake estimates
Catalysts
Buyback Program. JEF continued its significant share repurchase program this past quarter, buying back 7.8 million more shares for $150 million at an average price of $19.33 per share. So far in this fiscal year, JEF has repurchased 17.4 million shares or 5.6% of its prior shares outstanding. This represents an annualized buyback rate of 11.3% per year:

Source: Hake
The company emphasizes that from January 1, 2018, to May 31, 2019, it has made repurchases worth $1.7 billion, which represents 17% of shareholders equity or 23% of tangible equity. Its common shares outstanding have fallen by 18% during that time, and fully diluted shares outstanding have been reduced by 16%. Even with that amount repurchased, the parent company says its net liquidity is still $1.3 billion as of May 31, 2019. In addition, the company says it will continue its share repurchases:

Source: Jefferies SEC filing: 7-3-19 Results of Operations and Financial Condition
This statement says that the company could buy up to an additional $336 million based on its share repurchase authorization presently in force.
The net effects of these share repurchases are to increase its earnings per share, increase its stated and tangible book value per share, and potentially increase its dividends per share if the same amount of dividends or higher amounts are paid. These are significant catalysts which could push the stock to its inherent true value, as measured in the section above.
Summary
Jefferies Financial Group continues to be worth significantly more than its present stock price, which we estimate to be at least $32.08 per share, or 50% higher than the price on July 9, 2019. The company's share repurchase program represents a real catalyst that could help push the stock to that true value price.
Disclosure: I/we have no positions in any stocks mentioned, and no plans to initiate any positions within the next 72 hours. I wrote this article myself, and it expresses my own opinions. I am not receiving compensation for it (other than from Seeking Alpha). I have no business relationship with any company whose stock is mentioned in this article.