After a brief summer vacation and now catching up on some market research, recent fund flow data caught my eye. In this week's ICI fund and ETF flow/issuance report, equity outflows totaled a sizable $28.8 billion. Of this amount, $25.2 billion represents outflows from U.S. domestic funds and ETFs. This is the second week in a row that equity flows have been negative. On the receiving end, bond funds and ETFs had inflows of $10.4 billion for the six-day period ending July 2 and inflows of $10.5 billion in the prior week. ICI data is reported with a weekly lag. More current Lipper flow data is showing equity outflows continuing for the week ending July 10. This flow data makes it difficult for me to believe the equity market has reached a top. That does not mean one will not see equity market pullbacks, but investors seem far from 'all-in' as they say.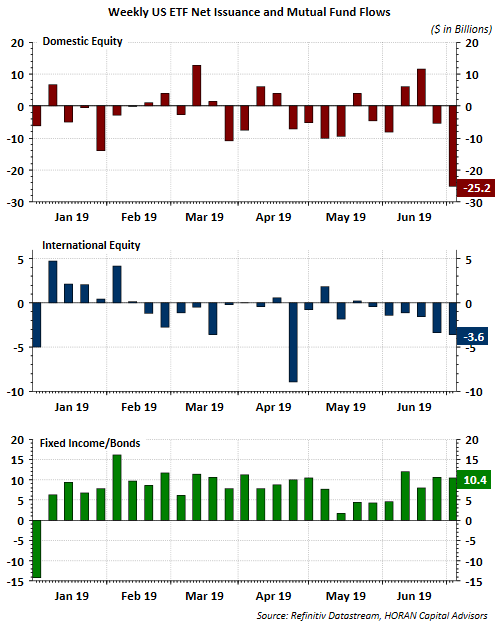 Individual investor bullish equity sentiment data is also indicating a cautious investor. This week's Sentiment Survey by the American Association of Individual Investors (AAII) reports bullish investor sentiment at 33.6%. The less volatile 8-period moving average of the bullish sentiment is reported at 27.9% and more than one standard deviation below its long run average. For the most part, market tops have not been associated with this low of a level in bullish equity sentiment.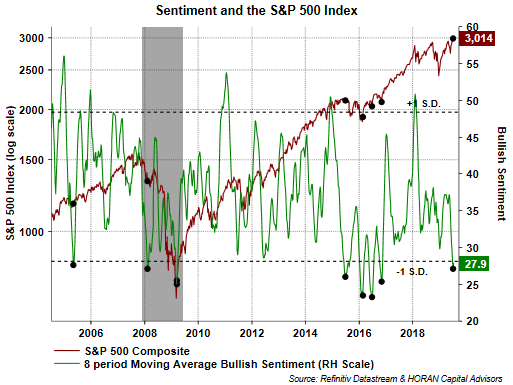 Year to date, the S&P 500 Index is up 21.5% on a total return basis with a large part of the return a recovery from the 13.5% decline in the fourth quarter of 2018. In fact, since the end of January 2018, the S&P 500 Index is up only 4.9% over the last nearly year and a half. It would not be a surprise for the market to digest its recent gains, and with second-quarter earnings season set to begin next week, there is the potential for an increase in market volatility. Nonetheless, few seem to have expected the market action that has occurred so far this year and further upside may result from buyers fearing they might miss out on a continued rally in the second half of the year.
Editor's Note: The summary bullets for this article were chosen by Seeking Alpha editors.