VeriFone Systems (NYSE:PAY) is a $5.37 billion mid-cap company that produces the countertop electronic payment systems that we swipe our credit and debit cards. These systems accept: magnetic, smart card, contactless RFID cards and NFC enabled mobile phones, secure PIN pads and more. It also offers various hardware and software for vending machines, gas pumps, ATMs, ticketing kiosks, public transportation turnstiles, self-checkouts, taxis and more.
The company looks fairly valued right now as the stock is trading at 15.56 times forward earnings. The PEG ratio sits attractively under one at 0.80 and the price-to-book ratio is 4.46.
(Click chart to expand)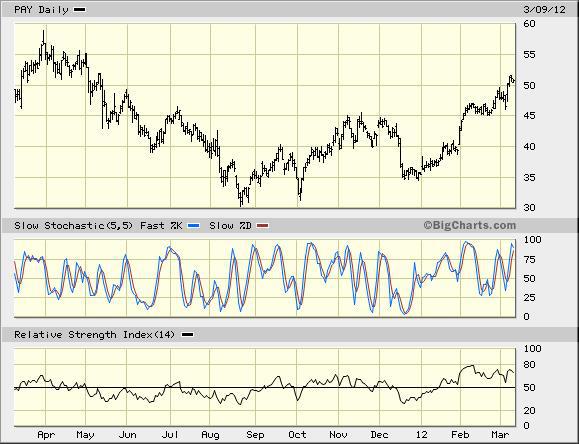 The company reported great results in its fiscal Q1 2012 earnings report. International operations increased an impressive 96% year over year. Latin America increased 100% year over year. VeriFone is seeing increased interest by banks in countries such as: Columbia, Venezuela, and Mexico, to offer debit and credit cards for its PAYware CMS software and its managed service offerings.
Revenue grew 102% in Europe, the Middle East, and Africa over Q1 last year. This was driven by strength in the United Kingdom's retail sector, sales to Absa Bank and retailer ASA in Africa, and sales in Saudi Arabia and Kuwait.
Asia saw an increase of 73% over last year. Sales strength was largely attributed to China UMS, the Agricultural Bank of China, and Citibank and Axis Bank in India.
Sales in North America were down 7%. However, the company expects to return to single-digit growth rates in this region starting in Q2 2012.
VeriFone has a secure interactive media player for taxi cabs that provides riders with the following content: sports, news, comedy, restaurant reviews, etc. The system also allows riders to play the lottery and print coupons.
The company gained retail sales in the following stores: Pacific Sunwear (NASDAQ:PSUN), Chicos (NYSE:CHS), Finish Line (NASDAQ:FINL), and Petco. These stores were fitted with pay systems for multi-line registers.
Opportunity for Future Growth
VeriFone is partnering with Link3 to create a nationwide network to process lottery transactions in all 44 lottery station states. Pennsylvania, will be the site of the first pilot program during the second quarter.
VeriFone has identified an opportunity in over 2 million points-of-sale in the U.S. These are various businesses such as hotels, rental counters, airlines, restaurants, etc. that currently accept credit cards but do not have the customer facing devices that VeriFone offers. The company also feels that the future for restaurants is pay-at-the-table devices. These portable devices will eliminate the unsecure feeling of handing over your credit card to a server who takes it out of sight to be swiped. VeriFone estimates that the total U.S. market will increase 50% over the next three to four years.
Isis, a mobile application that allows customers to pay using their handheld devices, is another area of opportunity. Isis is a joint venture with AT&T Mobility (NYSE:T), T Mobile USA, and Verizon Wireless (NYSE:VZ). This system is being tested in Salt Lake City and Austin, Texas.
Future Earnings
VeriFone has 13 upward earnings revisions for 2012 and 11 for 2013. It has grown earnings annually at a healthy 16.2% in the last five years and is expecting to grow at an even healthier 24.13% for the next five years. It is likely that the upward earnings revisions will lead to positive earnings surprises. The company did exceed earnings estimates in its last four quarters.
If VeriFone can meet or exceed its current earnings growth estimates, the current stock price of $50.72 can reasonably triple to around $150 in five years. The stock looks a little overbought in the short term, so I would wait for a pullback before jumping in.
Disclosure: I have no positions in any stocks mentioned, and no plans to initiate any positions within the next 72 hours.