Everyone wants to find the next biopharma that is poised for a huge 10 bagger gain or more. We all know how hard that is to do, with many promising developmental bio-pharmas never quite getting off the ground.
Ariad Pharma (ARIA) is one company that has gone from around $1.20 a share to the $14.50 a share range where it trades today, in exactly 3 years. Ariad has yet to bring a drug to market, but they could have an FDA approval coming by the end of this year with its drug Ridaforolimus, which will be marketed and sold by Merck (NYSE:MRK). I have traded Ariad many times in the past and made good money with it. I also wrote a feature article about it not too long ago.
Dendreon (DNDN) also traded below $5 a share 4 years ago, and made a parabolic move to over $57 a share before settling back to the range it is trading at today. Granted, both Dendreon and Ariad develop cancer drugs, which gives them extra speculation value. Dendreon actually has Provenge on the market, but failed miserably originally marketing the drug correctly. I believe Dendreon might have worked out a lot of its issues, and should trade higher by the end of this year, albeit not much higher than its current price range, barring a buy-out which I think is very possible.
Acadia Pharmaceuticals (ACAD) is the feature company of this article that I believe has a great chance to make a move similar to Ariad's. I have been studying its business model and drug pipeline, and although all is not peachy, as evident by the price per share being $1.65, the upside potential is huge, while the downside risk from the current price is minimal in my opinion. First, let's take a look at the company's key drug.
Pimavanserin potentially could be a real blockbuster. There have been pros and cons with it to date though and I will get to all of these in this article. The drug is currently in phase III clinical trials. The drug is a potential first-in-class treatment for patients with Parkinson's disease psychosis (NASDAQ:PDP). Pimavanserin is a small molecule that can be taken orally as a tablet once-a-day. Pimavanserin selectively blocks the activity of the 5-HT2A receptor, which plays an important role in psychosis.
PDP is a debilitating psychiatric disorder that occurs in up to 40% of patients with Parkinson's disease and is associated with increased caregiver burden, nursing home placement, and increased mortality.
Acadia has to date selected Pimavanserin primarily to target PDP. However, the company did report a set back in 2009 in this goal with the phase III efficacy data on Pimavanserin.
The company stated that Pimavanserin did not meet its primary endpoint of antipsychotic efficacy as measured using the Scale for the Assessment of Positive Symptoms, or SAPS. Pimavanserin met the key secondary endpoint of motoric tolerability as measured using the Unified Parkinson's Disease Rating Scale, or UPDRS. Pimavanserin was safe and well tolerated, with the frequency of adverse events generally similar in the pimavanserin and placebo arms.
The primary endpoint of the study was the mean change in SAPS scores at day 42 compared to baseline for each of the two pimavanserin treatment arms versus placebo. Patients showed marked improvements in the SAPS scores across all study arms. Mean reductions in SAPS scores were 5.9 points in the placebo arm, 5.8 points in the 10 mg pimavanserin arm, and 6.7 points in the 40 mg pimavanserin arm. Statistical significance was not achieved in either pimavanserin arm primarily due to the larger than expected improvement in placebo-treated patients.
The above certainly seems like bad news. The placebo appears to have done just as well as the 10mg drug arm in terms of treating PDP. Any time we are dealing with something as subjective as a mental debilitation such as PDP, it is going to be hard to show an actual drug will do better than a placebo, since the power of suggestion is far greater with patients who suffer from these type of disorders. Biosante's (BPAX) Libigel, a drug candidate for the treatment of Post menopausal female sexual dysfunction, suffered a severe setback with its phase 3 efficacy data. While the gel worked in terms of delivering testosterone (thought to be the cause of a lack of sexual desire in these women), the placebo proved to be just as effective in producing positive results. I clearly see a subjective result being obtained here with both of these drugs. In Biosante's case, if they are able to restructure another Phase III study of Libigel and properly engage the study, Libigel may eventually have a chance to succeed.
Biosante's current problem is a lack of money and in my opinion, poor management. In contrast, Acadia has good management and plenty of money to see Pimavanserin through the clinical trial process.
On 7/29/2010, Acadia announced that it initiated a new Phase III trial designed to evaluate the efficacy, tolerability and safety of pimavanserin as a treatment for patients with PDP.
This Phase III trial builds on the signals of efficacy observed in our earlier PDP studies and uses a refined study design that we expect will help mitigate the placebo response, reduce variability and enhance sensitivity in measuring the efficacy of pimavanserin in PDP patients, said Uli Hacksell, Ph.D., Chief Executive Officer of ACADIA Pharmaceuticals. "We believe pimavanserin has an ideal profile to effectively treat PDP without impairing motor function and, therefore, provides the potential for an important advance in therapy for patients suffering from this large unmet medical need.
Trial Design:
The new Phase III trial (the -020 Study) is a multi-center, double-blind, placebo-controlled study designed to evaluate the efficacy, tolerability and safety of pimavanserin in patients with PDP. The -020 Study is expected to enroll about 200 patients at clinical sites located in North America. Patients in the trial will be randomized on a one-to-one basis to two study arms and will receive oral doses of either 40 mg of pimavanserin or placebo once-daily for six weeks. Patients also will continue to receive stable doses of their existing dopamine replacement therapy used to manage the motoric symptoms of Parkinson's disease. The primary endpoint of the -020 Study is antipsychotic efficacy as measured using a group of nine items from the hallucinations and delusions domains of the Scale for the Assessment of Positive Symptoms (SAPS). The primary endpoint will be assessed using centralized ratings. Motoric tolerability will be a key secondary endpoint in the trial and will be measured using Parts II and III of the Unified Parkinson's Disease Rating Scale (UPDRS).
This new phase III clinical seems to be better targeted than the first one was in 2009. Acadia has the money to fund this trial through various collaborations with larger pharmas. The good news for investors with Acadia is there are no warrants outstanding that I can find at this time. Share holder dilution has been held to a minimum, which is the number one reason these lower priced small caps fail; toxic financing via excessive convertible notes. Once this process is accelerated, share holders almost always end up holding a permanent bag.
Acadia is ahead of most small cap bio-pharmas in this area, which is huge plus here.
| Acadia Financial Highlights | |
| --- | --- |
Fiscal Year
Fiscal Year Ends:
Dec 31
Most Recent Quarter (mrq):
Sep 30, 2011
Profitability
Profit Margin (TTM):
31.66%
Operating Margin :
31.43%
Management Effectiveness
Return on Assets :
19.91%
Return on Equity :
83.49%
Income Statement
Revenue :
36.88M
Revenue Per Share :
0.76
Qtrly Revenue Growth (yoy):
-74.60%
Gross Profit :
42.14M
EBITDA 6:
12.04M
Net Income Avl to Common :
11.68M
Diluted EPS :
0.24
Qtrly Earnings Growth (yoy):
N/A
Balance Sheet
Total Cash (mrq):
36.15M
Total Cash Per Share (mrq):
0.69
Total Debt (mrq):
37.00K
Total Debt/Equity (mrq):
0.13
Current Ratio (mrq):
5.74
Book Value Per Share (mrq):
0.53
Cash Flow Statement
Operating Cash Flow :
-9.95M
Levered Free Cash Flow :
4.66M

The above is from Q3, 2011; Acadia just released its earnings a couple of days ago for Q4, 2011 and year end results;
The company reported a net loss of $5.3 million, or $0.10 per common share, for the fourth quarter of 2011 compared to net income of $29.1 million, or $0.74 per common share, for the fourth quarter of 2010. The financial results for the fourth quarter of 2010 were primarily attributable to revenues recognized in connection with concluding Acadia's collaboration with Biovail in October 2010. For the year ended December 31, 2011, Acadia reported a net loss of $22.8 million, or $0.44 per common share, compared to net income of $15.1 million, or $0.39 per common share, for 2010.

At December 31, 2011, Acadia's cash, cash equivalents and investment securities totaled $31.0 million compared to $37.1 million at December 31, 2010. Acadia expects that its current cash, cash equivalents and investment securities, together with anticipated payments from its existing collaborations, will be sufficient to fund its operations at least into the second quarter of 2013.
I listened to the conference call for the Q4 earnings, and after listening, I feel strongly this company's stock is grossly undervalued based on its deep pipeline and partnerships/collaborations.
Acadia's strong partnerships are a bullish factor for me, notwithstanding 2 large pharma funding studies.
This is rather impressive considering Acadia is purely a developmental bio-pharma. Ariad had far worse numbers 3 years ago.
Acadia Share Statistics
Avg Vol (3 month):
319,090
Avg Vol (10 day):
188,150
Shares Outstanding:
52.80M
Float:
38.95M
% Held by Insiders:
7.37%
% Held by Institutions:
55.20%
Shares Short (as of Feb 15, 2012):
923.28K
Short Ratio (as of Feb 15, 2012):
1.90
Short % of Float (as of Feb 15, 2012):
N/A
Shares Short (prior month):
118.32K
Acadia is grossly undervalued in my opinion considering many favorable factors, especially in forward speculation. It's current market cap of around $82 million should be double along with the stock price.
The institutions seem to agree, holding a substantial 55% position in the company. This is very rare to see this kind of institutional ownership in a stock selling under $5 a share. This tells me there is a high rate of philantrophist investors in the company's stock, yet another huge positive in my opinion.
In 3 years, Acadia has added roughly 20 million shares to its outstanding share pool. As I remarked earlier, this is a very low rate of shareholder dilution for a 3 year time period where developmental bio-pharmas are concerned. In part, this explains the positive Return on equity (ROE) numbers we see in the company's valuation metrics.
Other Pipelined Drugs:

In collaboration with Allergan, Acadia is developing a new class of small molecule product candidates for the treatment of chronic pain. Chronic pain is a common form of pain that persists over time and is often resistant to medical treatments.
Chronic pain may be related to a number of different medical conditions, including diabetes, arthritis, migraine, fibromyalgia, irritable bowel syndrome, cancer, shingles, and previous trauma or injury. Hypersensitivity is a common feature of many chronic pain disorders, including fibromyalgia and irritable bowel syndrome.
Allergan has conducted several Phase II trials in this program, and has reported preliminary results from its Phase II program, including positive proof-of-concept in a visceral pain trial in patients that had hypersensitivity of the esophagus, and efficacy signals in two chronic pain trials in the areas of fibromyalgia and irritable bowel syndrome. Allergan has announced that it is seeking a partner for the further development of this program and for commercialization in areas predominantly served by general practitioners.
On March 5th, 2012, Acadia extended its drug discovery and development collaboration in the area of ophthalmology with Allergan (AGN) for an additional year through March 2013. Allergan appears to believe in the drug tech Acadia is working on, so much so, they agreed to fund the company for another year in this area, and in my opinion it is likely it will continue to fund Acadia.
Allergan is a huge pharma that does not just fund anyone. It sees potential in the tech Acadia is working on, and so do I.
In collaboration with Allergan yet again, Acadia is developing AC-262271, a small molecule product candidate for the treatment of glaucoma. Glaucoma is a chronic eye disease and is the second leading cause of blindness in the world. Allergan is conducting Phase I development with AC-262271.
In collaboration with Meiji Seika Pharma, Acadia is developing AM-831 for the treatment of schizophrenia and related disorders. AM-831 is a novel and orally available small molecule that combines muscarinic m1 partial agonism with both dopamine D2 and serotonin 5-HT2A antagonism.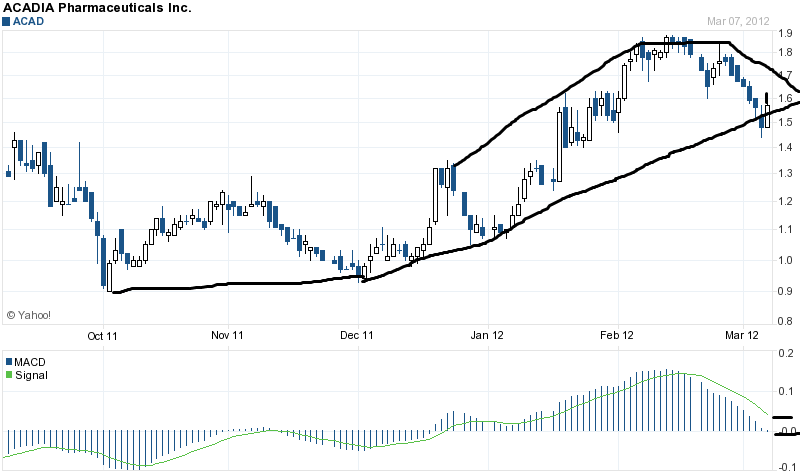 The chart shows a longer term uptrend and a bottomed out shorter term MACD and signal. Some traders might see a forming head and shoulders pattern, but I do not because of the angle of the longer up-trend. The pattern I see now is more indicative of the November 2011 down-trend in my opinion. Many traders with Antares Pharma (AIS) made the mistake of reading a bear pattern in that chart, when I wrote a break-out was on the horizon in a my article from a few days ago. Antares was $2.59 the day I wrote that article. On 2/8/12, The Antares stock made a new 52 week high of $2.97, exactly where I drew the line in the chart in that article.
The Acadia stock would have to break down under the $1.30 level to confirm a possible head and shoulders pattern. What I see now on the chart is a possible beginning of an inverted head and shoulders pattern.
I see a short term move to $1.80 on the horizon. The stock has a relatively low float coming in at around 39 million shares, so volume to the upside should see a faster appreciating stock price. I feel once the market does deeper due diligence on Acadia, the stock should see a move to around $2.25 in the next month or 2.
Acadia has a 52 week price range of $0.90 - $3.30, so the stock is trading closer to the bottom end of this range.
My Conclusion: Acadia will be at least trading near $3.25 within one year in my opinion. Since large pharmas and institutions appear to be bullish on Acadia, then so am I. I also think Acadia is a strong acquisition target for a larger pharma, perhaps Allergan. Paying a premium for Acadia would still make it cheap for Allergan or any other larger pharma to acquire. I believe the bio-pharma sector will see a heavy amount of consolidation over the next 5 years, mainly because large pharmas are losing a record amount of patents in that time frame.
Acadia is strong Speculative buy in my opinion, with a short term target price target of $1.80, a 1 year price target of $3.25, and a 3 year price target of $12.
Disclosure: I am long AIS
Additional disclosure: This article is intended for informational and entertainment use only and should not be construed as professional investment advice. Always do you own complete due diligence before buying and selling any stock.