Interest in the hepatitis-C space has been hot since the euphoria of Big Pharma's acquisition of Inhibitex (NASDAQ:INHX) and others began to spread further in early January. Smaller biotechs are being snapped up by larger pharmaceutical companies driven by the need to pump up their product pipelines.
Last November, Gilead Sciences (NASDAQ:GILD) bought Princeton, NJ-based Pharmasset for $11 billion for the next generation of hepatitis-C treatments. Vertex Pharmaceuticals, working with Merck, is offering a pill for hepatitis-C, but it has to be taken three times a day though stands the chance to make $2 billion in a couple of years, when approved.
Then there was the Bristol-Myers Squibb (NYSE:BMY) acquisition of Inhibitex for $2.5 billion and Roche's (OTCQX:RHHBY) purchase of Anadys Pharmaceuticals for $230 million. Let's not forget that Novartis (NYSE:NVS) and Enanta Pharmaceuticals are in collaboration to develop and sell a brand-new hepatitis-C inhibitor for nearly $500 million.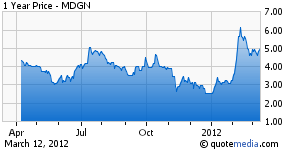 When one looks at Medgenics (MDGN), at a market cap of only $46 million, we have have to wonder how a company with an innovative approach to treating hepatitis-C would not be of interest to a bigger pharmaceutical partner or buyer. The firm has a very unique way to treat the disease which may not have been recognized by investors yet, but we're betting that will soon change.
Last month when shares were trading at around the $3.50 level, we made a case for the disruptive technology being developed by Medgenics, focusing on the value it has for the $90 billion protein therapy market that is projected to grow to over $130 million over the next several years. Shares nearly doubled after that report and have since seen a healthy pull back.
We've looked specifically at Medgenic's EPODURE product, a proprietary biopump that produces erythropoietin within the patient's own body, now in Phase I/II clinical trials to treat anemia in chronic kidney disease. The anemia market is dominated by Amgen's Epogen that carries with it a high price tag and serious side effects.
Now we'd like to draw attention to another of Medgenic's products in development, using its biopump technology - INFRADURE, that produces interferon-alpha and is currently in the preclinical stage for the treatment of hepatitis-C. In the U.S., hepatitis-C ranks second only to alcoholism as a cause of liver disease and is the leading reason for liver transplants. The Center for Disease Control and Prevention estimates that 3.2 million people in the U.S. have chronic hepatitis-C (far out-passing HIV) and costs due to treating the disease now exceed $600 million each year, with a projection of growing to $11 billion in 2019.
Interferon, or the more popular form, peginterferon-alpha, is usually used in combination with ribavirin, another antiviral medication. Treatment is expensive, around $20,000 per year for a 48-week injected dose, which puts it out of reach in developing countries where it is badly needed. Further, only 50% of patients benefit. There is clearly a medical call for a cheaper and more effective drug.
Medgenic's INFRADURE provides an answer. Like EPODURE and other products under development, INFRADURE uses Medgenic's biopump platform technology where the patient's own tissue, taken during a biopsy, is processed then inserted into the biopump to continuously produce and deliver interferon-alpha, a natural protein produced by the body. Also like EPODURE, this approach would eliminate weekly and expensive injections, particularly since Hepatitis-C progresses very slowly.
Two drugs are on the market to treat hepatitis-C: Pegasys, made by Genentech and PEG-Intron, made by Schering-Plough. Both are meant for weekly injections. Both are very similar and meant to be used in combination with ribavirin. Side effects for this combination are startling, the most reported ones being mental illness, thoughts of hurting or killing yourself or others, unusual thoughts or behaviors, the compulsion to use street drugs if they had been used in the past, alcohol abuse, and aggressiveness. Heart disease and autoimmune disorders are also common. Pegasys and PEG-Intron used with ribavirin causes birth defects or death in an unborn baby.
For example,the FDA's review of Schering Plough's application for PEG-Intron included a number of patients that either committed or attempted suicide, murdered others, relapsed to drug or alcohol addiction, and underwent severe depression. As we mentioned, heart attacks and heart valve disease also appeared, as well as lupus, extremely low red blood cell count, kidney failure, partial blindness, and hearing loss.
INFRADURE will go into human clinical trials in the first half of this year. Based on laboratory and animal data that reported up to six months of consistent delivery of interferon-alpha, Phase I clinical trial results should show efficacy based on results seen with EPODURE.
We draw your attention to the value of Medgenic's platform technology. Besides anemia and hepatitis-C, Medgenic's product is being designed for use in hemophilia, multiple sclerosis, arthritis, obesity and diabetes.
We advise our readers to watch this company going forward as we continue to expect even more bullish developments and positive news flow going forward.
Disclosure: I have no positions in any stocks mentioned, and no plans to initiate any positions within the next 72 hours.