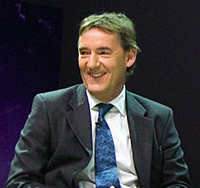 While Bloomberg warns of $160/barrel oil and Brent North Sea prices pass $125/barrel, the inventor of the term "BRIC" - Brazil, Russia, India, China - wants you to consider another possibility.
How about $80/barrel oil, asks economist Jim McNeill of Goldman Sachs Asset Management. (Picture from Wikipedia.)
The natural supply-and-demand for oil over the next five years would indicate a mean price of $80-100/barrel, he believes, and a war with Iran seems to make sense for no one, even Israel. Given that, he told a UAE business paper, The National, "between now and the summer, whatever premium is in the market because of this issue, it is quite feasible it will decline or be removed."
O'Neill's words were given as a warning to the Gulf States, which have based their budgeting on $100/barrel oil, and he also noted there have been no great capital inflows to the Gulf recently, another indication sentiment may have topped-out.
But as bad as lower oil prices might be for that region, what might they mean for the rest of us?
Analysts at the Koch Brothers' Cato Institute have begun arguing that the Iran threat is exaggerated, which may further cool oil prices in the short run.
What could mean for your portfolio?
It could mean that buying manufacturers and other energy users like Ford (NYSE:F) and GM (NYSE:GM) makes more sense than buying energy producers - even renewable energy producers like First Solar (NASDAQ:FSLR) or gas producers like Chesapeake Energy (NYSE:CHK). And, indeed, manufacturing employment continues to rise, according to the Bureau of Labor Statistics.
It might mean banks like Wells Fargo (NYSE:WFC) and retailers like Walmart (NYSE:WMT) make a lot more sense than you think.
Lower oil prices, which gulf analysts now expect, may mean economic growth projections for the rest of the year could be taken up from their current estimate of under 3%, and unemployment estimates might be taken down. The latest non-farm payroll number was plus 227,000 today, with unemployment at 8.3%. Faster growth ahead?
One thing it doesn't do (for me anyway) is change the long range trend. Costs for finding and exploiting fossil fuel resources are going up, and even $80/barrel oil leaves room for alternatives like algae oil, cellulosic alcohol, and natural gas vehicles. That's good for the east and west coasts, bad for the center of the country from Texas up to North Dakota.
With falling oil prices, an economy that looked like that of the 1930s heading toward the 1940s begins to look more like one from the 1970s heading toward the 1980s. It means you can invest in American assets again, and the risk-on trade is back on.
Disclosure: I am long F.
Additional disclosure: I have links on all the major points made in the bullets.