This article does not go into much company specific detail, but rather focuses on performance in order to improve. However of all the companies I covered in July 2019, I pick Rubicon Project (RUBI) as my "Best Pick" because I think management's efforts over the last few years to position Rubicon as a premier independent global exchange for advertising are really starting to play out in its financial performance and that this trend is likely to continue. I will expand more on Rubicon in a later article, for now it is performance review and a reflection on trading entry points learned from Rubicon which may also apply to Gaia (GAIA).
Performance review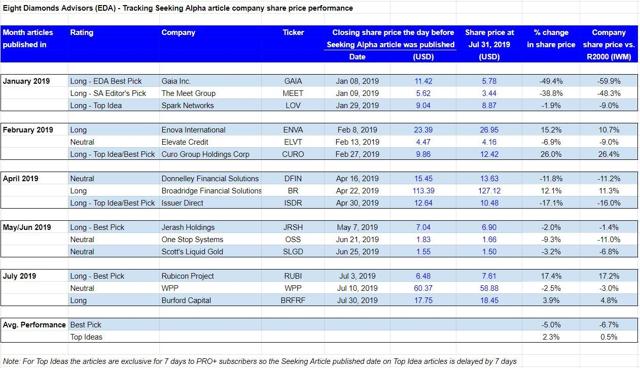 Sources: Author's articles and Bloomberg
The table above sets out the main articles that I have written in 2019 along with my ratings for each company. I track share price performance on an absolute and relative basis (versus the iShares Russell 2000 ETF (IWM)). Looking at each monthly grouping in turn, outside of January 2019 (which were all longs), my long rating picks have on average outperformed my neutral rating choices. So for example the February 2019 longs, Enova International (ENVA) and Curo Group (CURO), have on average outperformed my neutral pick Elevate Credit (ELVT). The same trend can be seen in each month grouping through to July 2019 where my long rated stocks, Rubicon Project (RUBI) and Burford Capital (OTC:BRFRF), are outperforming my neutral rating on WPP (WPP). However, when it comes to choosing my "Best Pick," I have not been able to consistently choose the outperformer each month and this has contributed to an underperformance YTD of -6.71% versus the iShares Russell 2000 ETF (IWM).
Clearly my January 2019 long ratings are the main reason for the underperformance. Gaia is down an eye popping 50%, The Meet Group (MEET) nearly 40% down and even my best performer Spark Networks (LOV) gave up all its gains and then some more when its share price collapsed mid-July 2019. Relative performance is even worse as if to rub salt in the wounds. So this is fertile learning ground for me and I plan to write an updated article on each stock. However, very briefly I think Gaia and Spark Networks are incredibly cheap now. Both seem to have suffered more from shareholder capitulation (Gaia losing its "growth" status and Spark issuing shares for its Zoosk acquisition) than anything to do with company fundamentals. I have already given some thoughts on Gaia in my May/June 2019 Best Pick article found here along with some entry point comments below and Spark Networks is arguably a much improved business post its Zoosk acquisition with management targeting adjusted EBITDA of USD50 million in 2020.
Trading entry points: lessons from Rubicon
Again this is not going to be a detailed company specific section. I want to focus more on trading entry points as I think Rubicon's recent share price movements may be a good precedent when thinking about Gaia. They are completely different businesses but the parallels I draw have to do with entry points for shares that are in decline. In other words, is there ever a good time to catch a falling knife?

Source: Yahoo finance
Though my Seeking Alpha long article on Rubicon is dated July 5, 2019, I have been tracking Rubicon for a number of years and initially took a position late October 2016 when its share price dipped briefly to around USD6.30. The share price had already fallen nearly 70% from its April 2016 peak of about USD20.00. Initially, this looked like a great entry point as the shares rose to nearly USD9.00 by February 2017. However, the share price tumbled lower following the release of its Q4 2016 results along with the announcement of the appointment of Michael Barrett as CEO on March 14, 2017. In prepared remarks by Rubicon's Founder Frank Addante, management emphasized the importance of capturing market share of supply (the reason behind Rubicon's success) over revenue growth. This sentiment was summed up well in this paragraph (emphasis mine):
"Now let's talk about the business drivers, specifically around the dynamics of a global exchange and what drives growth. Supply creates gravity for demand, and we've seen this strategy work again and again over the last 10 years. Every product Rubicon Project launched has followed this model of beginning with supply. This is why it's so important that we focus on capturing market share of supply this year, setting the stage for our return of revenue growth in the future."
In Rubicon's Q2 2017 results presentation, management highlighted that they had increased market share of supply by 50% in the last year. This involved integrating server-side header bidding solutions, onboarded new seller clients across multiple channels (e.g. desktop, mobile app, video), pricing reductions and acquiring nToggle to increase win rates. In particular new CEO at the time, Michael Barrett, emphasised on the Q2 2017 earnings call that: "5 months on the job, it's become clear to me that header bidding has fundamentally reshaped the role of exchanges and it has had a powerful impact on Rubicon Project. To succeed in header bidding, you need to source tremendous volumes of inventory, manage a highly efficient platform and excel at win rates." Despite Rubicon's market share successes, none of this carried weight with the market, or rather the investors who had been attracted to Rubicon's revenue growth profile. They were not happy with these far sighted initiatives and Rubicon's share price tracked steadily lower bottoming out a year later in March 2018 when falling revenues inverted and started to track higher again in Q2 2018. By that time I was down 75% on my initial entry point.
With the luxury of hindsight, it seems like management did make the right call and Rubicon's share price is now moving well above my initial entry point. Rubicon reported Q2 2019 results after the market close on July 31, 2019 and initial market reaction looks positive. There is an important lesson I should have learned from this experience. That is when management adjust a company's priorities, or even just emphasis, very few investors will wait around to see if it works especially when it involves short-term financial pain. The time to enter such a trade is not when management articulates the change, it is when fundamentals invert and start to support what management has been aiming for all along.
Concluding thoughts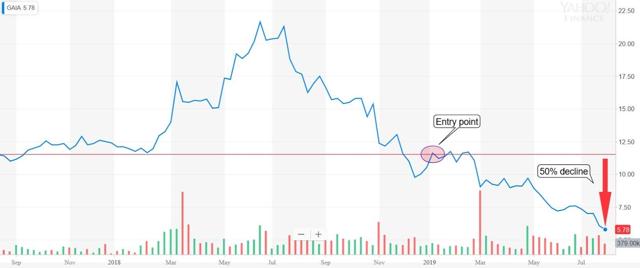 Source: Yahoo finance
So what does this all have to do with Gaia? Well, as shown in the graph above, my entry point was again too early even though Gaia had fallen about 50% from its 2018 highs. As documented in my Gaia articles here, here and here, management changed their focus from pure growth to profitable growth. Gaia is yet to reach their profitability target of positive EBITDA by the end of September 2019. Until then, similar to Rubicon, Gaia's share price will probably struggle to find a floor. Gaia is scheduled to report Q2 2019 earnings on August 5, 2019.
Additional disclosure: Opinions expressed herein by the author are not an investment recommendation and are not meant to be relied upon in investment decisions. The author is not acting in an investment advisor capacity. This is not an investment research report. The author's opinions expressed herein address only select aspects of potential investment in securities of the companies mentioned and cannot be a substitute for comprehensive investment analysis. Any analysis presented herein is illustrative in nature, limited in scope, based on an incomplete set of information, and has limitations to its accuracy. The author recommends that potential and existing investors conduct thorough investment research of their own, including detailed review of the companies' SEC filings, and consult a qualified investment advisor. The information upon which this material is based was obtained from sources believed to be reliable but has not been independently verified. Therefore, the author cannot guarantee its accuracy. Any opinions or estimates constitute the author's best judgment as of the date of publication and are subject to change without notice.