Originally Published August 1, 2019
The initial market reaction to the Fed's decision to cut the Fed Funds target range by 25 basis points is clear: 25 basis points is not enough. We expect more rate cuts soon. Here's why:
The FOMC statement and Fed Chairman Powell's opening comments at today's press conference are an unambiguous signal that inflation expectations are a key component in the Fed's decision. Inflation has been lower than the Fed's 2% target, and market expectations for inflation have been low. The immediate reaction from markets that price inflation, such as the market for Treasury Inflation Protected Securities, has been muted. The break-even inflation rate for 10-year TIPS (the market's long-term guess for future inflation), has moved up, but barely (Figure 1). The longer-term trend for inflation expectations remains down (Figure 2). We believe Powell's comments in the press underscore his deep concern about this trend, and that it needs to be reversed before a troubling decline in inflation expectations grips the economy. Powell wants inflation expectations higher, this will be bullish for TIPS even if the response today is positive, though restrained.
Gold, an old school inflation indicator, has been rising in the weeks leading up to today's announcement. It began to slide heading into the announcement and is at the lows of the day after the announcement (Figure 3).
Most troubling is the initial reaction of the US Dollar. The Fed announcement is barely an hour old at the time of this writing, but the dollar is going up in value today (Figure 4). We believe this is problematic on several levels. When the dollar goes up, it dampens inflation. A stronger dollar makes imports cheaper. This is disinflationary. The dollar goes up in value when FX traders think the Fed's central bank policy is hawkish. FX traders are saying they think a 25 basis point cut is not enough and that Fed policy is still too hawkish. Particularly notable, and possibly troubling for risk-oriented investors, is the dollar rally is testing important technical levels (Figure 5). The dollar is threatening to move up through important resistance levels. If a major break-out in the US dollar were to actually occur, this would be negative for risk assets. In fact, the reaction of stocks has been negative (Figure 6).
The Fed understands the feedback loop between markets, the economy, and policy. If this initial market response is the beginning of new directions, expect easing to occur at a faster pace. In that context, we believe market disappointment with this initial Fed cut could create buying opportunities as Powell has made it clear that the Fed will come to the rescue.
We believe this is a time for patience and a steady hand.
Figure 1: 10-Year TIPS Breakevens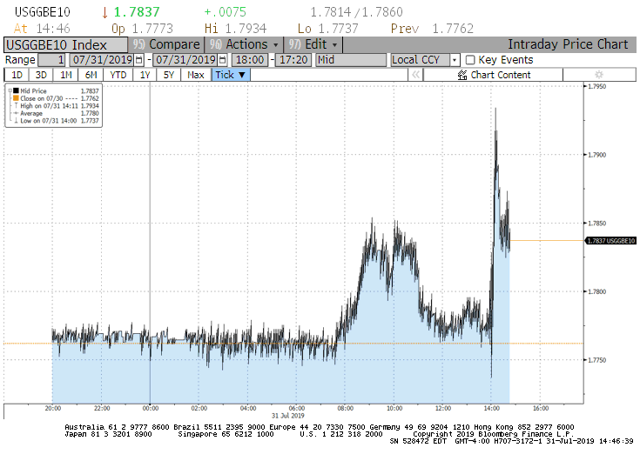 Source: Bloomberg, accessed 7/31/2019
Figure 2: 10 Year TIPS Breakevens (5-year trend)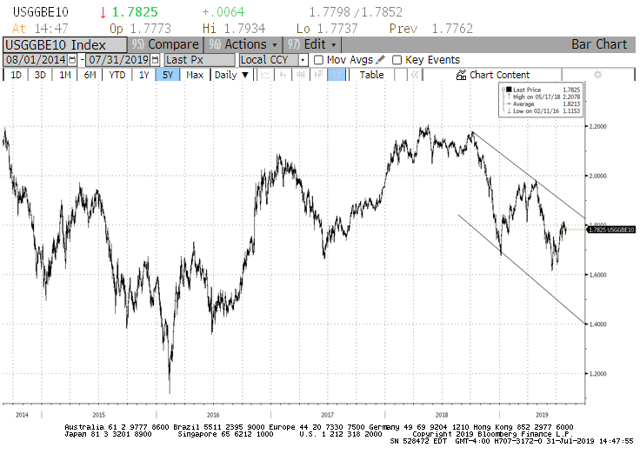 Source: Bloomberg, accessed 7/31/2019
Figure 3: Gold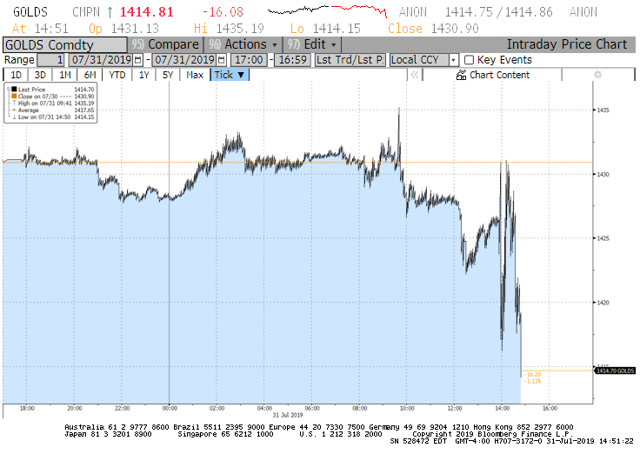 Source: Bloomberg, accessed 7/31/2019
Figure 4: US Dollar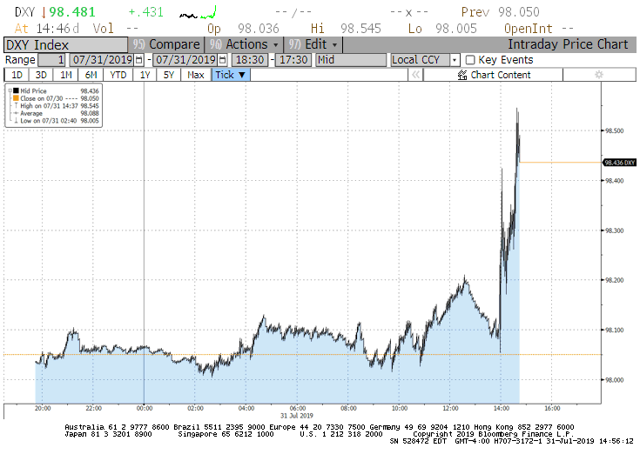 Source: Bloomberg, accessed 7/31/2019
Figure 5: US Dollar (4-year trend)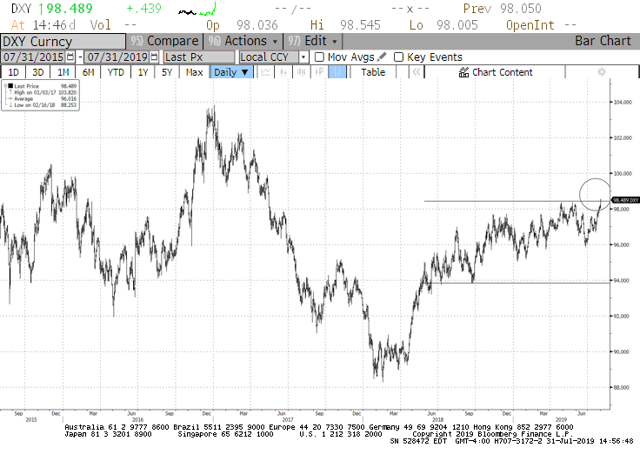 Source: Bloomberg, accessed 7/31/2019
Figure 6: S&P 500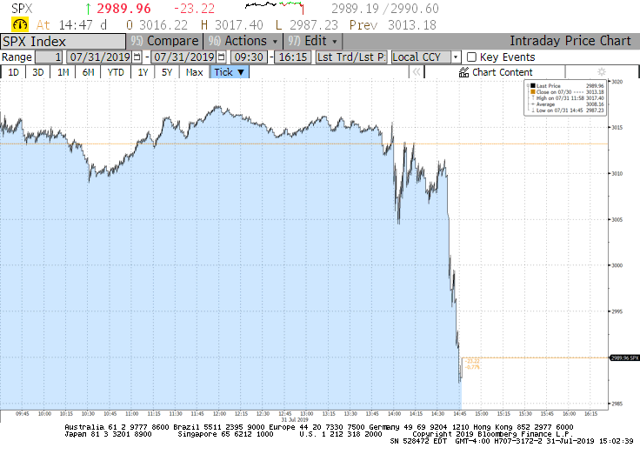 Source: Bloomberg, accessed 7/31/2019
Editor's Note: The summary bullets for this article were chosen by Seeking Alpha editors.