The Dutch Economy

The Netherlands is a member of the European Union and has a very strong economy. It ranks 7th in GDP per capita and is among the world's top 10 exporting countries. Rotterdam is Europe's largest port. The Netherlands had a very important role during the colonial period of the 17th to the early 20th century and controlled significant trade routes. In fact, the world's oldest stock is considered to be that of a Dutch company - The Dutch East Indies Company (Vereenigde Oost-Indische Compagnie) that was established in 1602. The Amsterdam Stock Exchange was set up to trade this stock and is world's oldest stock exchange.
The Netherlands is home to a large number of companies in the industrial, financial and food sector. In this article, I introduce some Dutch companies that have attractive dividend yields. A brief discussion of each company is given later. I have not included a lot of detailed financial numbers, which can sometimes be overwhelming.
Company

Ticker

P/E

% Div Growth

1 Year

% Div Growth

3 Year

% Div Growth

5 Year

% TTM Yield (Euro)

% TTM Yield (US$)

Royal Ahold

AHONY.PK

10.83

38.00%

30.50%

n/a

4.0%

4.0%

ASML

ASML

9.9

15.00%

32.00%

n/a

1.3%

1.3%

Royal DSM

RDSMY.PK

11.6

7.40%

6.50%

7.70%

3.4%

3.5%

Heineken

HINKY.PK

14.76

9.20%

10.20%

6.70%

2.1%

2.0%

Royal KPN

KKPNY.PK

7.5

6.30%

12.30%

11.20%

10.7%

10.7%

Royal Philips

PHG

-11.43

7.10%

2.30%

11.30%

4.8%

5.4%

Reed Elsevier

ENL

15.6

5.83%

2.60%

1.45%

4.7%

4.8%

Royal Dutch Shell

RDS.A

15.8

0.00%

1.64%

10.90%

4.7%

4.6%

Unilever

UN

17.23

8.17%

5.34%

-1.30%

3.6%

3.3%

Wolters Kluwer

WTKWY.PK

9.4

1.50%

1.50%

3.23%

4.9%

4.9%
Dividends as Stock Screen
I firmly believe that dividends are real cash and hard to fake. They are paid out of positive cash flow and while accounting gimmicks (and even fraud) can be used to window dress earnings per share, dividends are typically honest. I end up using current dividend yield combined with consistent history to short-list stocks for further investigation. The markets have recovered in the last few months and there are no screaming bargains right now. Some of the following stocks would be great long-term investment opportunities especially if prices were to come down by 15-20% since that would increase the yield-on-cost, provide downside risk protection and give a chance for possible capital appreciation leading to superior total returns.
I have included a simple chart for each company that shows the euro dividend amounts, which I gathered from the company websites. Additionally, I have listed the latest annual dividend amount in U.S. dollars.
Withholding Tax on Dividends
The Netherlands withholds tax on dividends at the rate of 15% for non-resident investors. An individual investor can file for tax credit on Form 1040 if the shares are held in a regular brokerage account. There are limits to the amount of foreign tax credit that can be claimed but most investors would perhaps hit that limit. Amounts up to $300 ($600 for joint returns) can be claimed directly on the 1040 but greater amounts or carry-forward/backward requires Form 1116. If the shares are held in a tax deferred account like IRA or 401(k) then there is no mechanism to recover the withholding foreign tax and is lost thereby reducing the effective dividend yield.
Koninklijke Ahold N.V. (AHONY.PK)
Ahold is a multinational retailing group that was started in 1887 as a grocery store. It operates strong local supermarkets and grocery stores in Europe and the United States. Its brands include Albert Heijn, Etos, Albert, ICA, Stop&Shop, Giant and Peapod. Ahold has more than 3000 stores and operates one of the world's largest online grocery store.
Ahold has been able to grow revenue in the mid single digits over the last 5 years while maintaining debt levels at comfortable levels. The dividends have grown rapidly due to a recent new dividend policy that states - "We plan to increase future annual dividends, while meeting the capital needs of the business and maintaining an efficient investment grade capital structure." I suspect that the dividend growth may slow down in the near future as the payout ratio increases but I find the current yield attractive enough that I intend to buy shares in the coming few weeks. The indicated dividend amount of $0.53 gives an approximate yield of 4% at current OTC market price of $13.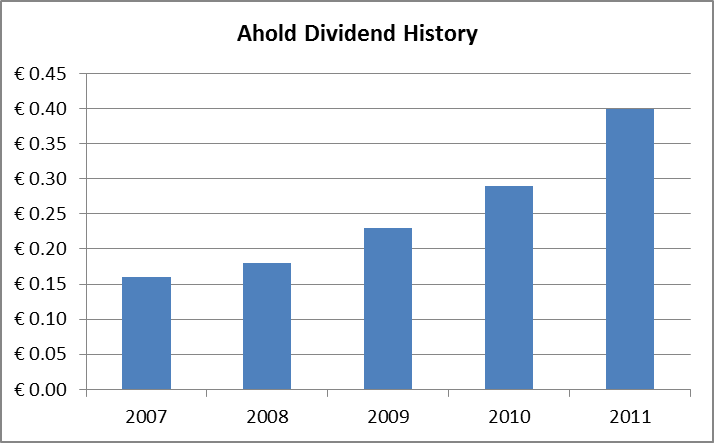 ASML N.V. (NASDAQ:ASML)
ASML is a world leader in the design and manufacture of photolithography tools and systems used by the semiconductor (chip design and manufacturing) industry. It was originally formed as a joint venture between Advanced Semiconductor Materials and Philips. The chip design industry is highly capital intensive. For example, a single typical lithography sells for close to $30 million and the cost of setting up new foundries runs into billions of dollars. The semiconductor industry is subject to cyclical dynamics. However, there are few competitors and the entry barrier is huge. Nikon (OTCPK:NINOY) and Canon (NYSE:CAJ) are its too biggest competitors. The industry is looking to upgrade its equipment with a move toward smaller device geometries of 45 nm, 28 nm and 22 nm soon after that. Growth is expected to come from all three major segments - Logic, DRAM and NAND Flash with DRAM facing some short-term difficulties.
The ASML dividend amount is $0.60 approximately, which gives it a small yield of only 1.3% based on recent Nasdaq price. However, the growth has been impressive over the last few years. The history is limited since the company was spun off only recently. Given the huge moat and continued penetration of technology in our lives, I feel positive about the semiconductor industry in general. I watch ASML and intend to buy it if and when the yield is 2-2.5%.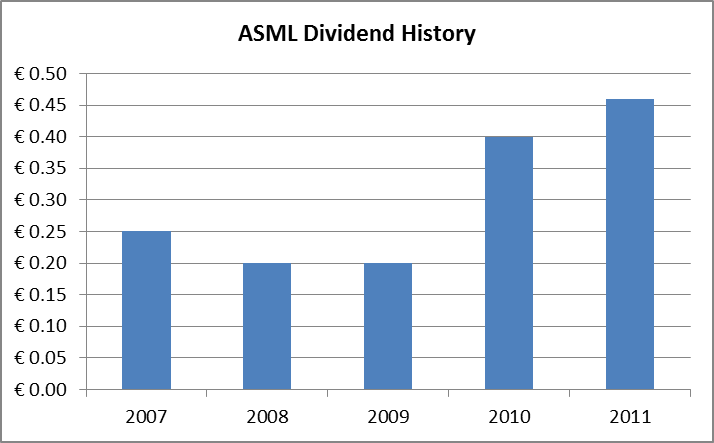 Royal DSM N.V. (OTCQX:RDSMY)
Royal DSM is a multinational life sciences and materials science company. DSM makes ingredients for pharmaceuticals and for human and animal nutrition dietary supplements. It also makes various raw materials for manufacturers in the personal care, feed, medical devices, automotive, paints, electronics industry. DSM has been focusing on alternative and renewable energy by developing biomass-based chemicals and materials. It is also involved in general of biofuels and wind/solar energy. DSM also makes raw materials for synthetic fibers and engineering plastics. Its competitors would be companies like E.I. duPont (DD), Eastman Chemicals (NYSE:EMN) and BASF (OTCQX:BASFY).
The company has managed to grow revenue and profits even in difficult economic times. Some of this due to the cost saving programs but a lot of it is its increased focus on emerging markets and especially on China. The dividend amount is $0.492, which gives a yield of 3.5% based on current OTC price of $14. The company stated policy is - "to provide a stable and preferably rising dividend." I am cautiously optimistic that they will be able to increase dividends in the 4-7% range over the next few years based on both organic and inorganic growth (they acquired Martek recently).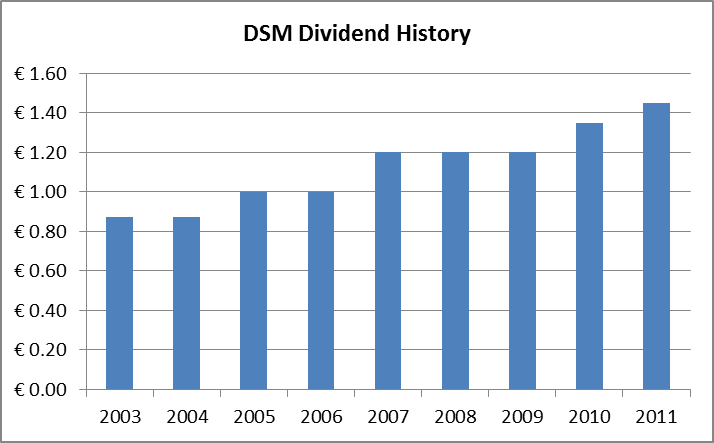 Heineken N.V. (HINKY.PK)
Heineken is a multinational brewing giant with headquarters in the Netherlands. The company was founded in 1864 and is now world's third-largest brewer by volume after Anheuser-Busch InBev (NYSE:BUD) and SABMiller (OTCPK:SBMRY). It owns more than 170 brands and sells beer in almost all countries around the world. It has acquired many companies in the past and is established well in Latin America with the acquisition of FEMSA. It is growing in Africa and Middle-East as well though it hasn't focused on one of the biggest beer markets - China, not yet at least. Its major brands are Heineken and Amstel. It owns the Fosters brand in Europe.
The results have been mixed over the last few years. The dividend per share came down in 2011 due to increased number of shares on flat profits. The dividend has increased at a good rate of 10% over the last 5 years and the payout ratio is still quite low at less than 40% so I expect the growth to continue. The current dividend amount on the OTC market is approximately $0.53, which gives a yield of 2%. There is a bit of complicated holding structure with two companies listed in the Netherlands - Heineken Holding NV and Heineken NV. The holding company is generally available at a discount but traded only on the domestic exchange. Heineken makes great products but I wouldn't buy the stock at current prices given lack of profit growth and low current yield.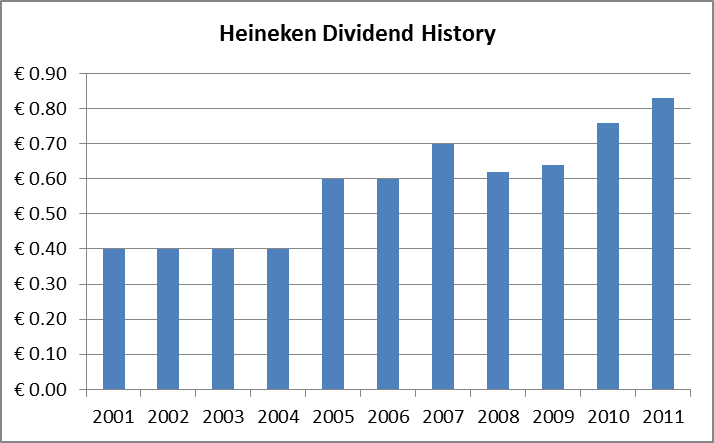 Koninklijke KPN N.V. (OTCPK:KKPNY)
Royal KPN is a Dutch telecom operator that provides wireline and wireless telephone, internet and TV services. It was originally owned by the national Dutch government was slowly privatised. KPN has multiple brands within Netherlands and also provides telecom services in Germany and Belgium and to a smaller extent in France and Spain. It has approximately 45 million customers. It has had a tough time growing revenue and cash flow in the last 5 years. The management team put together a new strategy last year in May to return to growth though it remains unclear whether they will actually be able to grow in the current extremely competitive and capital intensive telecom space.
The current dividend yield of 10.6% is very attractive with an indicated annual amount of $1.13. The dividend growth too has been great over the last 5 years - 11%. I do suspect that going forward the growth might only be in the mid-single digits since there free cash flows have been around €2.5 billion for the last 5 years. I do not intend to buy KPN anytime soon since there is no international growth story either unlike Vodafone (NASDAQ:VOD), Telefonica (NYSE:TEF), TeliaSonera (OTCPK:TLSNY) or France Telecome (FTE).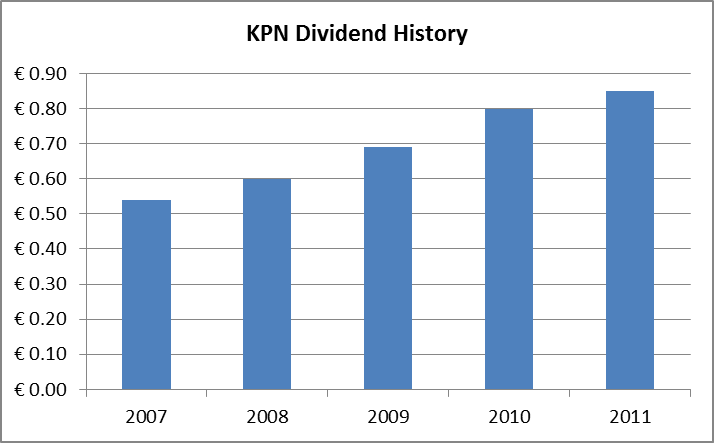 Koninklijke Philips Electronics N.V. (NYSE:PHG)
Koninklijke Philips Electronics N.V. is a multinational electronics company with headquarters in Amsterdam. It was founded in 1891 and is now organized in 3 business units - Philips Consumer Lifestyle, Philips Healthcare and Philips Lighting. Its brand is well recognized all over the world. The company itself grew into an electronics powerhouse by acquiring many companies including Amperex, Magnavox, Signetics, Agilent Healthcare, Marconi Medical, ATL Ultrasound, Optiva, Lifeline Systems, Ximis, Respironics, Visicu and small units of various other companies. It has more than 50,000 registered patents and continues to innovate and design new products in all its business segments.
Philips has had a tough time over the last few years due to increasing pressure from Japanese companies in the past and Korean manufacturers recently. The results over the last 4 years have been dismal and the company had losses in 2011 along with negative free cash flow. The dividend growth history is quite impressive with a 5-year growth rate of 11% and a 7% increase in 2011 over 2010. The current yield of 5% is also attractive based on approximate $1 in dividends. The stated policy is - "We are committed to a stable dividend policy with a 40% to 50% pay-out of continuing net income." I like the company and have been a repeat customer of multiple products but am concerned about declining revenue and profits. The management has indicated that it is taking steps to improve financial performance. I would buy it in in the future perhaps if the quarterly results show signs of improvement.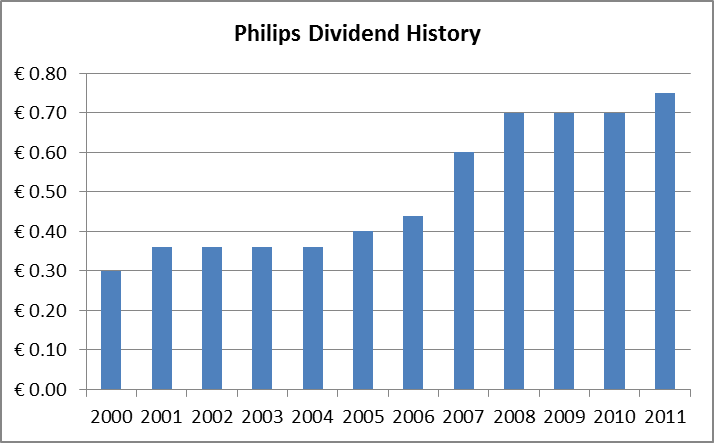 Reed Elsevier NV (NYSE:ENL)
Reed Elsevier is a major publisher and information services provider that was formed in 1993 with the merger of Reed International and Elsevier. It provides solutions in the science and medical, legal, risk management and B2B sectors. Elsevier's journal, ScienceDirect, is the world's largest database of scientific and medical research. The company achieved decent results for 2011 with a 6% increase in EPS though revenue was essentially flat. The dividend has increased over the last three years though it was cut quite substantially in 2008. The current indicated dividend amount of $ 1.16 implies a yield of approx 4.8% at the current OTC market price. The company may be worth watching for now.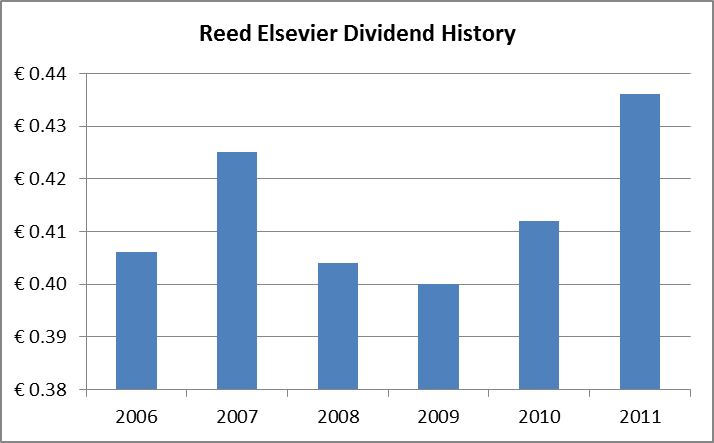 Royal Dutch Shell (NYSE:RDS.A)
Royal Shell is the second-largest energy company in the world and one of the six oil and gas supermajors. It is vertically integrated and operates all the way from exploration and production to refining to distribution to marketing. Shell also has petrochemical manufacturing, renewable energy and deals in trading. Shell is widely followed in the investing community including here at Seeking Alpha and I can probably not add any further meaningful information.
Shell has a Scrip Dividend programme that allows investors to receive shares instead of cash which can help avoid the Dutch withholding tax. The dividend policy states - "To grow the U.S. dollar dividend in line with our view of the underlying earnings and cash flow of Shell." The current dividend yield is approximately 4.6% which is extremely attractive compared with ExxonMobil (NYSE:XOM), which pays about 2.2% and Chevron (NYSE:CVX), which pays 2.9%. Shell's yield is closer to its European neighbor, Total SA (NYSE:TOT) that has a yield of 5.5%. Unfortunately, Shell has not had any dividend growth lately even as XOM, CVX and COP continue to grow dividends every year.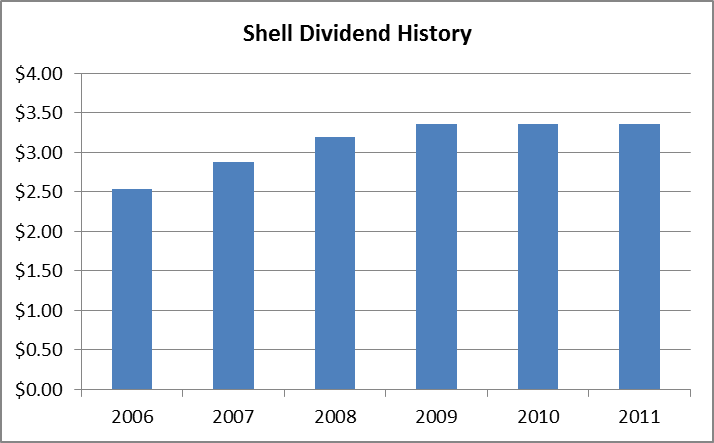 Unilever N.V. (NYSE:UN)
Unilever is a food and personal care products global giant that sells products in more than 180 countries. It is an Anglo-Dutch company that was formed in 1930 with the merger of British soap maker Lever Brothers and Dutch margarine producer Margarine Unie. Its current brands include Dove, Lux, Pond's, Rexona, Lipton, Brooke Bond, Ben & Jerry's, Hellman's, Knorr, Slim-Fast, Sunlight, Surf and a few more. It is world's third biggest consumer goods company after P&G (NYSE:PG) and Nestle (OTCPK:NSRGY). Like many other, it has grown over the years with multiple acquisitions all over the world. Unilever has a very strong international position especially in the developing world due to its British and Dutch roots.
Unilever is a dual-list company and has two symbols on the U.S. exchanges - UL for the British company and UN for the Netherlands entity. There is no foreign tax deducted for UL dividends due to the tax treaty between U.S. and UK. However, taxes are withheld for UN shares. This makes UL suitable for both individual brokerage accounts as well as retirement accounts. Unilever did not deliver much financially over the last few years but based on the company presentations, I am willing to make a bet that they will do reasonably well over the next few years and that the current dividend is very safe.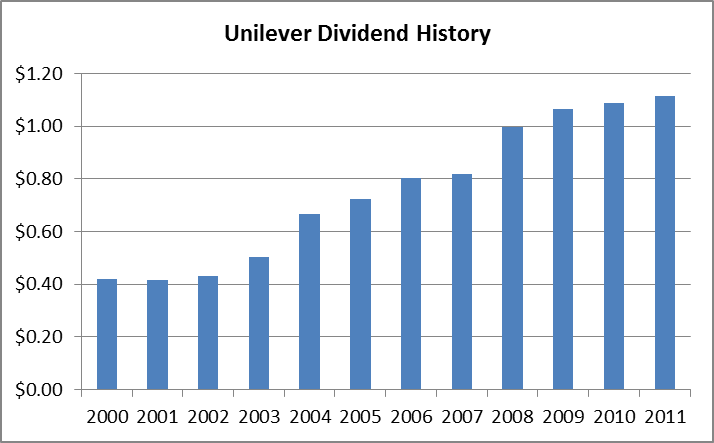 Wolters Kluwer (WTKWY.PK)
Wolters Kluwer is a global information services provider for the health, tax, accounting, finance, audit, risk, compliance, healthcare and legal sectors. They have offices in 45 countries and customers in 147 countries. It has interests in publishing as well though the print revenue has been coming down as a percentage of total revenues, as expected. It gets about half of its revenue from the US while 40% from Europe with the rest spread around the world. The sales and profits have been growing slowly over the last few years and the dividend growth has been anemic. The current yield is almost 5% based on indicated annual dividend amount of $0.95 and share price of $18.75 on the OTC exchange.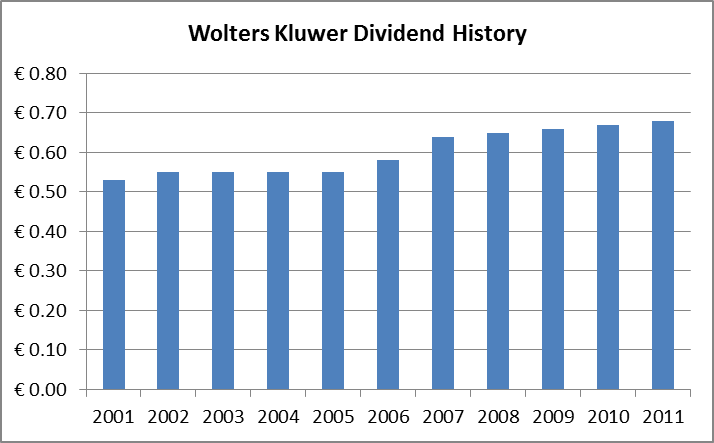 Other Stocks
I briefly looked at a few stocks like Randstad (OTCPK:RANJY) which has a yield of 4.4% on the OTC exchange and a dividend growth of 6% last year but they didn't pay any dividends in 2008 and 2009. Then there is Akzo Nobel (OTCQX:AKZOY), which reduced the dividend in 2009 so has a 5-year growth of 4% and 3-year growth of -7%. The current yield for Akzo Nobel is 3.5% based on approximate amount of $0.65 on the OTC exchange. The financial stocks from the Netherlands - ING Group (NYSE:ING) and Aegon (NYSE:AEG) seem to be a bit distressed like many of their European peers so I stayed away from them. I excluded Head NV (OTC:HEDYY) and TomTom (OTCPK:TMOAY) because they do not distribute dividends. TNT Express (OTCPK:TNTEY) has a tiny dividend yield though could yield good total returns if it sells itself to a bigger player like UPS or FedEx (NYSE:FDX).
Concluding Remarks
The U.S. market is at a 4-year high and there are few bargains in the dividend bucket. A lot of the dividend yield and/or dividend growth stocks are fairly valued and I dare say that some may even be over-valued. Even though I consider myself a long-term investor, I am slowly selling some of these stocks that I purchased from 2007 to 2009. I want to invest the sale proceeds and found that there are some solid European companies still available at value prices. The depressed prices are not without reason but I am willing to take a risk with these dividend paying companies from Switzerland, Germany, England, Sweden, France and Spain. I do not hold any Dutch stocks but intend to buy Shell, Unilever (the British symbol UL) and Ahold in the immediate future. I look forward to a constructive discussion in the comments section of the article.
Disclosure: I plan to buy some Dutch stocks in the coming few months - Ahold, Shell and Unilever Plc (the British entity due to favorable tax treatment). I have recently bought a lot of European stocks - FTE, TEF, STD, VOD, BASFY.PK, TOT, SI and a few more. I am waiting for more funds to invest in many European stocks that I believe offer great potential for coming decade.