In an unusual show of category domination from a newer ETF entrant, Russell Factor ETFs are crushing most of the 21 broad based small cap ETFs in the marketplace this year. Their Factor ETF product line contains three of the top five performing broad based small cap ETFs according to data compiled from Index Universe.
The number one broad based small cap ETF, the Russell 2000 High Beta Small Cap ETF (NYSEARCA:SHBT) has gained over 14% in 2012. Russell also has the number two performing fund, SHVY, the Russell 2000 High Volatility ETF which has gained over 12%. These ETFs are trouncing the most widely held small cap ETFs from iShares and Vanguard. The iShares Russell 2000 ETF, IWM, and S&P 600 Small Cap ETF, IJR, are only up 9.8% and 8.9% respectively. Vanguard's Small Cap ETF, VB, is at least in double digits at 10.4% for the year.
Here are all 21 broad based small cap ETFs sorted by year to date performance. This list was complied through the Index Universe ETF data sort tool.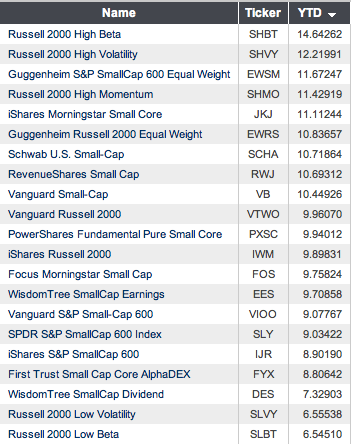 Russell is the leader in Factor based ETFs with 13 ETFs in the marketplace. Factor ETFs seek to track indexes focused on risk factors that influence a portfolio's risk and return. The Factors include: High Beta, Low Beta, High Volatility, Low Volatility and High Momentum. In the small cap space, Russell has products representing all five factors.
Perhaps further proving the validity of Rusell's Factor approach is an interesting performance relationship shown in the data across the small cap Factor ETF set. As displayed above, Russell's High Beta and High Volatility ETFs are the top two performing small cap ETFs but just as interesting is the Russell Low Beta and Low Volatility ETFs are the two worst performing small cap ETFs in 2012.
Despite delivering peer group best performance, the three leading Russell small cap ETFs appear to be undiscovered as they have less than $20 million in assets as a group. It could be because their methodology does not follow the traditional small cap recipe. Many investors may not yet understand how to incorporate Factor investing into their traditional allocation mix. Adding to that challenge is that the Factor ETFs are less than one year old. However, it should be noted that PowerShares has had great success with the May launch of their Factor based S&P 500 Low Volatility ETF (NYSEARCA:SPLV) last year. SPLV currently stands at over $1.3 billion in assets proving that Factor based ETFs can indeed attract assets.
Russell has a long tradition of unique investment approaches that have been successful. Clearly their commitment to the Factor ETF model is paying performance dividends in the small cap space and hopefully investors seeking small cap ETF alpha will take a look at the Russell Factor ETF suite.
Disclosure: I have no positions in any stocks mentioned, and no plans to initiate any positions within the next 72 hours.
Additional disclosure: Christian Magoon is publisher of GoldETFs.biz and IndiaETFs.com.