High-yielding dividend stocks are highly sought after alternatives to low bond rates. But there are many risk factors to consider when income payments run high. Is it sustainable? What is the risk of earnings loss? Will the dividend continue or be cut? Is the yield a byproduct of slumping net income and even faster falling share prices?
I tackle 3 high-yielding stocks in this article and give my personal preference as to which an income investor may cautiously buy and which I would suggest passing on.
Globus Maritime Limited (NASDAQ:GLBS) - Dry bulk shipping has not been a clear sailing industry of late due to the oversupply of vessels in comparison to demand. Any slowdown in the Chinese economy would put further pressure on this sector. But shipping companies are not equally affected; some are holding their own while others are drowning. Is Globus a stock to hold or throw back into the sea?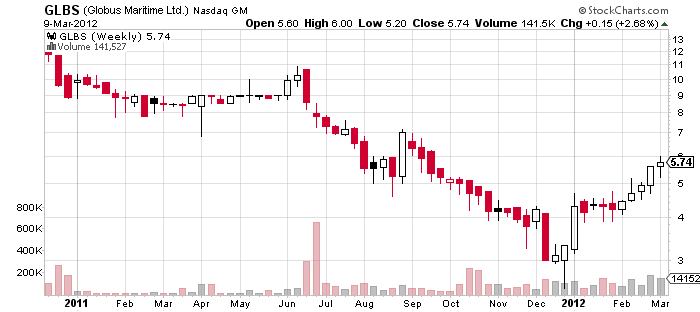 A quarterly cash dividend of 16 cents per share was announced which provides a yield of 11%. This is a whopping big dividend. Is it rooted in earnings or is this some unsustainable handout incentive? The company has already secured 60% of the remaining operating days in 2012 and 45% in 2013 for fixed employment. There is deep value here with a price to earnings ratio of 7.27 and a book value per share over twice the price of equity shares. The dividend payout ratio from last quarter amounted to 70%. For the moment the dividend appears safe.
My take? While the industry is taking on water, I find the deep value creates a strong drawing card when combined with dividends. I don't like the combination of share dilution and dividend payments, but with the high yield, I think this is one to put in your 'higher risk' portfolio with continual monitoring. If the dividend is cut or earnings fall dramatically, I'd get on the next lifeboat off this ship. For now, I like this high-yielding product.
Partner Communications Company (NASDAQ:PTNR) - This Israeli telecom company has a forward yield of 9.1% or 68 cents. Should you phone this pick into your broker to buy? That is your call to make, but a few things worry me on this one.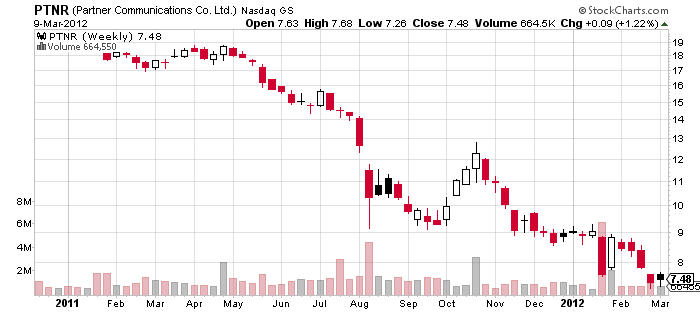 First, we have seen some serious earnings forecast cuts. Three months ago, the 2012 year was expected to earn $6.46 per share, and this has been cut down to $4.28 or a 34% haircut. More than lower growth, analysts are expecting negative growth to the tune of 34% this year and 18% next. Add in a couple lawsuits to sour investor sentiment, and the statement that "the company's board will discuss dividend distribution for 2011 when it approves final results", and I see too many reasons why this will trade with negative momentum to recommend buying at this time. Maybe things will firm up later, but for now, I'd sit this out.
R.R. Donnelley & Sons Company (NASDAQ:RRD) - A traditional media and printing company they have a forward 8% yield. They are sitting on $2.52 in cash and equivalents with a forward PE of less than 7. If all the earnings were paid out, this would result in a 14% yield. Is this an incredible value play?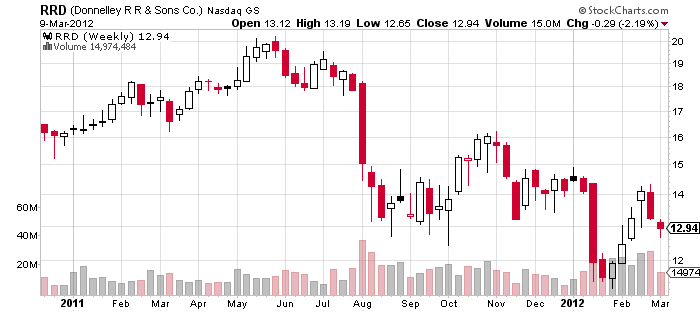 The future of these traditional services are in question. I don't forecast growth in this industry, but neither do you need growth to make money on this stock. A deep value dividend play with zero growth can still deliver strong gains based on good earnings yields. Provided they maintain a high payout ratio, I would stick with this stock as long as PE ratios remain under 10 and forecast annual earnings stay above the $1.40 range. If earnings fall too far or valuations get too high, I'd fax a sell order to my broker. The short interest is high so there is potential for a squeeze, although I can't imagine the fundamental reason behind such a squeeze would be. Even if a frantic short covering did occur, I wouldn't expect that level to hold long-term in a future uptrend. All the more reason to watch PE ratios as if a short squeeze did boost prices temporarily you could exit on a high note.
I think this is a decent zero-growth deep value dividend stock to own right now provided you keep one eye on earnings and the other on valuation to make sure you keep your margin of safety.
Disclosure: I have no positions in any stocks mentioned, and no plans to initiate any positions within the next 72 hours.