It's not an ongoing process. It's a process that they're working through and it remains a priority for Noble. I don't think they're going to talk any more about the details until that process is complete.
Back in April, Noble Energy (NBL) disclosed that it had begun a strategic review of its investment in Noble Midstream (NBLX). In usual business-speak, management left all options on the table (merger, asset sale, simplification). The potential is also there that it might just elect to do nothing at all. Nearly six months later and all investors have to show for it is the above quote from Q2 earnings. No details, no information. Is it really a surprise that the unit prices have absolutely compressed since that announcement?
Market sentiment was that the company would find a buyer. Why? Literally the entire executive team – the CEO, CFO, and COO – was shown the door. Operationally, there was no prevailing view that those in charge were doing a poor job. Cutting the entire leadership slate seemingly made sense in a prep for a sale. Admittedly, the other alternative is ridding the partnership of anyone that would stand in the way of corporate general partner abuse. Cynicism is rampant in midstream and I do not think this potential scenario helped matters.
Why would Noble Energy want an outright sale? As far as partnerships go, Noble Midstream is small, making it an easy target for private equity. Despite that size, it could be a big boost to its corporate sponsor's balance sheet. Noble Energy owns about 18mm units, meaning a sale of that interest would go for ~$540mm at a decent premium ($30.00/share). Valuing the incentive distribution rights at another $500mm (12x multiple on likely 2020 payout) also adds significant value. As the proverbial cherry on top, the debt from the entity (currently $860mm) would be removed off balance sheet and unconsolidated. Given where Noble Energy trades – in the dumps like most upstream energy – selling assets at such high cash multiple would be well received and accretive.
Obstacle To A Sale: Divergent Assets
Still, a sale is difficult. Noble Midstream today is a tale of two businesses. The partnership operates predominantly gathering and processing ("G&P") midstream assets in two rather distinct basins: the Permian (which has been red hot for investment) and the DJ Basin. Within the Permian, through its Blanco River (minority interest, Noble Energy retains the 60% majority) and Trinity River DevCos, Noble Midstream has significant acreage dedications from its corporate sponsor. Those oil and gas gathering lines tie into the partnership's joint venture with Salt Creek Midstream ("Delaware Crossing") which connects to the Wink hub, a key point that connects into both the EPIC Crude and (eventually) Wink-to-Webster, two crude oil long haul pipelines running from the Permian to the Gulf Coast. The Advantage Pipeline, a joint venture asset with Plains All American (PAA) beginning in Reeves County, provides another long haul, common carrier line that will see heavy demand. Incidentally, Advantage also ties into EPIC Crude. Both of these lines have significant third party volumes and, in my opinion, should see rather consistent volumes. As has been common in midstream, Noble Energy holds a 30% stake in EPIC Crude (that option to buy in was exercised in February) and Noble Midstream holds a small 15% stake in the EPIC Y-Grade, a long haul natural gas liquids ("NGL") pipeline running from the Permian and Eagle Ford to Corpus Christi – a substantially similar route to the EPIC Crude line.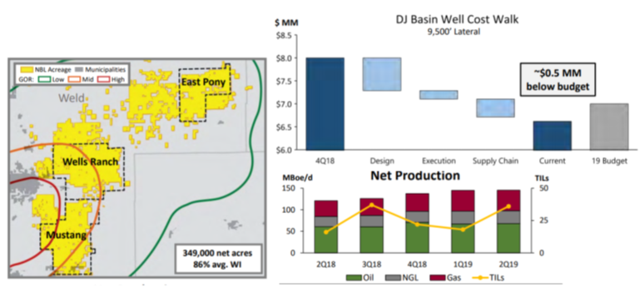 *Source: NGL Energy, Summer 2019 Investor Update, Slide 15-17
That contrasts against the DJ Basin assets. While decently positioned in areas of E&P activity, the region has seen its share of troubles. Overall net production has been relatively flat in 2019 and Noble Energy management has set the bar pretty low for performance, patting themselves on the back for just generating cash flow above capital expenditures thus far this year. While the Mustang Field has done well, the Laramie River and Colorado River DevCos (East Pony and Wells Ranch) have seen some significant activity slowdowns in recent quarters. The significant ramp in Mustang volumes - a region that had zero production at the end of Q2 2018 - has disguised that decline in the net production figure shown above.
Assuming 60 kbpd of Q3 Mustang Field production and 150 kbpd total in Q3, production in those other two fields will be down 15% year over year. These are areas where third party volumes were common: Verdad Resources, SRC Energy (SRCI) (soon to be PDC Energy (PDCE)), and others were shippers. Any potential buyers would rather see a diversified set of shipper contracts. I'm also skeptical on whether the customer undeveloped acreage trade with PDC Energy (talked about on Slide 15) is a net positive beyond the simple assumption that a barrel on the Colorado/Green River assets is more valuable than that on Black Diamond (a joint venture). On the bright side, management does expect higher levels of well connection tie-ins in the back half of the year on Wells Ranch and East Pony. Unitholders should watch those volumes carefully.
Tying into other coverage, remember that SemGroup (SEMG) is working to convert part of its White Cliffs Pipeline, a key artery out of the DJ Basin, into NGL service due to unused crude capacity. That's another signal that the DJ Basin is incrementally overbuilt when it comes to crude and also how natural gas/NGL well yields are up significantly over the past several years. I have mixed feelings on different assets in the DJ Basin but feel that these, on the whole, are just average. Finding buyer that wants the Permian Basin exposure that is also willing to take on the DJ Basin could be tough.
A Suitor Emerges? Perhaps Not
The rumor mill has uncovered a potential buyer: Williams Companies (WMB). In early August, speculation began to swirl that the energy midstream giant, alongside Global Infrastructure Partners ("GIP"), was interested in buying the partnership outright. A perfect match? Not quite – but Williams Companies does make sense as a buyer of the DJ Basin assets. Recall that Williams Companies entered the DJ Basin just last year via the purchase of Discovery DJ Services. A private equity partner was involved there: KKR (KKR). So on its face, the rumor fits. Beyond the DJ Basin, it gets less clear. Predominantly known as a natural gas operator, the Permian business does not necessarily fit within the Williams operating mode. The question is cost. I think G&P assets and a stake in EPIC Crude/Y-Grade are valuable if they want to hold onto them and are probably as liquid as these stakes can get. With Noble Midstream trading so dirt cheap – 6.0x 2020 EBITDA adjusted for the IDRs – a little extra work on those assets (or just holding to flip down the line) seems fine.
As a balancing point, my view on a sale was recently weakened. To explain why, Magellan Midstream (MMP) and Plains All American announced a further expansion of the Saddlehorn Pipeline. Saddlehorn is a great asset, transporting crude oil and condensate from both the DJ and Powder River Basins to Cushing, the primary market outlet for production from these two areas. After concluding its open season to flesh out interest, current owners felt they were justified in a further build-out, increasing joint interest capacity with Grand Mesa to 590kbpd (from 490kbpd) by late 2020. This would likely cost $100mm. Recall that the initial 2015 build cost of Saddlehorn Pipeline was set to be $650mm, upped after the pipeline was consolidated with the Grand Mesa project from NGL Energy Partners (NGL) due to redundancy. Today, this is a billion-dollar asset.
Noble Energy is a shipper on Saddlehorn. In negotiation with the pipeline on its commitments, it also reached an agreement where Noble Midstream would have an option to buy into a 20% stake in the pipeline. While the terms have not yet been disclosed, in my opinion that option will cost nearly $200mm to exercise.
What does this mean? It is a bit unusual to see such a large deal going on while an asset is supposedly up for sale. Generally, whenever a potential sale is right around the corner, operations tend to go into "stasis" and are run in maintenance mode. Sure, the prospective buyer might have been involved in the discussion… but Noble Energy would be more likely to act in its own best interests, negotiating lower rates rather than an equity option.
Takeaways
If asked in February, I would have said that the likelihood would be that the strategic review would end in an outright sale to either one or two parties. Today, I think the odds are better that we just see Noble Energy announce an IDR simplification at the conclusion of its review. With the valuation where it is, that might be enough to justify a stake. There is no question that come 2020, the Permian assets will contribute significantly to growth even assuming a mediocre showing from the DJ Basin. The distribution is well-covered and the trading multiples make a lot of sense when strictly viewed that way.
Unfortunately, midstream today has a lot of focus on general partner quality and I don't believe Noble Energy has the pizzazz necessary to run this properly. Actions this year which show very little communication show that it is not a real priority for them. In an investing universe where nearly every operator can have a decent buy case made for them, I see much better options.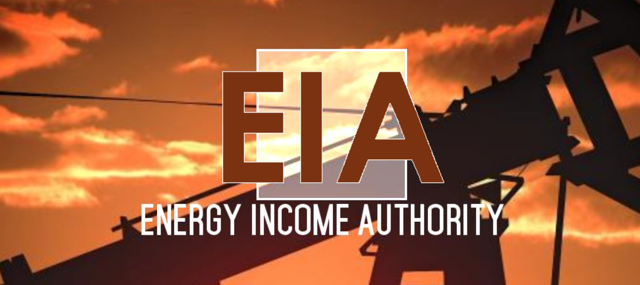 Are you an investor looking for sustainable high income? The energy sector is filled with opportunities to do just that. At Energy Income Authority, the focus is on finding high-quality companies with the asset footprints necessary to throw off dividends for years to come.
Tired of lackluster coverage that barely breaks the surface? Deep dive analysis forms the cornerstone of the platform. Hundreds of companies fall under the coverage universe, from pipelines to refiners to the producers themselves. Members receive actionable research to keep their portfolio thriving.
Sign up for a NO OBLIGATION FREE TRIAL today to find out more.
Disclosure: I am/we are long SEMG. I wrote this article myself, and it expresses my own opinions. I am not receiving compensation for it (other than from Seeking Alpha). I have no business relationship with any company whose stock is mentioned in this article.