The political attacks against The GEO Group (NYSE:GEO) have been ferocious and relentless. Yet the company's business and long-term financial strengths continue to grow. And while the 12.5% yield on shares of this "for-profit prison" REIT is tempting, it's actually the 10.5% yield to maturity on the company's 2026 bonds that are unusually attractive in terms of risk versus rewards. This article reviews the business, why the bonds sold off so dramatically (e.g. headlines risks, such as the company's ICE contracts pertaining to the US-Mexico "border crisis," and California's latest initiative to ban for-profit prisons), why the bonds are attractive (such as the company's financial strength and many long-term contracts with government entities), and concludes with our opinion about investing in these bonds.
Overview:
The GEO Group (formerly known as Wackenhut Corrections Corporation) was founded by George C. Zoley in 1984 and is headquartered in Boca Raton, FL. The company is a Real Estate Investment Trust ("REIT") which specializes in the ownership, lease, and management of correctional, detention, and reentry facilities. It's a provider of enhanced offender rehabilitation, post release support, electronic monitoring, and community-based programs.
GEO has three main business segments: GEO Secure Services (64.0% of FY18 Revenue); GEO Care (24.9%); International Services (10.9%) and Facility Construction and Design (0.2%). It has a total of 133 facilities (of which 78 are owned, 20 are leased and 35 managed) totaling ~97,000 beds with a growing workforce of ~23,000 professionals as of June 2019.
The company has a global presence with operations in the U.S., Australia, Canada, South Africa, and the UK. Approximately 89% of FY 18 revenue was derived from the U.S. The company's primary customers are government entities (mainly the US Federal Government) which account for ~70% of its revenue.
The Divergent Public Narratives:
At the top of the homepage on its own website, GEO describes itself in a positive light, explaining:
"The GEO Group is committed to providing leading, evidence-based rehabilitation programs to individuals while in-custody and post-release… [including] educational and vocational programs, cognitive behavioral and substance abuse treatment, and faith-based services."
Also non-threatening, many investment indices simply classify GEO Group as a "healthcare REIT."
However, according to NPR, it is a "for-profit prison operator." And according to the ACLU, GEO is a "prison profiteer." And it's what these latter two definitions represent that has caused many market participants to dislike the business. For example, it immediately conjures inaccurate images such as the one below (the image is of a government-run border patrol holding facility, and GEO does NOT manage any such facilities).
For perspective, here is an image (below) of an actual GEO Group ICE facility (quite a different image than the one presented above).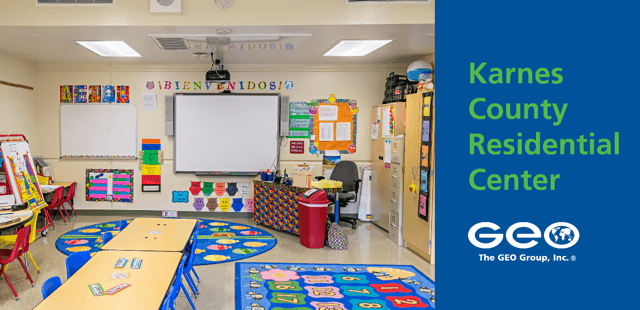 (image source: The GEO Group)
Nonetheless, the negative media narrative has caused GEO's stock and bond prices to sell off dramatically, as shown in the following charts.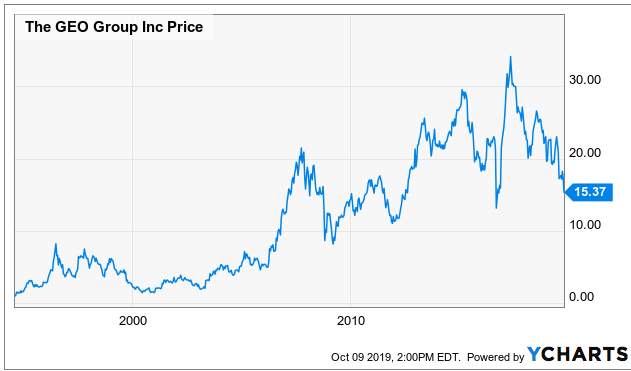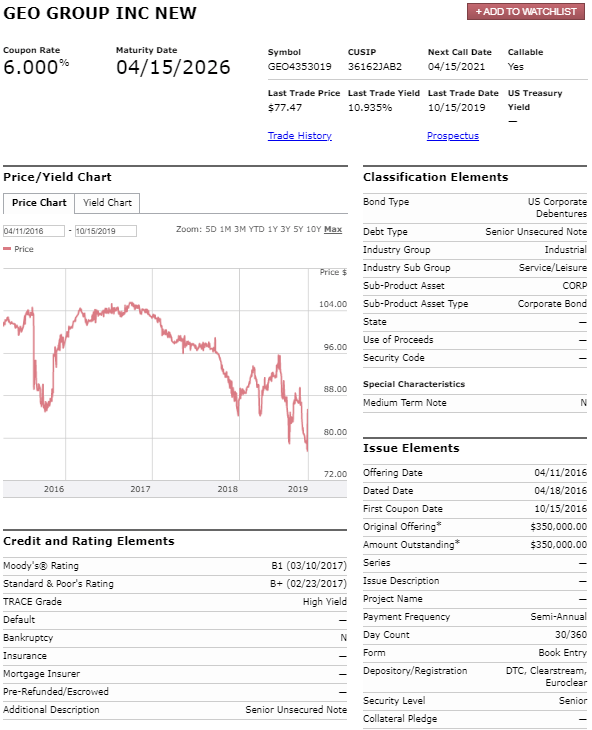 (source: Finra Morningstar)
Noteworthy, the stock and bond price moved dramatically lower (and then higher) leading into the 2016 US presidential election (when it appeared Democrat Hillary Clinton would win) and right after the election (when Republican Donald Trump actually did win). However, according to the company's founder and CEO, George Zoley, during the most recent quarterly conference call:
"If you look at our 30-year history of dealing with Republican and Democratic administrations, we've continued to grow under both. And the one attempt to reduce growth in the private sector was not particularly successful because of the major role that private sector plays in providing security for this country. I don't think that need, that requirement is going to go away under a Democratic administration."
Why The Bonds Recently Sold Off, Again:
More recently, GEO bonds (and stock) have sold off (as you can see in the charts above) due to largely unfounded headline risks (we believe they're unfounded because of the company's financial strength, more on this later). For example, GEO was recently subpoenaed as part of the ICE facility outcry related to detention facilities along the US-Mexico border (i.e. the "border crisis"). Further, to avoid headline risks, banks have been shunning financing for GEO, analysts have stopped covering the stock, Vanguard has been divesting the shares from its index funds, and California just past a new initiative to ban for-profit prisons (more on this later). All the while, the business continues to grow (as we'll see in a moment).
However, regarding the ICE facilities that have been villainized in the news, according to CEO George Zoley, during the most recent quarterly call:
"Those facilities are air-conditioned, they're clean, they have flat-screen TVs, they have artificial turf soccer fields. There are very comfortable amenities for them, and that's the service we've been providing for ICE for 30 years. I don't think that need is going to go away. We're not going to revise our structure because a situation that we hope is temporary, that the heated rhetoric will die down after the next election regardless of who wins."
Also worth mentioning, GEO Group isn't just about locking people up. The business has been growing and evolving to include more rehabilitation services (which are more palatable to those opposed to the concept of "for profit prisons"). For example, GEO has grown its rehabilitation services from $394 million in 2016 to $580 million in 2018 and now account for 25 percent of its annual revenues.
Why The Bonds Are Attractive:
Aside from the business evolution to include more rehabilitation services, there are more clear reasons why the bonds are attractive. For example:
Long-Term Government Contracts: GEO has long-term contracts with government entities, generally considered to be some of the best (and safest) financial partners in the world, as you can see in the following graphic.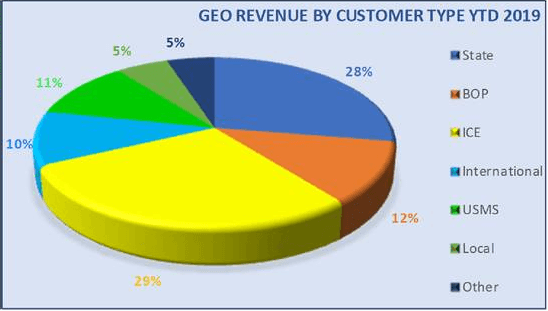 (source: GEO Group Q2 supplement)
More specifically, here is a breakdown of GEO's financial partners, separated by "Owned & Leased" versus "Managed Only."

(source: GEO Group Q2 supplement)
And these are long-term contracts, with partnerships that have been in place for many years--often decades (see page 23 of the most recent GEO supplement).
Recently Refinanced Debt: Despite the headlines of many banks shunning the financing needs of the GEO Group, many other financiers and banks are lining up to do business with them. For example, in May the company was able to refinance $318 million of debt at a very attractive long-term rate, demonstrating the underwriter's confidence in the business.
Strong Cash Flows: Also very important, GEO's operating partners (mostly government entities) provide strong cash flows to the company. For starters, here is a look at the company's cash, versus debt servicing and dividend payments. GEO consistently has the cash it needs.

source: Factset
Growing Dividend: And as further evidence, GEO also recently increased its already big dividend payments (the stock now yields 12.5%!). While GEO is a REIT, and thereby must generally payout 90% of its income as a dividend, the continued dividend growth is a sign of financial strength.
Lower Capex/Growing Business: GEO also has been reducing capital expenditures (as seen in the chart below), and it has new facilities coming online (which will further strengthen the cash position).

source: GEO Group Q2 supplement
Specifically, GEO has several upcoming facility activations, including (according to the quarterly call):
"In Louisiana, we have reactivated our company owned 1,000-bed South Louisiana ICE Processing Center in Basile, Louisiana under an existing intergovernmental agreement with ICE. The center, which was previously idle, is expected to complete the intake process during the third quarter of 2019. The South Louisiana center is expected to generate annualized revenues of approximately $25 million. In Texas, we recently entered into a contract modification with ICE to increase the contract capacity at the Montgomery processing center by 314 beds. This contract capacity expansion is expected to generate approximately $10 million in annualized revenues when it comes online in September of this year…

We also recently entered into a new direct contract for our company-owned 1,940-bed Adelanto ICE Processing Center in San Bernardino County, California. This new contract replaces the existing intergovernmental services agreement that was previously in place. With respect to the Federal Bureau of Prisons, we were recently awarded three new 10-year contracts under the CAR 19 procurement, which had been issued by the Bureau of Prisons in 2017.

In Michigan, we entered into a 10-year contract with the Bureau of Prisons [emphasis ours] for the reactivation of our company-owned 1,800-bed North Lake Correctional facility. The facility is expected to complete the intake process during the fourth quarter. The new contract is projected to generate approximately $37 million in annualized revenues. Reeves County, Texas also entered into two new 10-year contracts with the Bureau of Prisons, for the county owned 1,800-bed Reeves County Detention Center 1 and 2 and the 1,376-bed Reeves County Detention Center 3.

Moving to our international markets, we are currently undertaking a number of expansion projects in Australia. In the State of Victoria, we recently announced negotiations for a 300-bed expansion at of our 1,300-bed Ravenhall Correctional Centre, which is expected to come online during the fourth quarter with projected additional annual revenues of $19 million."
Also, according to the Miami Herald:
"Trump Administration immigration detention policies are meaning more business opportunity. In the compromise over President Trump's border wall, the ICE detention budget was increased by 12%, which means thousands more people will likely end up in detention centers operated by Geo Group and its two main competitors, CoreCivic and MTC."
Buying Back Stocks and Bonds: Also important, GEO has a history of buying back shares-another indication of financial strength, and a sign that they believe in the business (see recent buybacks in our earlier graph, above). Further still, management has considered repurchasing some of the outstanding bonds. According to the conference call:
"On the consideration of repurchasing some of the bonds, to take advantage of the dislocation in the pricing or help stabilize that market, I mean, that is something that we had considered and will continue to look at and make decision around that based on our capital needs and availability and what we think is appropriate at the time."
Founder CEO: We also like that this is a founder led business. CEO George Zoley has been with the company for over 30 years, and his knowledge, experience, and leadership are invaluable. Further, we like that he owns nearly 2% of the shares outstanding, and he has increased his position size meaningfully in 2018 and 2019.
Risks:
GEO faces risks, the largest being political risks. Specifically, the company faces the risk of politically-driven contract delays, or even contract terminations, such as the effort we've seen in California. More specifically, on Friday, Governor Gavin Newsom signed a bill that bans private prisons and immigrant detention facilities from operating in California. According to the LA Times:
"Assembly Bill 32 will prevent the state from entering into or renewing contracts with for-profit prison companies after Jan. 1, 2020, and phase out such facilities by 2028."
However, important to note here, the new law doesn't immediately terminate long-term contracts with GEO. Rather, it phases them out over roughly the next decade. And perhaps even more important, California represents approximately only 2% of GEO's total revenue (as we saw earlier in this report). Further still, California's political views are generally an outlier versus other states where GEO operates.
In our view, the market perception related to the recent news is an over-reaction and this sell-off (especially in the bonds) is unwarranted. GEO has a strong and diversified portfolio of predominantly investment grade rated customers, and the company has a 30-year record as a professional service provider to federal, state and local agencies. We believe the political rhetoric and headlines risks are elevated as we head into the 2020 election cycle, but will die down thereafter. GEO has experienced growth dealing with both Republican and Democratic administrations.
Conclusion:
While the political risks GEO Group faces are real, its 2026 bonds are attractive. Specifically, the political risks are heightened (and the bond price is depressed) heading into the 2020 election cycle, but the need and demand for the business is not going away (even politicians opposed to the for-profit prison concept are not likely to allow violent criminals to simply walk out of jail). Further, the company's strong balance sheet provides a competitive advantage versus smaller and less capitalized companies, particularly for contracts that require the bidder to build and own the facilities. Also, the company will continue to benefit from its long-term relationships with high-quality government customers and its high contract retention rate (97%). Further still, GEO's capex is expected to keep declining over the next two quarters as new long-term projects come online simultaneously boosting revenues.
GEO Group's 2026 bonds are on our top ideas list (The Chosen) for October (along with 3 other bond ideas and 3 individual stock ideas, such as our write-up on Zscaler, for example) because of the attractive risk-reward profile. In our view, the political rhetoric will eventually die down, we're comfortable with the risk-reward, and we're happy to collect yield in excess of 10% on GEO's 2026 bonds.