Nearly every semiconductor company has called the 1Q of 2012 as the bottom of the semiconductor inventory correction, yet year of year semiconductor sales are dropping at a fast pace. The latest figures from the World Semiconductor Trade Statistics - WSTS - show the 3 month moving average of semiconductor billings for January dropping 8.8% from last year. When comparing January 2012 alone...(not the 3 month moving average) to January 2011, the year over year drop is 14.4%.
As you can see from the graph above, year over year semiconductor billings have only gone negative twice in the last 13 years...2001-2002 and 2008-2009. Notice the year over year percentages in 2005 did not go negative after the boom recovery cycle from the 2001 to 2002 recession.
Below is a chart of 29 mostly US semiconductor firms that represent 58% of world semiconductor billings in 4Q 2011. Currently the weighted average of these companies 1Q 2012 guidance is for a sequential drop of 5.5% in revenue.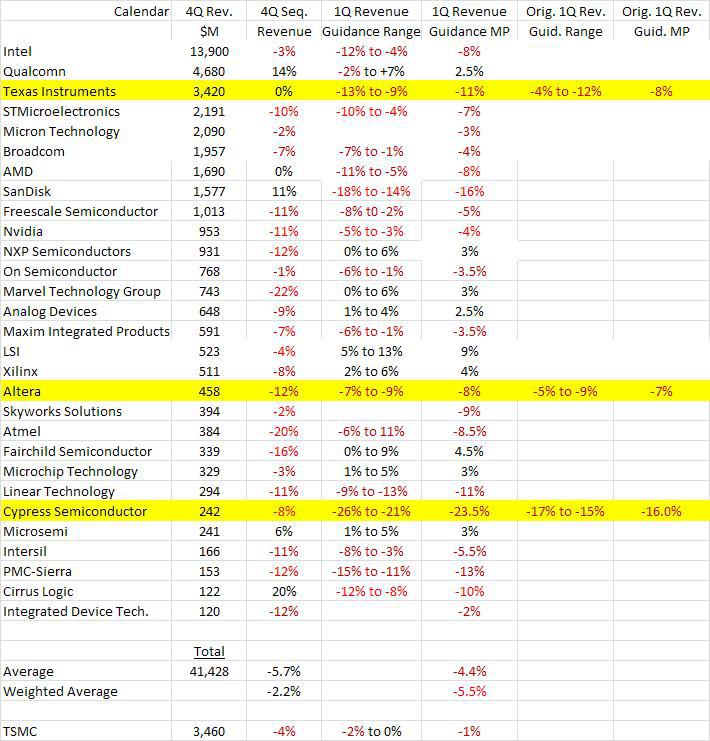 So far 3 semiconductor companies have warned:
1) Texas Instruments (TXN) reduced revenue guidance from down 8% to down 11% citing reduced demand for their wireless products. From their mid quarter update transcript:
Okay. Sure, Stacy. As I said, there really is only one area that is weaker than we had expected which is Wireless, and that includes both -- the weakness includes both OMAP applications processors and connectivity products. Outside of our Wireless segment, our revenue is tracking consistent with our initial expectations, which is for that revenue to be about flat with what we saw in the fourth quarter.

- Ron Slaymaker
2) Cypress Semiconductor (NASDAQ:CY) reduced revenue guidance from down 16% to down 23.5% again citing wireless weakness. From their PR:
"We have recently seen some order decreases, mostly in certain wire line and handset customers. In addition we are seeing weaker than expected revenues from our distribution channel, mainly due to lower turns business in Europe and Asia. These factors are resulting in a negative impact to our previously expected Q1 2012 revenue," stated Brad Buss, Executive Vice President of Finance and CFO.

"Customer backlog and bookings stabilized in January and we have seen improvements for the last six weeks. We continue to believe that Q1 will be the bottom for revenue and bookings, and at this point expect Q2 revenue to grow sequentially. However the macro environment and order patterns remain very fluid and lead-times are near historical lows, impacting visibility," continued Brad Buss.
3) Altera (ALTR) reduced revenue guidance from a midpoint of down 7% to down 8%, citing military and wireless weakness. From their PR:
Initial guidance for the first quarter was for a 5 to 9 percent sequential revenue decline, largely the result of program timing in the military vertical market and continued softness in sales to wireless customers. As the quarter has progressed, the company has experienced somewhat more pronounced and broader than anticipated inventory adjustment related weakness and now believes that first quarter revenue will be 7 to 9 percent lower than fourth quarter levels.

The company continues to expect that revenue in the second quarter of 2012 will be above first quarter levels. Quarter-to-date book to bill remains above 1.0.
Perhaps we are seeing a pattern here with non-Apple (NASDAQ:AAPL) wireless suppliers suffering disproportionately more than Apple suppliers? This very well may be the case. What does give me pause though is the slowing economy worldwide which is shown by plotting the GDP annual growth rate by quarter for the US, Eurozone, Japan, and China.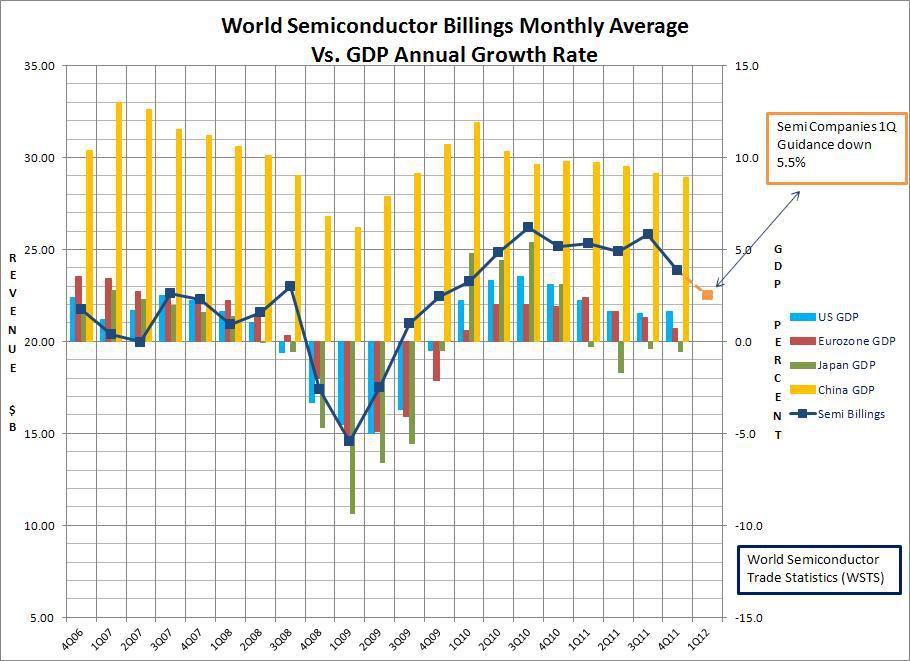 Conclusion: I'm cautious about buying into semiconductor firms and the stock market in general at these levels. At any sign of weakness in the US economy and stock market, I may short the Semiconductor ETF (NYSEARCA:SMH) and/or buy the double inverse short Nasdaq 100 ETF (QID).
Disclosure: I have no positions in any stocks mentioned, but may initiate a long position in QID over the next 72 hours.