Renren Inc (NYSE:RENN), dubbed the "Facebook of China" is the most compelling speculation in the social media stock space because it offers the most compelling risk reward profile. RENN shares are down 70% from their mid 2011 IPO price.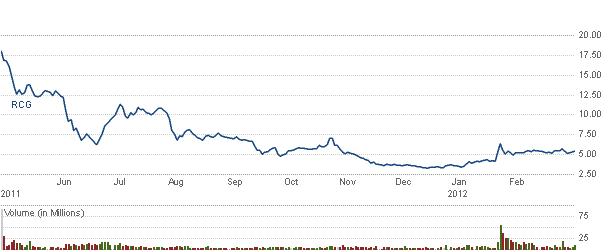 (Click to enlarge) Source: CNBC
Limited Risk
RENN has $1.2 billion or $3.05 per share in cash. With RENN currently trading around $5 per share, the cash position serves as a cushion for the stock.
Peers:
LinkedIN (LNKD)
Cash: $5.64 per share
Stock price: $90.13
Sina Corp (NASDAQ:SINA)
Cash: $10.2 per share
Stock price: $77.39
Zynga Inc (NASDAQ:ZNGA)
Cash: $2.49 per share
Price: $13.89
RENN's cash position relative to its share price is far and away the best among its peers. This reduces the risk for RENN.
Upside Potential
Increase in users
At the end of 2011, RENN had a total of 147 million active user accounts. This represents a 37 million user increase from 2010. The growth of user accounts is important as it shows that the company is continuing to gain traction in the increasingly competitive Chinese social media market place.
Improving financial results
In addition to gaining users, RENN reported stronger financial results:
Q4 net income of 14 cents per share vs. 46 cent per share loss a year ago.
Online advertising revenue rose 66%
Expects full year 2012 revenue to increase to between $177 million and $183 million, which is above analysts expectations of $175 million.
Mobile internet growth
50% of daily users are mobile users.
Revenue generated from mobile gaming.
Faster growing than traditional pc social media.
Conclusion
Market expectations are currently very low for RENN, this is in contrast to the optimistic market expectations for LNKD, SINA, ZNGA, and soon Facebook (NASDAQ:FB). Though market expectations have decreased, the long-term potential for RENN is still very strong. RENN's cash position serves to reduce the risk if things don't go well for RENN in the short-term. All investments in social media must be considered speculations, as it is far to early to know which companies will be the real winners in the industry. Currently, speculating in RENN makes more sense from a risk reward standpoint than investing in other social media companies.
Disclosure: I have no positions in any stocks mentioned, and no plans to initiate any positions within the next 72 hours.