Carvana Losses And Cash Burn Soar
Summary
Company beats on top line, but misses on bottom line.
Net debt position almost $1 billion now.
Valuation remains extremely elevated.
After the bell on Wednesday, we received third quarter results from online vehicle retailer Carvana (NYSE:CVNA), seen in this shareholder letter. As the company has continued to grow its revenues at a significant pace, expenses have also grown quite considerably as well. Unfortunately, the Q3 results weren't that great overall, as the company's financial picture continues to weaken despite the stock trading at a tremendously high valuation.
The company reported revenues of almost $1.1 billion for the period, easily outpacing estimates for $1.01 billion, and top-line numbers have not been the problem. The big issue here was that, despite the 105% year over year top-line increase, net losses on a GAAP basis more than doubled from $17 million to $39 million. The adjusted loss per share of $0.56 was much worse than the loss of $0.40 expected by the street, and that's despite the share count rising almost 7% over the past year, which actually helps the EPS situation when the company is in the red.
For the nine-month period, Carvana has more than doubled revenues to $2.47 billion, but the net loss (excluding preferred stock items and those losses attributable to non-controlling interests) has soared to more than $94 million from just $33 million a year earlier. Total losses are almost a quarter of a billion dollars for the nine-month period when including losses from non-controlling interests. Management can talk all it wants to about improving EBITDA margins and economies of scale, but the losses are still getting worse. Guidance for the year now calls for EBITDA margins to be at the higher end of the previously forecast loss range.
Unfortunately, the losses aren't the worst part of this story. They are helping to fuel sizable cash burn as well, including cash used in operations of $140 million in Q3 alone. Throw in another $60 million plus in capital expenditures and the free cash burn is even larger. In the table below, I've detailed the key cash/debt items over the past year, showing how things are getting worse.

(Source: Carvana quarterly reports, seen here)
A huge reason for the increased losses was the dramatic rise in interest expenses, nearly quadrupling in Q3 2019 from the year-ago period. As the company continues to add debt, interest costs will rise even more, further impacting the ability to be profitable. Management noted in the shareholder letter that it increased a floor plan credit line by $300 million to further continue its growth story, but that means more debt.
The other major part of this is significant ongoing dilution over time. Between equity offerings as well as conversions from Class B shares, the number of shares outstanding that trade in the market is soaring as seen below. The Class A count topped 50 million for the first time in Q3, and there are still over 101 million Class B shares out there that may be converted to Class A in the future, although not always at a one to one ratio.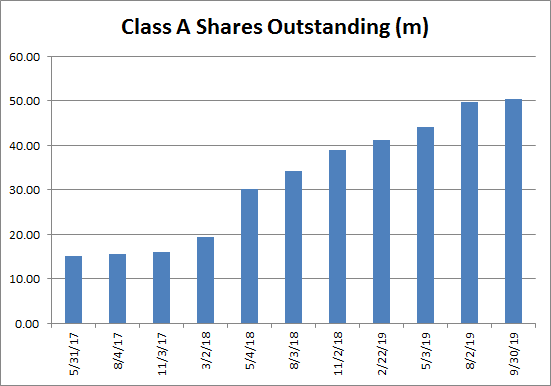 Now, when it comes to valuation, Carvana can't be valued on a P/E basis since it is losing money. There is no doubt that it boasts the most revenue growth in the space now, even more than electric vehicle maker Tesla (NASDAQ:TSLA). So, let's take a look at how these names trade on a price to sales basis, using the market caps as of Wednesday's close as well as estimates for next year's total revenues. For reference purposes, I included industry giants Ford (NYSE:F) and General Motors (NYSE:GM) to show you the massive premium investors are paying.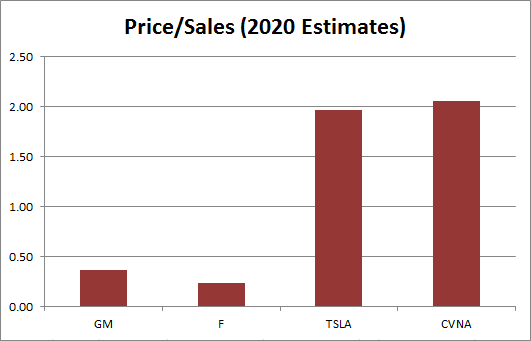 (Data sourced from Yahoo Finance)
In the end, it was a very mixed quarter for Carvana, which isn't a great thing when you trade at a sky-high valuation. While the company continues to show very impressive revenue growth, losses are piling up, and the net debt position is now close to a billion dollars. As more debt adds interest and equity raises lead to dilution, this valuation seems likely to compress from its lofty levels.
Disclosure: I/we have no positions in any stocks mentioned, and no plans to initiate any positions within the next 72 hours. I wrote this article myself, and it expresses my own opinions. I am not receiving compensation for it (other than from Seeking Alpha). I have no business relationship with any company whose stock is mentioned in this article.
Additional disclosure: Investors are always reminded that before making any investment, you should do your own proper due diligence on any name directly or indirectly mentioned in this article. Investors should also consider seeking advice from a broker or financial adviser before making any investment decisions. Any material in this article should be considered general information, and not relied on as a formal investment recommendation.