Fair to Middling for Manufacturing, Good News for the Services Sectors
Manufacturing missed the consensus range of 54%-55.5% by over 1.5% to 52.4% and well below the consensus point of 54.6%. Economists had predicted a rise in the index of 0.5 but got slack results in all the sub-indexes with new orders down 2.7, production down 0.4, employment down 1.1, supplier deliveries down 4.6, and inventories at break even. But according to Econoday, "... February's rates are respectable and not that much different than January." The most dramatic increase in the sub-indexes was prices with a rise of 6% to 61.5%. So the only good news was the exports index up 4.5 to 59.5%.
Non-Manufacturing ISM Report showed greater strength with the headline index rising 0.5% to 57.3% which was well above the consensus of 56 and on the high side of the consensus range of 54.5%-58%. Econoday summary was a little more reasonable by claiming this report was "very positive". Although employment was down 1.7 to a good level of 55.7 and supplier deliveries was down 1.5 to 49.5%, business activity jumped 3.1 to 62.6% and new orders continued its strong upward trend since October 2011 (52.4%) with an increase of 1.8 to 61.2%.
Déjà vu on prices and inflation concerns
Even though the manufacturing report showed weakness across the board, the price index and numbers of commodities with rising prices did not subside last month. Below is a chart of the price indexes for both manufacturing and non-manufacturing from the Federal Reserve which shows a five-month trend upward for both sectors.
(Click charts to expand)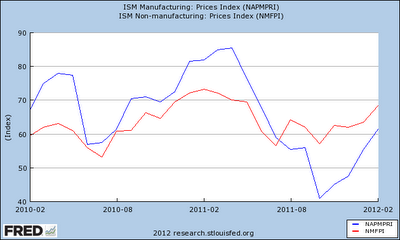 The following two charts also shows recent upward trends from both reports for both total number of commodities rising in prices and multimonth commodities. It is not nearly as dire as during the spring of 2011. These indexes are not seasonally adjusted so we can expect this recent trend to continue up. It looks more subdued, but that could change during the spring thaws.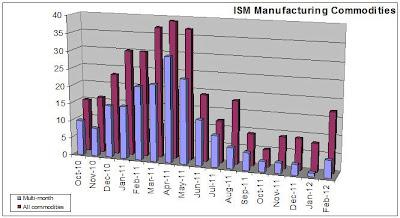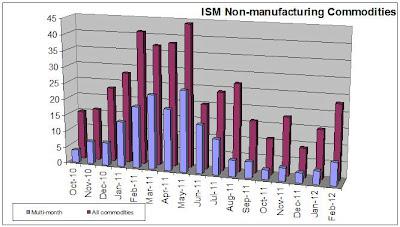 Stock Picks Based on Manufacturing Index with Subindexes
The regression formula I used for the following stocks picks included the headline index of the manufacturing index as well as five of the subindexes of the manufacturing report (employment, new export orders, new orders, and price) and all within the Fama-French 3 factor model. This creates quite a few regressors and along with raising the limits on sectors and industries, it created longer lists of potential candidates than previous runs. The list of "Lovers" (those that love a rising manufacturing index) was then weeded down to those stocks rated a Strong Buy by Sabrient Systems. (Complete list available upon request.)
Valero Energy Corporation (NYSE:VLO)
Baker Hughes Incorporated (BHI)
Cummins Inc. (NYSE:CMI)
Newfield Exploration Company (NYSE:NFX)
Avery Dennison Corporation (NYSE:AVY)
Tesoro Corporation (TSO)
WellPoint, Inc. (WLP)
EOG Resources, Inc. (NYSE:EOG)
Mattel, Inc. (NASDAQ:MAT)
Macy's, Inc. (NYSE:M)
Ford Motor Company (NYSE:F)
Cliffs Natural Resources Inc. (NYSE:CLF)
SunTrust Banks, Inc. (NYSE:STI)
Eastman Chemical Company (NYSE:EMN)
MetLife, Inc. (NYSE:MET)
Bank of America Corporation (NYSE:BAC)
Prudential Financial, Inc. (NYSE:PRU)
Wynn Resorts, Limited (NASDAQ:WYNN)
American International Group, Inc. (NYSE:AIG)
Discover Financial Services (NYSE:DFS)
Goodyear Tire & Rubber Company (NYSE:GT)
Principal Financial Group, Inc. (NYSE:PFG)
Disclosure: I have no positions in any stocks mentioned, and no plans to initiate any positions within the next 72 hours.
Disclaimer: This article is published solely for informational purposes and is not to be construed as advice or a recommendation to specific individuals. Individuals should take into account their personal financial circumstances in acting on any rankings or stock selections provided by Sabrient. Sabrient makes no representations that the techniques used in its rankings or selections will result in or guarantee profits in trading. Trading involves risk, including possible loss of principal and other losses, and past performance is no indication of future results.