Demand for natural gas has been growing rapidly for the last couple of years and it's also available in abundance in North America. With crude oil close to its all time highs, natural gas offers an attractive alternative. And it is possibly the only real reliable source of alternative energy that can make up for any shortfalls in oil production.
As conflicts in the Middle East looms, threatening the supply of oil, natural gas becomes an attractive alternative, or at least a source for supplementing oil production. Nevertheless, investing in natural gas requires a different strategy than from investing in crude oil. Anyone who has been buying futures of crude oil has seen their positions gain in value. But this has not been the case for natural gas. And despite increased usage the price has been declining due to technological advancements.
Crude oil and natural gas used to trade in tandem but that all changed during the middle of last decade with the advent of horizontal drilling and hydraulic fracturing. Geologists have long known about massive natural gas formations in North America but the cost of exploration prohibited many large scale production projects. But these new drilling techniques have made it possible to open up vast new reservoirs in addition to finding previously unknown reserves.
Despite low natural gas prices, advancement in technology and an increasing number of operating drilling rigs is a good indicator that prices will remain low in the foreseeable future. The chart shows the price of crude oil and natural gas over the last quarter century.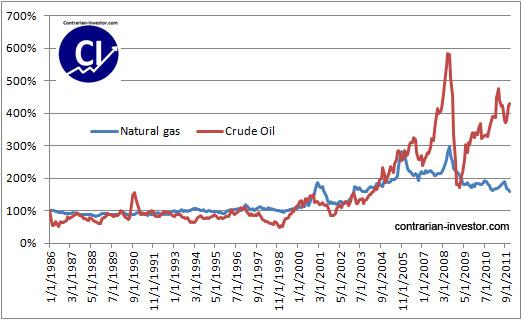 The next chart shows the natural gas and crude oil ratio since 1986. The price of oil started to break away from natural gas around 2003 as technologies like horizontal drilling and hydraulic fracturing made drilling more efficient and less expensive.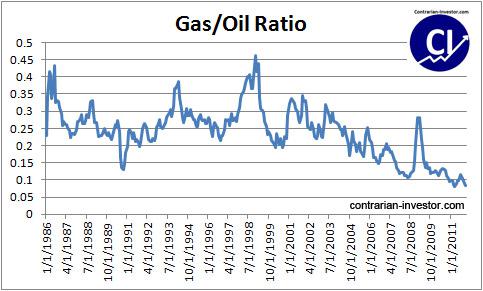 Rather than invest in natural gas itself, which the price has been declining for the last couple of years, a better argument can be made for investing in companies that are in the business of servicing natural gas drilling and exploration companies. A couple of companies to watch include, Schlumberger Limited (NYSE:SLB), Baker Hughes (BHI), and National Oilwell Varco, Inc (NYSE:NOV).
Disclosure: I have no positions in any stocks mentioned, and no plans to initiate any positions within the next 72 hours.