More than 10% (20 million people) of the United States population over age 20 has chronic kidney disease. Ultimately, the treatment options for this terrible disease are a kidney transplant or dialysis. DaVita (NYSE:DVA) is the leading provider of kidney care in the United States. As stated on the company's website, DaVita strives to improve patient's lives by "innovating clinical care and by offering integrated treatment plans, personalized care teams, and convenient health management services."
DaVita is an $8.08 billion mid-cap company which was recently added to Warren Buffett's portfolio. The stock had a solid 40% run-up since the fall of 2011. However, the stock is merely catching up with its 12.9% annual earnings growth in the last five years. If we look back five years ago, the stock was trading just above $50. Its five year earnings growth would take the stock up to around $97, which is hasn't reached yet.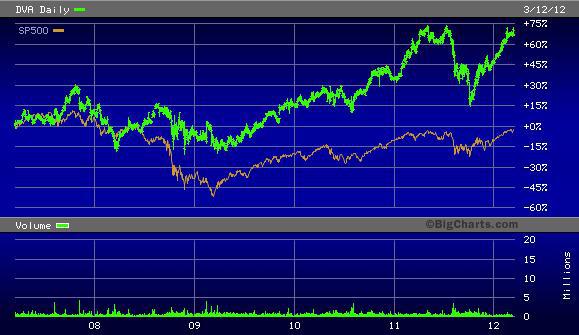 The stock is currently fairly valued on the low end of the scale with a forward PE ratio of 12.36, a PEG ratio of 1.05, and a price to book ratio of 3.77. One could argue that it is still undervalued, as the stock price did not yet catch up to its five year annual earnings growth.
DaVita has a profit margin of 6.85% and an operating margin of 16.72%. It has operating cash flow of $1.18 billion and free cash flow of $580.61 million. Total cash on hand is $411 million and total debt is $4.53 billion. The company has 1.98 times more current assets than current liabilities.
DaVita has exceeded its earnings estimates in all four quarters of 2011. It has five upward earnings revisions for 2012 and 3 upward revisions for 2013. This should lead to more earnings achievements. The company is expected to grow earnings annually at a market-beating 13.23% for the next five years.
DaVita is pursuing integrated care where it is striving to manage $88,000 a year of total medical costs per Medicare dialysis patient instead of the current $33,000 figure. This would allow for higher quality and more services for patients with lower total costs due to reduced hospitalizations. The new integrated care would also provide an attractive return for shareholders.
As of December 31, 2011, DaVita provided services at 1,809 dialysis facilities in the United States, serving approximately 142,000 patients. It also operates 11 outpatient dialysis centers located in three countries outside the U.S.
DaVita looks like it will continue to be a market-beating company for the long-term by growing earnings at an above average rate. Most importantly, it will continue to improve and prolong the lives of patients with chronic kidney disease. Investors can consider an investment in DaVita as a positive contribution to those with kidney disease.
Disclosure: I have no positions in any stocks mentioned, and no plans to initiate any positions within the next 72 hours.