In a previous article posted on February 1, 2012, related to First Energy (NYSE:FE), a married put position was considered, as the married put position enables an investor to take advantage of receiving company dividends and participate in appreciation of the stock price. The married put position may be entered by purchasing a stock and a protective put option. The specific put option selected for purchase in the previous article was the 2012 Jul 43 at $3.30.
In the company's most recent Q4 2011 conference call held on February 29, 2012, the company indicated the merger with Allegheny is going very well. Additionally, the company captured new customers in Pennsylvania and increased government aggregation business in Ohio and Illinois.
On a negative note, the company experienced abnormal expense as a result of Hurricane Irene and the October snow storms. Additionally, the company noted it is continuing to experience a sluggish economy.
First Energy has eliminated $2.4 billion of debt to shore up its balance sheet and has also retired nine units due to the EPA's MATS (Mercury and Air Toxic Standards) rule. The retired units represented 14% of the company's generating capacity.
Since entering the married put position, the price of First Energy stock has increased as shown below: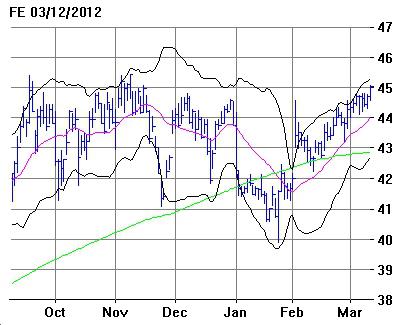 Since the price of the stock is now greater than the price of the put option's $43 strike price, an income method may be performed for the married put position, according to the RadioActiveTrading.com method, in order to generate income and reduce risk.
Using PowerOptions tools, a covered call position was found which generates income and reduces risk. A covered call position may be entered by selling a call option against a stock. The combination of the covered call and the protective put option results in a protective covered call or collar position. The specific call option to sell is the 2012 Apr 45 at $0.70. The income received from selling the call option has now decreased the maximum risk for the position from 2.8% to 1.2% with a profit/loss graph for one contract as shown below: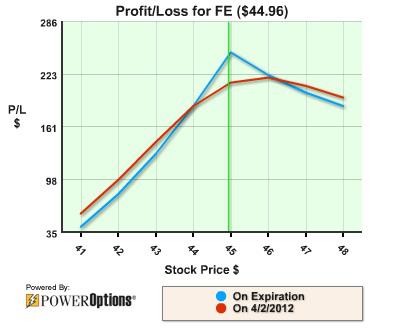 The profit/loss graph above assumes the receipt of $1.10 of dividends during the course of holding the position. Additionally, if the call option expires worthless at April option expiration, another call option may possibly be sold in order to receive additional income and continue to reduce risk.
Disclosure: I have no positions in any stocks mentioned, and no plans to initiate any positions within the next 72 hours.