Tapestry Is An Undervalued Dividend Play
Summary
I believe Tapestry's fair valuation is almost twice its current share price.
This company owns strong recognized brands, and while tariffs are hurting Kate Spade's margins, the drop in company's stock price is an overreaction.
Tapestry benefits from the diversity of its brands, and it pays a solid dividend. Get paid to wait until this company turns the corner.
Tapestry Inc. (TPR), formerly known simply as Coach, is a powerful branding business that owns and manages three luxury lifestyle brands: Coach, Kate Spade, and Stuart Weitzman.
I was an investor in this company years ago, and sold my shares a few months after it acquired Kate Spade, effectively turning itself into a luxury branding business, or a conglomerate, as another Seeking Alpha author noted. The move was likely done to mask the fact that the various brands, each associated with a different age group and catering to different demographics, belonged to the very same company. While I felt that the Kate Spade acquisition and Coach's transformation into a global lifestyle branding business was a positive move, I was fearful that the acquisition was done at a high price, and as a means to compete with then Michael Kors, which has since also transformed to Capri Holdings (CPRI). Furthermore, the branding business has been facing challenges of its own. Luxury brands such as Coach and Kate Spade were being offered at outlet stores and department stores at a cheaper price than they were sold at their own specialty stores. The cold war between Michael Kors, Kate Spade, and Coach, which caused them to offer more products at malls and outlet stores, has been hurting their margins. I believe Tapestry made the right move in closing many of its outlet and department store locations to focus on rebuilding its brand image. The brand is bound to lose prestige when its handbags are offered at a price point affordable to most people. Keeping the margins high, and focusing instead on advertising to sell the products at a high margin is the right move. While fears of tariffs and its impact on Kate Spade has hurt Tapestry's share price, I believe the diversity of Tapestry's brands, its global reach, and the strength of its balance sheet will ultimately help it weather the political storm. As of September 28, 2019, Tapestry had more than $520 mil in cash.
Strong Dividend
Tapestry's dividend saw significant growth between 2010-2014 from 0.52/share to 1.35. The company has a strong track record of paying solid dividends, and there is no need for that to change in the near future. While the company has not raised its dividend since 2014, Tapestry's dividend is still quite high at 5% (partly due to under-performance of the share value). With a dividend payout ratio of 53.43%, Tapestry's dividend is still relatively safe, and is likely to see an increase by 2021, as Tapestry is expected to return to EBITDA and marginal revenue growth. I would be wary if the payout ratio climbs too far above 55%.
Terrific Valuation
Historically, Tapestry's price has hovered at a P/E ratio of around 21.07, as demonstrated below through FASTGraphs. The near 34% YTD decline in Tapestry's share price has brought this company to attractive valuations. Current P/E stands at 10.51, about half of the company's normal P/E ratio. You can also see that the company is trading well below its average P/E growth ratio of 15.85. We have rarely seen such low valuations here, and TPR has historically often recovered to a P/E of 20-21. While historical performance does not guarantee future results, it is safe to say the shares are currently trading at a significant discount. Tapestry has the potential to grow 119% by 2022. Add to that the more than 5% in dividend, and the potential of it increasing by 2021, and you have the potential of more than 132% in returns in less than 3 years here. Not bad, and with a 5% dividend yield, it is not hard to wait for the share price to recover.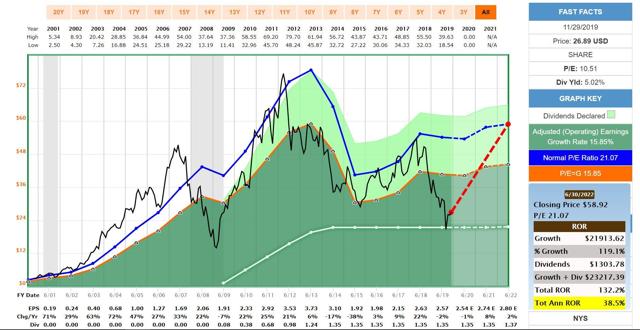 Source: FAST Graphs
Challenges Ahead
Tapestry certainly has challenges ahead as well. The biggest issue I see here are Tapestry's shrinking margins. Gross margin has declined by 2.88% over the past 5 years, while net income margin has decreased by a staggering 38.01% in the same time frame. While Kate Spade has had a decent international performance, Tapestry needs to find a way around Kate Spade's declining revenues in North America.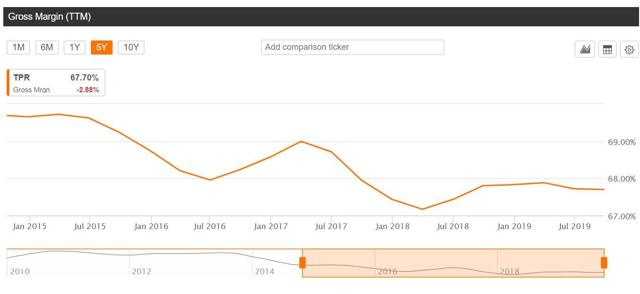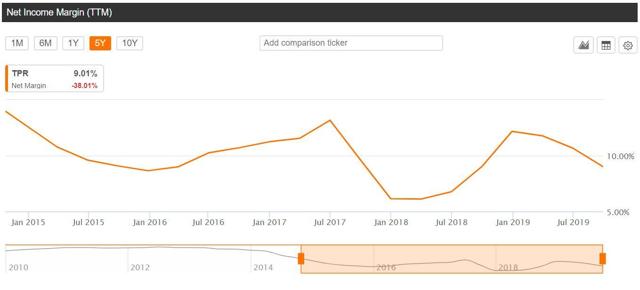 Source: Seeking Alpha
Conclusions
Between the trade war, Kate Spade's declining revenue in North America and shrinking margins, Tapestry certainly has problems ahead. However, with a portfolio of highly recognized brands, and a strong 5% dividend, Tapestry's current low valuation is hard to pass. Tapestry is a buy at current price, but I would advise caution in the long-run.
Disclosure: I/we have no positions in any stocks mentioned, and no plans to initiate any positions within the next 72 hours. I wrote this article myself, and it expresses my own opinions. I am not receiving compensation for it (other than from Seeking Alpha). I have no business relationship with any company whose stock is mentioned in this article.