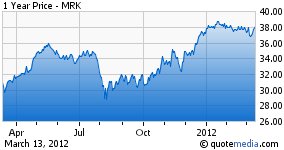 Merck (NYSE:MRK) is another pharmaceutical company with a growth challenge as it has to innovate at a rapid rate in order to grow. The company's CEO, Ken Frazier is very committed to keep Merck as one of the strongest players in the industry. The company is currently going through a multi-year transition in order to stay competitive. The company is currently experiencing a growth of 5% in top line and 10% in the bottom line. Its goal is to keep its bottom line growth faster than its top line growth.
New Focuses
Moving forward, the company will focus on 3 things at its R&D department in order to ensure its growth: Execute, Expand and Excel. By Execute, the company means to bring the new products in the pipeline and push them to production fast and efficiently. By Expand, the company means to increase its presence in the emerging markets in terms of both operations and customer base. By Excel, the company means to increase its flexibility and have more control over its costs to improve its margins.
Cutting Costs While Staying Competitive
Each year, Merck reduces its R&D costs systematically while keeping its innovation and production rate constant. For example, in 2009 the company spent $8.6 billion in RD, whereas in 2010 this number was reduced to $8.2 billion and in 2011 it was reduced further to $7.7 billion. Usually investors see downward trend in R&D spending as a bad thing, but in Merck's story, it may be a good thing as only unnecessary spending is shaved from R&D expenditures. In 2011, Merck received 5 approvals and it hopes to get another 8 by the end of 2013.
A Look at Merck's Pipeline
One of Merck's most promising projects is Suvorexant. This drug is designed to treat insomnia. So far, all the studies done regarding this drug turned out to be positive and it passed the safety tests spanning over a year. The drug is superior to placebo in both sleep onset effects and sleep maintenance effects. Merck will be filing for Suvorexant's FDA approval later this year.
V503 is a vaccine produced by Merck to protect individuals from cancer types associated with HPV. The vaccine is particularly effective against cervical cancer as it can protect individuals from 90% of the cervical cancers that are associated with HPV. In this product, the company already finished the first 3 Phases of the study, and the final stage of the study is currently ongoing.
MK8931 is another promising project of the company. This drug is designed to inhibit BACE in treating Alzheimer's disease. In the past studies done by multiple drug companies, inhibiting BACE was a very challenging task, however Merck claims that it is getting really close to achieving this task.
In the last few years, the company cancelled 13 projects that were in Phase II and Phase III trials. Merck realizes the big challenge of return of investment in the drug industry, and it actively engages in a prioritization process where projects that aren't as promising take the back seat where more resources are focused on more promising projects. All the cancelled projects were started in companies acquired by Merck.
Mercks' International Partnerships
Merck's partnerships overseas will help it get more emerging market exposure. One of these partnerships is with Sun Pharma (BY-524715), which intends to generic drugs in the fast growing markets. Merck's partnership with BGI will help the company gain additional global market share in genomics. The company's partnership with Roche will increase its exposure to Hepatitis C treatment market. The company will also utilize its partnerships with Parexel (NASDAQ:PRXL) and Hanwha in order to grow in biosimilars industry.
Opening up to New Markets
Another way Merck will seek to increase its margins is by increasing its exposure to over the counter consumer care products as well as animal health products. These two segments are very promising both in terms of operating margin and growth opportunities. For example, in the last quarter Merck's animal health products saw revenue growth of 20% compared to a year ago. As people get wealthier in emerging markets, they are likely to spend more and more money on their pets. Currently the company doesn't have much market share in either markets compared to market leaders, which gives it a lot of room for growth. Consumer care segment is likely to remain profitable for years to come as there is a strong trend in both developed and developing nations for individuals to focus on their own well-being.
Dividends/Repurchases
The company is shareholder friendly. Ken Frazier mentions this in every chance he gets. The company is committed to sharing its cash flow with its owners. The company has a fine dividend history. Merck doesn't raise its dividend payments every year, but it pays dividends every quarter and the company never reduces the amount either. The company's current dividend yield is 4.41%. In the last 2 years, the company already spent $12.5 billion in share repurchases and it has another $4.7 billion on the side it is authorized to use for the same purchase.
Conclusion
Merck can be a good investment for those that want predictable and stable income, some growth potential and some safety. In the last 10 years, Merck lost 35% of its value, and the company currently enjoys a P/E ratio of 18.70. If Merck's current transition goes successfully, which I believe it will, the company will have a lot of upside potential.
Disclosure: I have no positions in any stocks mentioned, and no plans to initiate any positions within the next 72 hours.