I continue to be positive on the energy sector and am still finding bargains here. One stock (below) I came across recently has rapidly growing production, reasonable valuations, solid expansion plans and is significantly under analysts price targets.
Rex Energy Corporation (NASDAQ:REXX):
Rex Energy Corporation operates as an independent oil and gas company in the Appalachian, Illinois, and Denver-Julesburg Basins. The company owns interests in the Lawrence Field ASP Flood project, which is an oil recovery project located in Lawrence County, Illinois; and in the Marcellus Shale drilling projects located in Pennsylvania in the Appalachian Basin. As of December 31, 2010, it had proved reserves of 201.7 billions cubic feet equivalent and operated approximately 2,110 wells. (Business Description from Yahoo Finance)
8 reasons REXX is a solid play at $10.30 a share:
The company is solidly growing production and revenue. It booked almost $115m in revenue in FY2011 and analysts expect $161mm in sales in FY2012 and $231mm in FY2013.
The stock is selling significantly below analysts' price targets. The median price target for the 13 analysts on this stock is $16, almost 50% below current prices.
Two insiders have made recent purchases, and the stock has had net insider buying over the last six months.
The majority of its gas and oil production is hedged for the next few years which protects it significantly from the current low natural gas prices.
Management is shifting its production and capital budget to oil production, which should allow it to take advantage of higher prices in that commodity.
The company has beat earnings estimates handily for four straight quarters. The average beat over consensus during that time span has been north of 40%.
The company has the right debt facilities in place to continue to rapidly expand production in its well diversified acreage. Given its market cap, valuation and desirable assets, I would not be surprised to see it attract the interest of a larger player. If it stays independent, it should be able to execute on its well thought out expansion plan.
It is selling right at long term technical support levels (see chart).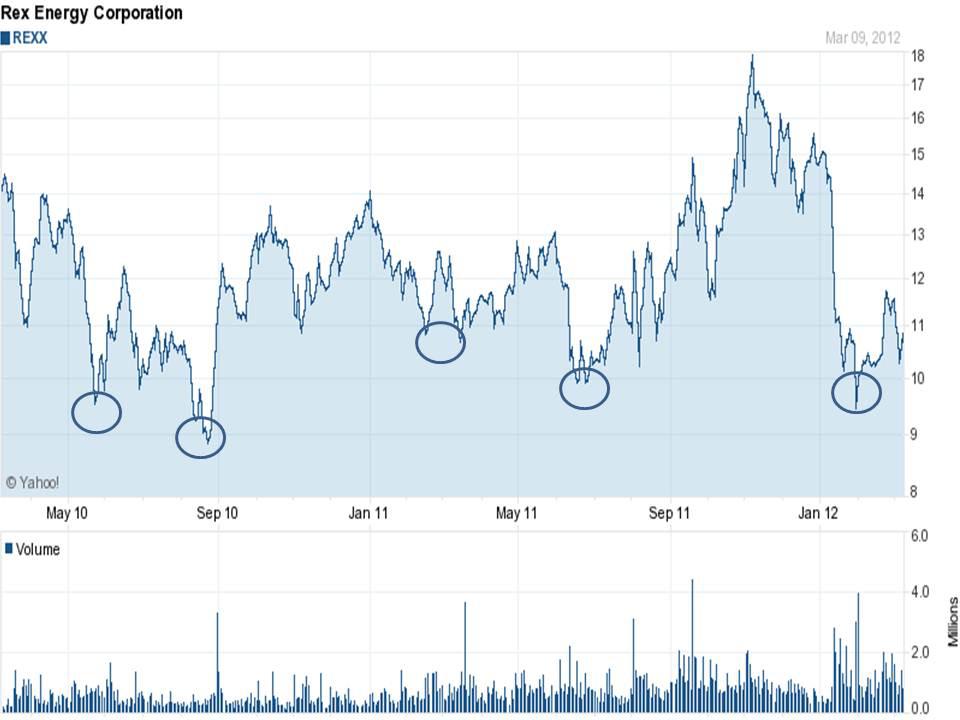 Disclosure: I have no positions in any stocks mentioned, but may initiate a long position in REXX over the next 72 hours.