Welcome to the bear mode edition of Natural Gas Daily!
The natural gas market has gone full bear mode and that might be a good thing for those of us wanting that mouth-watering long set-up come January.
Over the weekend, CFTC managed money net position shows the largest net short position in the last 5-years. While there are some justifications for this like a record Lower 48 production reading, it shouldn't be the case when winter is just starting to get underway.
Natural gas traders we surveyed swapped out an outright long position for bullish calendar spreads between Jan/Feb contracts. In the case of a more bullish weather outlook, January contracts would rally stronger than February, which would widen the spread and result in profit. Given that January now trades in-line with February, traders see this as the most volatile proxy bet on bullish weather.
Trader exposure was unchanged at +10%.
As for the weather outlook, things still look grim for now, but less so after the 12z update. ECMWF-EPS added back 7 TDDs, while GFS-ENS gained close to ~6 TDDs.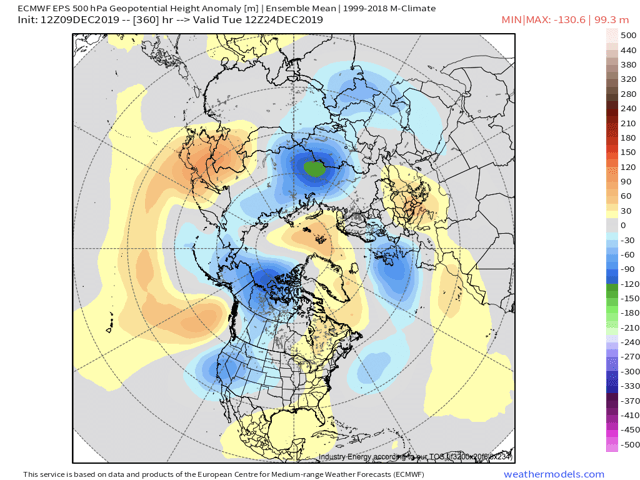 Source: WeatherModels.com
The 15-day outlook still show signs of a bearish set-up with Alaska in a deep trough state, which would mean the lack of bullish weather at the least. The West is colder than normal, but that's hardly helpful to the efforts of the bulls.
One good thing going for the bulls is that despite lower TDDs, fundamental balances are improving somewhat with LNG exports hitting another record high and Lower 48 production stagnating below ~97 Bcf/d. We have likely seen peak production until the middle of next year.
Tonight will also be the newest ECMWF-EPS long-range weather outlook, so we will be watching that closely for when we should be going long. The market has gone full bear, so the long set-up is that much more attractive now.