What's ailing communications stocks? For one thing, there's erratic regulation. The Federal Communications Commission (FCC) has abandoned LightSquared, a company it basically created by favoring it in the 2010 spectrum auction. The decision to bail, however, was due to intense to pressure from other government agencies that charged the protégé's technology would interfere with global positioning systems.
Meanwhile, FCC Chairman Julius Genachowski has been more aggressive than ever. After nixing AT&T's (NYSE:T) purchase of Deutsche Telekom AG (OTCQX:DTEGF) unit T-Mobile USA last year, the commission has scrutinized industry transactions, made huge changes to the Universal Service Fund and is attempting to control the upcoming wireless spectrum auction.
Another sore spot is the soaring cost of operating a competitive network. No. 3 wireless company Sprint Nextel (NYSE:S) was forced into a multi-year, $20 billion commitment to gain access to Apple's (NASDAQ:AAPL) iPhones.
This deal boosted subsidy expenses by 40 percent and pushed the company's fourth-quarter loss to new heights.
Americans continue to swap basic phone service for wireless and broadband offerings. This shift has created a long-term decline in wireline service revenue that to date has only partly been offset by broadband growth. Then there are dividend cuts at Alaska Communications (NASDAQ:ALSK) and Frontier Communications (NYSE:FTR), a general fear of a 2008 reprise and investors' impatience with underperforming stocks.
Taken together, it's no wonder Communications was by far the worst-performing essential-service group in my coverage universe over the past 12 months.
Less clear is how the pressures on this industry will evolve in 2012 and which companies will be helped and which ones will be hurt.
Here's my take.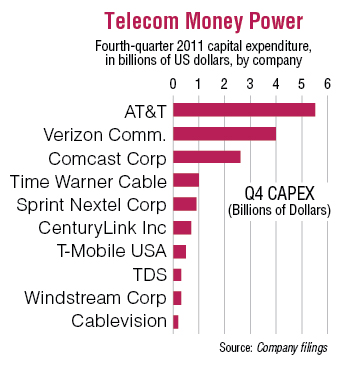 The reason is revealed in the graph "Telecom Money Power," which shows how much the 10 largest communications players spent on their networks in the fourth quarter of 2011 in billions of dollars. Takeaway No. 1 is that both AT&T and Verizon spent more than the companies rated fourth through 10th combined.
This will remain the case even if Deutsche Telekom management follows through on last month's claim that it will spend $4 billion over the next two years; that figure represents exactly what Verizon spent during the fourth quarter of 2011 alone. More likely, the German giant will continue looking for ways to exit an investment that hemorrhaged more than 802,000 contract customers in the fourth quarter.
Takeaway No. 2 is that Comcast enjoys the same kind of money power in the cable sector that AT&T and Verizon do in wireless. The company spent $2.6 billion in the fourth quarter on its network. That was 2.6 times what sector salutatorian Time Warner Cable (TWC) spent. It was 13 times as much as Cablevision (NYSE:CVC), which faces a raft of shareholder suits as it drastically cuts rates to stanch customer losses to Verizon's FiOS network. This burden further reduces funds it desperately needs for network upgrades.
As I stated in "The Rules of the Telecom Game: Spend Big, Win Big," failure to keep up in telecom's game of "moneyball" is the chief reason many companies are in an inexorable state of decline. By contrast, the ability to spend big coupled with exploding demand for connectivity virtually guarantees success for those at the top of the industry.
And the more they earn, the more they can invest to further widen their advantage.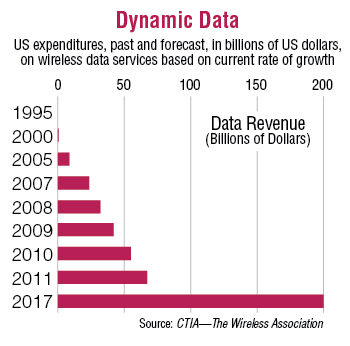 We saw AT&T, Comcast and Verizon do exactly that in the fourth quarter of 2011, just as they have since industry deregulation first kicked in with the 1996 Telecom Act. Verizon sold 7.7 million smartphones, including 4.2 million iPhones, and added 1.2 million contract customers. AT&T picked up a record 717,000 contract users and boosted its Wi-Fi network data traffic by 550 percent.
Both companies gained wireline broadband users and began moving into the prepaid wireless market, a particularly ominous sign for Sprint and T-Mobile USA.
As for Comcast, it raised its dividend 44 percent after boosting free cash flow by 30 percent. The company has successfully integrated the NBC Universal assets acquired last year, even as it's maintained momentum for its burgeoning broadband business. The cable giant has also ramped up its streaming capabilities, a direct challenge to Netflix (NASDAQ:NFLX).
Government actions in Israel and New Zealand did bring down similarly dominant communications companies in those countries. In the U.S., however, such an effort would require an act by a Congress that's grown increasingly willing to restrict FCC aims. Leading Republicans, for example, actually prohibited the FCC from excluding AT&T and Verizon (NYSE:VZ) from a planned auction of unused television airwaves.
The FCC could conceivably try to block the budding marketing alliance between Comcast (NASDAQ:CMCSA) and Verizon, and it could turn its sights to the cable companies' $3.9 billion sale of unused wireless spectrum to Verizon. That won't force Comcast and others to build a wireless network, something they've clearly decided against.
But the FCC could try to force a re-auction, which would, in turn, trigger lawsuits and countersuits -- and ultimately keep badly needed wireless spectrum from being used.
None of this will change the fact that it takes money to build the networks that attract connectivity-hungry customers, or the insurmountable barriers to enter this market. Big communications companies are certainly used to conflict with their chief regulator, and their stocks are certainly priced for the uncertainty.
The upshot is the Big Three (AT&T, Verizon, and Time Warner Cable) have a lot more growth upside than risk.