Success is not final; failure is not fatal: it is the courage to continue that counts.

- Winston Churchill
Not all companies are scared of a drug losing patent protection. Generics are drugs identical in chemical composition to the original medicines, and hence, rely heavily on the expiration of patents to drive profits.
The share of generics in the pharmaceutical market has increased between 2006 and 2016, from 52% to 70% in value and from 16% to 23% in volume. Moreover, the FDA approved a record number of generics in 2018.
The stocks saw a good time in that period.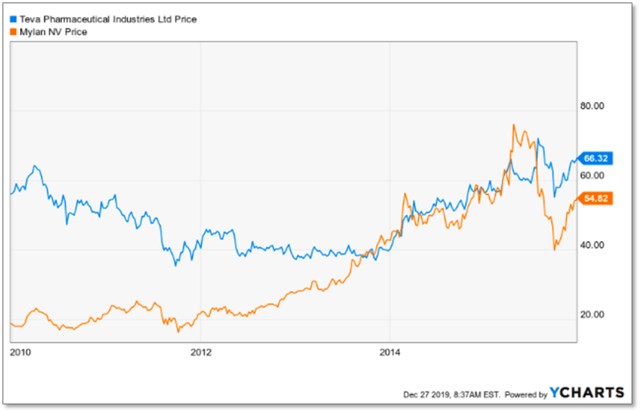 Trouble from all sides
Investors in generics manufacturing companies haven't been on vacation for quite some time now. Stock worries have been prevalent because of a stress on margins because:
Trump's administration expedited FDA approvals of new generics manufacturers to contain healthcare costs
Pharmacy benefit managers have colluded to negotiate better margins for themselves
Another set of worries based out of contingent liabilities has not helped the stock prices:
Opioid lawsuits have the settlement valued at around $48 billion for the industry as a whole. They have been brought to light repeatedly by Presidential candidates, and the noise is destined only to increase as we near the 2020 elections.
Allegations of market manipulation and collusion have got the FBI knocking doors now. 20 drug makers have been charged for price-fixing of more than 100 drugs, costing taxpayers billions of dollars.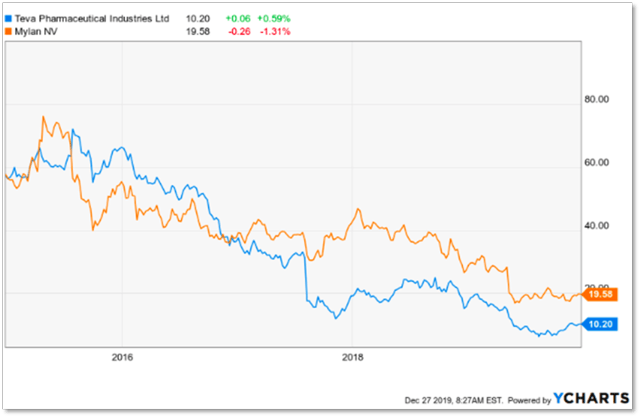 The stocks have been draining for a long time. This May, 44 states brought price-fixing lawsuits against the top generics' manufacturers, which caused a big fall in tickers.
While these players denied all allegations, it is not just the tickers that have been spelling out trouble
Teva (TEVA) laid off 14,000 workers globally last year. Sun Pharma (OTCPK:SMPQY) closed down its Cranbury, New Jersey, manufacturing plant. Mylan (MYL) laid off more than 500 workers in West Virginia. Novartis (NVS), the parent company of Sandoz, closed eight facilities and axed more than 2,000 jobs.
The turmoil has been prevalent throughout the generics manufacturing community.
While everyone is scared of a recession, generics manufacturers might be waiting for it
A probable recession can be the silver lining that the industry might be waiting for. In April this year, Moody's reported that a recession would lead to a boom for generics manufacturers as the liquidity crunch pushes patients towards cheaper drugs, and with doctors prescribing them.
The hypothesis is backed up by instances from the last recession of 2008. India, the largest manufacturer of generics, saw its exports increase to European countries, and American generics manufacturer Actavis saw its share price surge 40% in 4 months during the recession.
In case of a recession, this demand will absorb the increased supply from increased competition.
US manufacturers must not be very fond of the South-Asian counterparts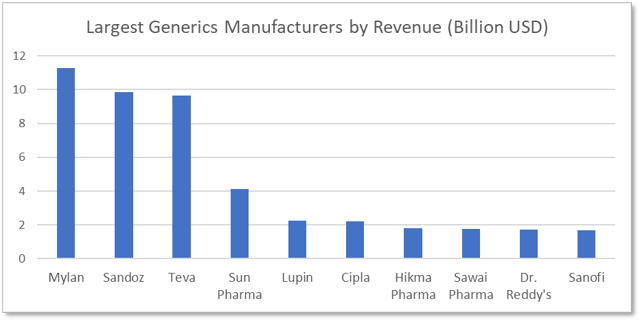 Meanwhile, the increased traction of Indian companies in the US generics industry is not the news investors have been waiting for. Four of the top ten generics manufacturers are Indian companies, and their foothold is only increasing in size.
Meanwhile, the awaited acquisition of a part of Sandoz's business by Indian company Aurobindo Pharma (OTC:ARBQY) will make the latter much stronger. The South Asian player will become the second-largest dermatology player and the second-largest generics company by prescription. The deal will also give it access to additional projects under development and a huge sales team that represents 75% of all prescriptions in the US.
Conclusion
This is the longest the US economy has been without a recession. The trouble specific to the generics industry is still a long way from settling down, but we have got better at fighting a recession for sure. With the trade war and a decline in consumption, we have been living close to the edge.
Tickers are trading at value, but the growth is still iffy. The recession fears are escalating, and the trade war seems to be concluding. As the clouds clear because of the restructuring measures taken by the American players, investors can hope for increased operational efficiency as the market revives. They will be on the front foot to grab the revival in demand. Teva is one of those that have gone through major changes.
On the other hand, Mylan is the biggest player in the industry and is also merging with Pfizer's (PFE) generics arm Upjohn. It can be a good bet as the market revives.
But both companies and investors should keep an eye out for South Asian players.
*Like this article? Don't forget to hit the "Follow" button above!

How To Avoid the Most Common Trading Mistakes
Sometimes, you might not realize your biggest portfolio risks until it's too late.
That's why it's important to pay attention to the right market data, analysis, and insights on a daily basis. Being a passive investor puts you at unnecessary risk. When you stay informed on key signals and indicators, you'll take control of your financial future.
My award-winning market research gives you everything you need to know each day, so you can be ready to act when it matters most.
Click here to gain access and try the Lead-Lag Report FREE for 14 days.