Intel Offers A Lot Of Value - But Investors Are Looking In The Wrong Places
Summary
One thing is clear, it is precisely the future that is traded on the stock exchange and not the present (and certainly not the past).
Given that, I have already pointed out in individual analyses the various new technical possibilities that will become increasingly important with the rollout of 5G this year.
At the CES this week, Intel unveiled some interesting things about Mobileye and Intel's automotive business.
Investors can find a lot of value here, because the automotive business has the potential to become a catalyst for extreme future growth.
Introduction
I have already pointed out in individual analyses the various new technical possibilities that will become increasingly important with the rollout of 5G this year. Of course, this will also be accompanied by a multitude of earning opportunities for companies. While Intel (INTC) left the 5G smartphone modem business, it has positioned itself extremely well with regard to other 5G applications. Specifically, I mean the automotive sector. Here there is now more concrete information, which in my opinion is far too little appreciated by investors. So if some investors wonder why there was so little to see of Intel at CES, they may have looked in the wrong place.
Analyses
As I described before, autonomous driving is divided into five levels and starts with level 1 which includes standard driving assistants which can be found in almost every modern car.

(Source: Levels of autonomous driving)
To sum things up, this is the current state of arts, taken from my previous analyses:
At the moment, Level 3 is state of the art. The first car with full Level 3 support is the Audi A8 from Volkswagen. It offers to take the wheel independently in case of traffic jams or heavy traffic on the motorway. However, the maximum speed is up to 60 km/h. What Volkswagen (OTCPK:VWAGY; OTCPK:VLKAF; OTC:VLKPF) and others like Tesla (TSLA) are currently working on at full speed is Level 4 - at which the vehicle takes over most of the driving, but the driver must always remain fit to drive so that he can intervene if necessary. This point is always at the center of attention when it comes to serious accidents with autopilots.
Today Intel is mainly involved in Level 2 applications.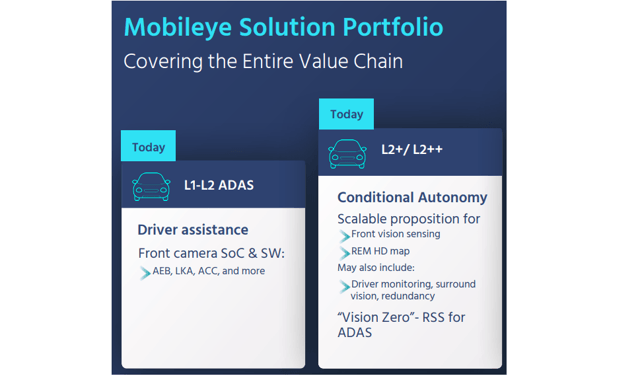 (Source: Intel roadshow)
That doesn't sound like much to begin with. But investors have to take into account that we are a long way from real autonomous driving and that at higher levels many services and products do not yet participate in the normal mass market, but are only used within the framework of research cooperations.
(Source: Intel roadshow)
Another fact that should make investors happy is that at level 2 70 percent of all systems are based on Intel technology (Mobileye). This shows that Intel has an extremely strong position in the mass market in terms of the current state of technology:

(Source: L2+ business status today)
I also don't see any imposing catalysts for this to change at subsequent levels. Intel rather has a concrete plan and I believe that Intel will deliver: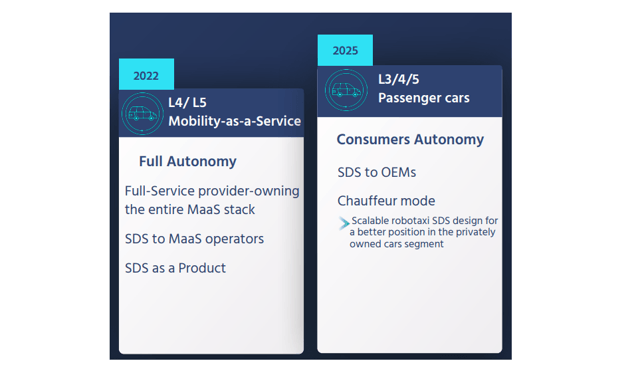 (Source: Intel roadshow)
Because the facts so far are as follows. Mobileye has had 16 product launches to date. Given that, Mobileye achieved many industry firsts:
camera and radar fusion in 2007,
pedestrian-detection warning in 2010,
camera-only forward-collision warning in 2011,
camera-only automatic cruise control (ACC) in 2013,
hands-free assist in 2015, crowd-sourced HD-mapping in 2016,
the Responsibility-Sensitive Safety (RSS) safety model in 2017 and,
a "vision zero" horizon through a novel preventive system using RSS.
In 2019 alone, Mobileye had 33 design wins. Among them 4 high end L2+ wins with European and Chinese OEM's. According to Wolfe research, the growth is expected to continue: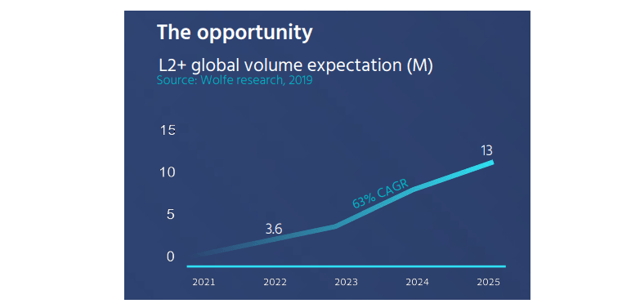 (Source: L2+ global volume expectation)
In addition and up to date, Intel has shipped 54 million EyeQ chips. CAGR was 46 percent since 2014.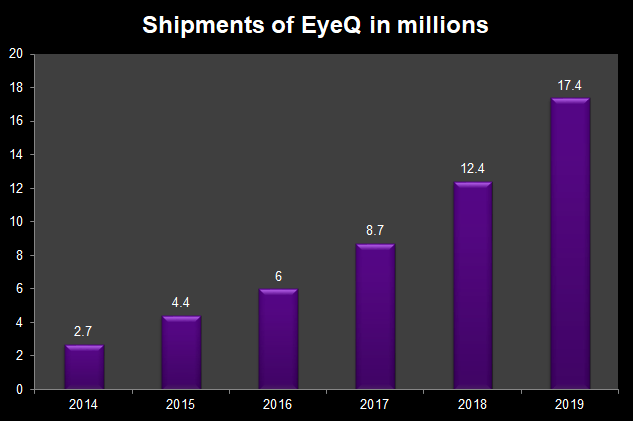 (Source: Intel roadshow / graph by author)
Of course, one must also take into account the risks here. In March 2017, Intel announced that it plans to acquire Mobileye for USD 15.3 billion. The quarterly figures show that Mobileye continues to grow at a double-digit rate and could well establish itself as a key growth pillar in the future. However, this is only the case perspectively in the long term, as the share of total sales is still relatively small.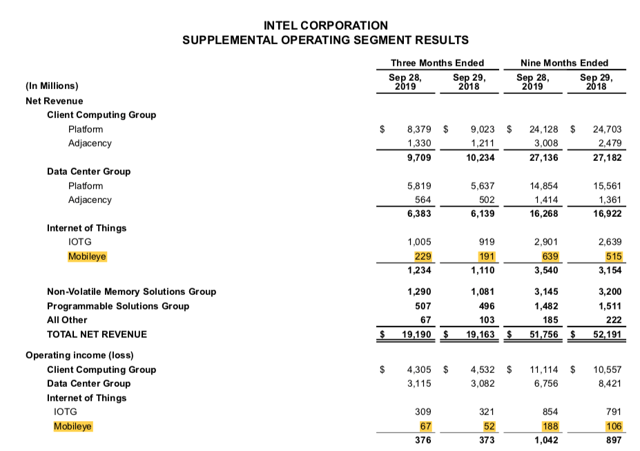 (Source: 3Q 2019 results)
The takeover was therefore extremely expensive. But I generally think that Mobileye should be seen as a long-term investment. The strong growth figures to date and the fundamental outlook also show that investors can expect further growth in the coming years.
On the other hand, Intel seems to have deviated somewhat from its original roadmap, which already provided for autonomous level 5 driving this year. Originally, the fifth generation of EyeQ was supposed to enable full Level 5 by 2020_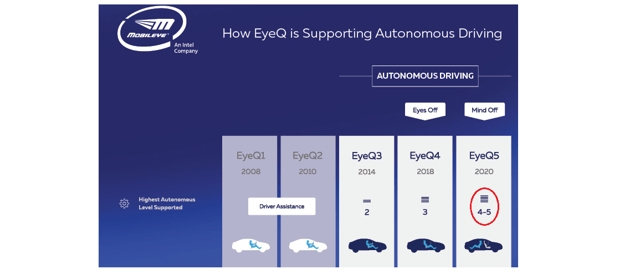 (Source: The evolution of EyeQ)
Intel will not be able to do this, as the roadshow presentation from CES 2020 also shows (see above). But this is not necessarily due to Intel. The competition is not ahead of Intel either. It is more that there is a need for multiple approvals and the infrastructure for enabling autonomous driving does not even exist yet. To make all this possible, a decisive development is needed and this development is 5G. 5G is generally considered to be decisive in this respect. However, this will change this year. With the coming rollout of 5G right ahead, I don't think that the years 2024 and 2025, which Intel is aiming for, are unrealistic.
Given that, Intel expects the value of the automotive driving related market to be around USD 10 billion by 2023. If Mobileye can develop its full-service approach here and keep its market share stable, this business can become extremely important for Intel. However, with a forward P/E ratio below 13, the investors seems to be mainly focused on the poor performance in other business areas. This is right as far as Intel has really lost ground here.
However, by looking only at these negative aspects, I see a risk that progress elsewhere will be overlooked. And it's not as if Intel no longer provides any benefit to investors. Especially the net common payout yield is not as low as one might expect. According to YCharts, the net common payout ratio can be defined as
the percent a company has sent back to its shareholders through share repurchases and dividends based on a company's market cap. If a company with a 500 million market cap has purchased 50 million of stock and has a dividend yield of 10% over the last twelve months, the net payout yield would be 20%.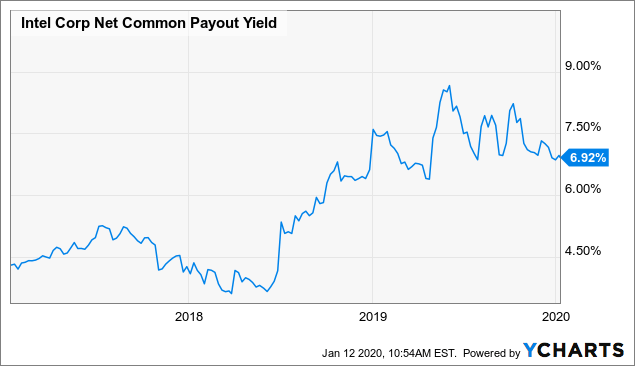 In addition to the dividends, a strong reduction in the number of outstanding shares is the main factor here: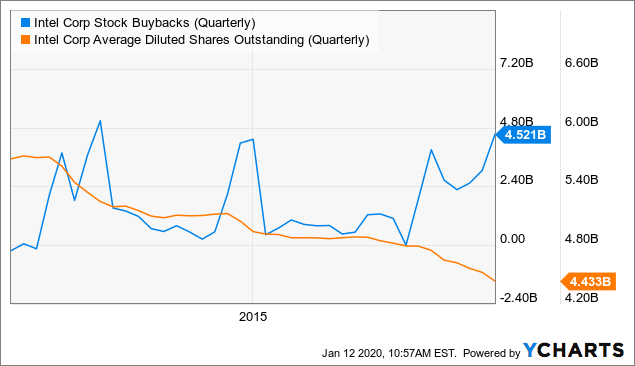 So I think that investors still find a lot of value in Intel. You just have to look at it properly. Market shares of 70 percent in a promising mega-market that is only just beginning to fully unfold are an excellent starting point that certainly justifies a higher valuation. I also believe that this would be the case if Intel did not have such major problems in the other business areas. But if Intel gets these things under control, then investors should be in for golden times.
Conclusion
One thing is clear, it is precisely the future that is traded on the stock exchange and not the present (and certainly not the past). And the future is closer than many investors might think, especially with the coming rollout of 5G. Now we will see which company is best able to address the coming billion market. As we have now learned, Intel is extremely well positioned in the autonomous area. It is well positioned to lead the race towards full autonomous Level 5 driving. It is still a small area of the overall business, but I definitely see it as a catalyst for extreme growth that could be an important pillar for Intel in the long term.
If you enjoyed this article and wish to receive long-term investment proposals or updates on my latest research regarding my investments, my retirement portfolio or antitrust and regulatory issues, click "Follow" next to my name at the top of this article and check "Get email alerts".
Disclosure: I am/we are long QCOM. I wrote this article myself, and it expresses my own opinions. I am not receiving compensation for it (other than from Seeking Alpha). I have no business relationship with any company whose stock is mentioned in this article.