Funds in the U.S. Mortgage Funds (USM) peer group (including both mutual funds and ETFs) took in $1.1 billion of net new money for the fund-flows week ended Wednesday, January 15, 2020. This result marked the 17th consecutive weekly net inflow for the peer group and was its second-largest weekly increase ever (Lipper began tracking fund flows data in 1992) trailing only the $1.4 billion positive net flow for the fund-flows week ended February 13, 2019. USM funds are coming off their second-largest annual net inflow in 2019 (+$18.7 billion) behind only the $28.5 billion net intake for 2012.
The yield on the 30-year Treasury bond (a traditional length of a residential mortgage in the U.S.) fell 63 basis points (bps) during 2019 (from 3.02% to 2.39%). The declining yields make mortgage funds more attractive due to the inverse relationship between bond yields and prices. Conversely, during 2018 when the yield on the 30-year Treasury note rose 28 bps, the USM peer group suffered net outflows of $5.6 billion. The 30-year Treasury closed January 15 at 2.23%, down 16 bps from year-end.
The majority of the net inflows for this past week (+$924.8 million) and 2019 (+$13.3 billion) belonged to the ETFs in the USM peer group. The largest individual positive net flows last year belonged to the iShares MBS ETF (MBB), DoubleLine Total Return Bond Fund (DBLTX), Vanguard Mortgage-Backed Securities Index Fund (VMBS), and First Trust Low Duration Opportunities ETF (LMBS) which took in $8.3 billion, $5.2 billion, $3.4 billion, and $1.9 billion, respectively. The iShares MBS ETF dominated the net inflows among the group last week as the ETF recorded a total net intake of $867.4 million.
U.S. Mortgage Funds (including both mutual funds and ETFs), Annual Net Flows ($Bil), 2012-2020 year to date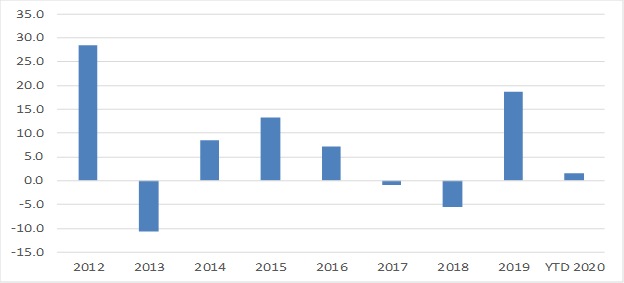 Source: Lipper from Refinitiv