While it is true that the fertilizer industry has been pummeled since their summer highs, I think this provides an excellent buying opportunity. The world population has now surpassed 7 billion people, and everyone needs to eat. To put in perspective just how fast the world is growing, consider this; there are more users on Facebook (NASDAQ:FB) (750 million and counting) than there were people on earth 200 years ago. That rate of growth is absolutely astounding, and is unlikely to decline anytime soon.
There are two reasons that I think the farming industry, and more specifically fertilizers, will see the greatest production increase. First, just consider demand. As more and more people begin to occupy the world, it's going to lead to higher demand for food and other crops. This only makes sense. If one looks at other parts of the world, food is starting to have monetary value and is being used in a bartering fashion. This becomes evident when countries such as India begin trading rice with Iran in exchange for oil. With the increased food demand, farmers are also going to have an increase for certain things, mainly equipment and fertilizers.
TThe main farm equipment companies I expect to benefit the most would be Deere (NYSE:DE) and Tractor Supply Company (NASDAQ:TSCO) even though the latter trades right near its 52-week high. I would also not claim Deere to be the most well managed company on Wall Street, however, they do make the best equipment for farmers worldwide. As of Friday, Deere was trading at $80.17,approximately $20 below their 52-week high.
As farmers' crop output increases, they will inevitably need more supplies. Fertilizing giants such as Potash (POT), Mosaic (NYSE:MOS), Agrium (AGU), and CF Industries (NYSE:CF) will have the biggest advantage. This group of names has been crushed in the last 9 months, with most being down anywhere from 30-40% from recent summer highs. With population rising and earning expectations very low, I would look for these companies to start posting solid gains and making large returns for investors in 2012. Taking a look at some of these companies charts will give further indication of just how battered these stocks are, as well as showing how much upside potential is still there. I have included an RSI reading for Potash and Mosiac.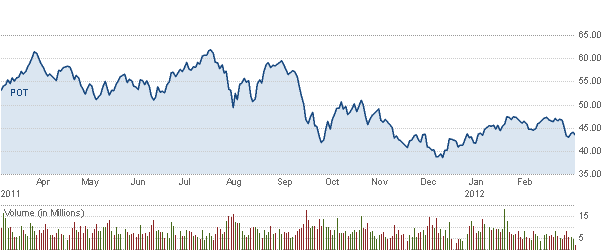 Above: Mosaic with RSI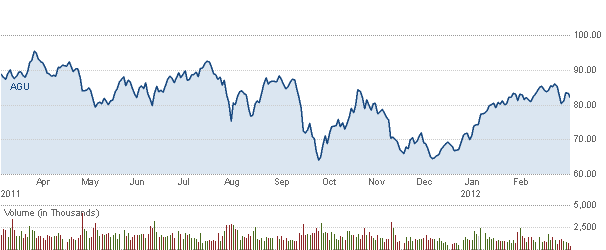 Above: Agrium
Earlier I mentioned I had two reasons for expecting a rise in the farming industry. Not only should the increased world population help push this move, but the Federal Reserve will also help. Last month, on February 29th, Ben Bernanke had supposedly taken another round of stimulus, otherwise known as QE3, off the table. Upon hearing this news, traders began dumping loads of commodities that would be affected by the cease of money printing, most notably gold.
However, more recently, the Federal Reserve has begun talking about a new type of quantitative easing, one that would supposedly limit inflation while still providing stimulus to the economy. This new form of quantitative easing, also known as "sterilized bond buying" would consist of printing more money to buy long dated Treasury bonds, while simultaneously borrowing it for short periods of times. Though this is meant to cap inflation, while still providing capital injection, I still see commodity prices rising as a result. With rising rising crop prices comes rising supply prices, which is where farm equipment manufacturers and fertilizer producers will see their biggest gains.
Even if the Federal Reserve decides against their newest form of stimulus, which I personally don't think they will do, there are plenty of other global economies resorting to some form of economic stimulus, which in effect with a rising global population, will inevitably drive these companies higher.
When digging further into some of the beaten-down fertilizer stocks, such as Potash or Mosaic, I simply find their current levels too cheap to ignore. In the fall of 2011, along with almost every other U.S. equity, these two companies found themselves trading at or near their 52-week lows. However, since then the S&P, Nasdaq and Dow Jones Industrial Average have all had amazing runs to the upside.
Albeit, these fertilizers have moved, but not nearly to the extent as many other names out there. For instance, Potash has a 52-week high of $62.60, but as of March 13th, is only trading $4 above its 52-week low of $38.42. And while Mosiac is trading at $55 as of March 13th, $11 above its 52-week low, its still nearly $30 below its 52-week high of $83.41. It's very clear that both of these names are severely oversold, especially considering Potash has an RSI (relative strength index) of 36, while Mosaic has a reading 43. The RSI reading tells a potential investor how oversold or overbought a specific security is. Anything below 30 is considered to be oversold, while a reading above 70 is overbought. With an RSI approaching the lower barrier for both stocks, I think it is a safe level to begin accumulating shares.
It also is beneficial that each company pays a dividend. While not a hefty amount of income, (Potash yields 1.3% while Mosaic yield 0.36%, respectively), it is nice to see that you could collect a small amount of premium in the event these names continue to lag the broader market. Furthermore, it helps demonstrate these names have cash on hand, and are stable companies. In my opinion, I believe these companies are a good buy based on technical, as well as fundamental reasoning.
It's true these companies could fall back to their 2011 lows, but I feel there is much more upside potential than downside risk. As long as the world continues to grow, countries continue to supply some form economic stimulus, and the technicals continue to favor oversold companies, I like names in agriculture. These are great long term companies, and I specifically like Potash, Mosaic, and Agrium.
Disclosure: I am long POT.