WHAT DO THE INDICATORS INDICATE?
The Market Turmoil indicator, as shown below, has essentially gone to zero. My interpretation is that the market is back to normal functioning. This indicates that high beta stocks should still be on the radar, however opinions vary as to how close this market is to the likelihood of a correction.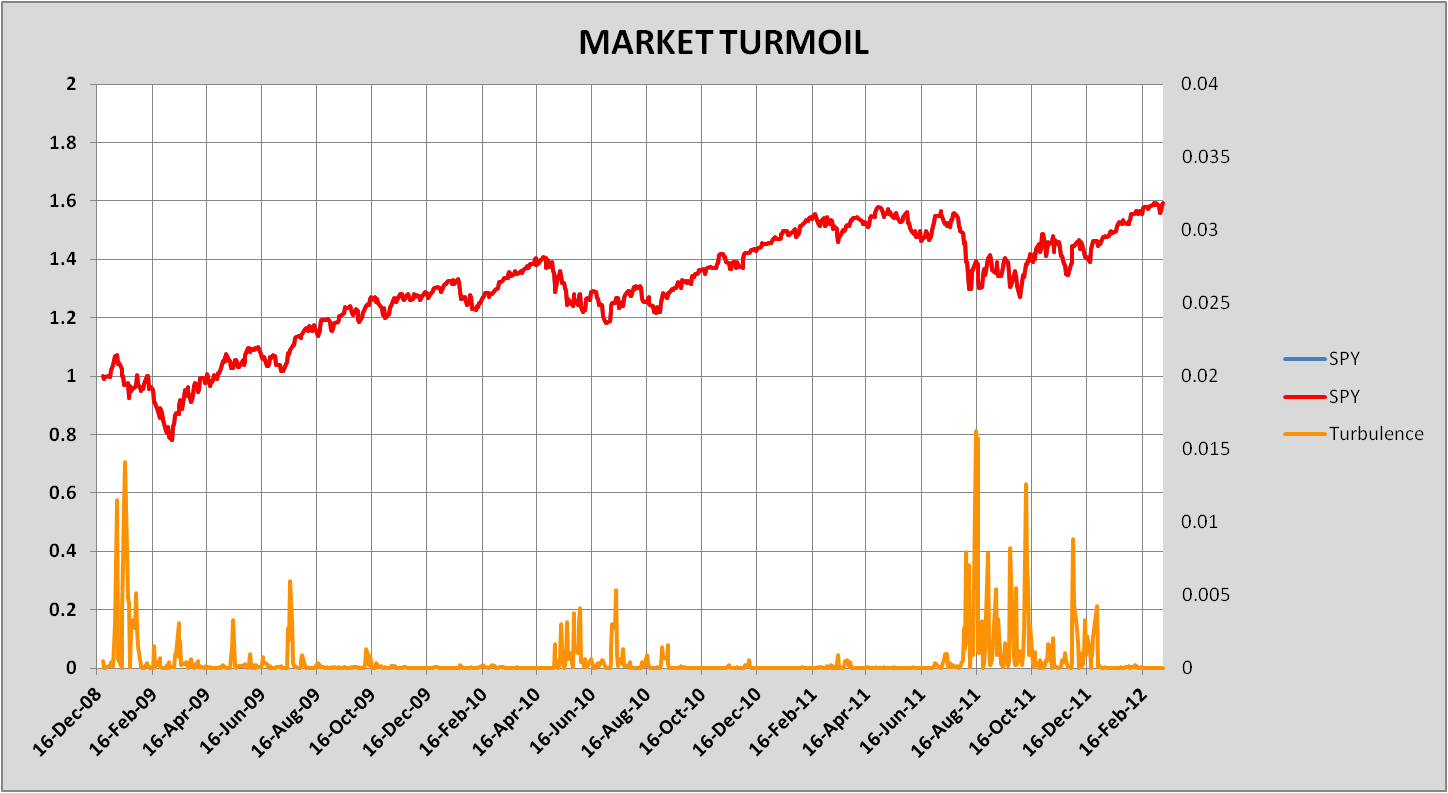 In my previous posts, I pointed out a number of high beta stocks which have had a very reliable pattern of out performance over the past 3 years. However, if a correction is expected, the issue of timing needs to be considered. My view is that, without any evidence of Market Turmoil, the issues become one of earnings growth and valuation. The market is "normal".
In looking for diversification, I have come across an interesting pattern in Pharmaceuticals. In the past 3 years, this sector has displayed a risk/return pattern which is noticeably displaced from the S&P 500 index (NYSEARCA:SPY). The pattern for Abbott Labs (NYSE:ABT) is totally different from that of Dow Chemicals (DOW) as shown in my previous article. Abbott Labs is displayed below.
In addition to the respective peaks being lagged over the 3 year period, many stocks in this sector have not participated in the current upwards run.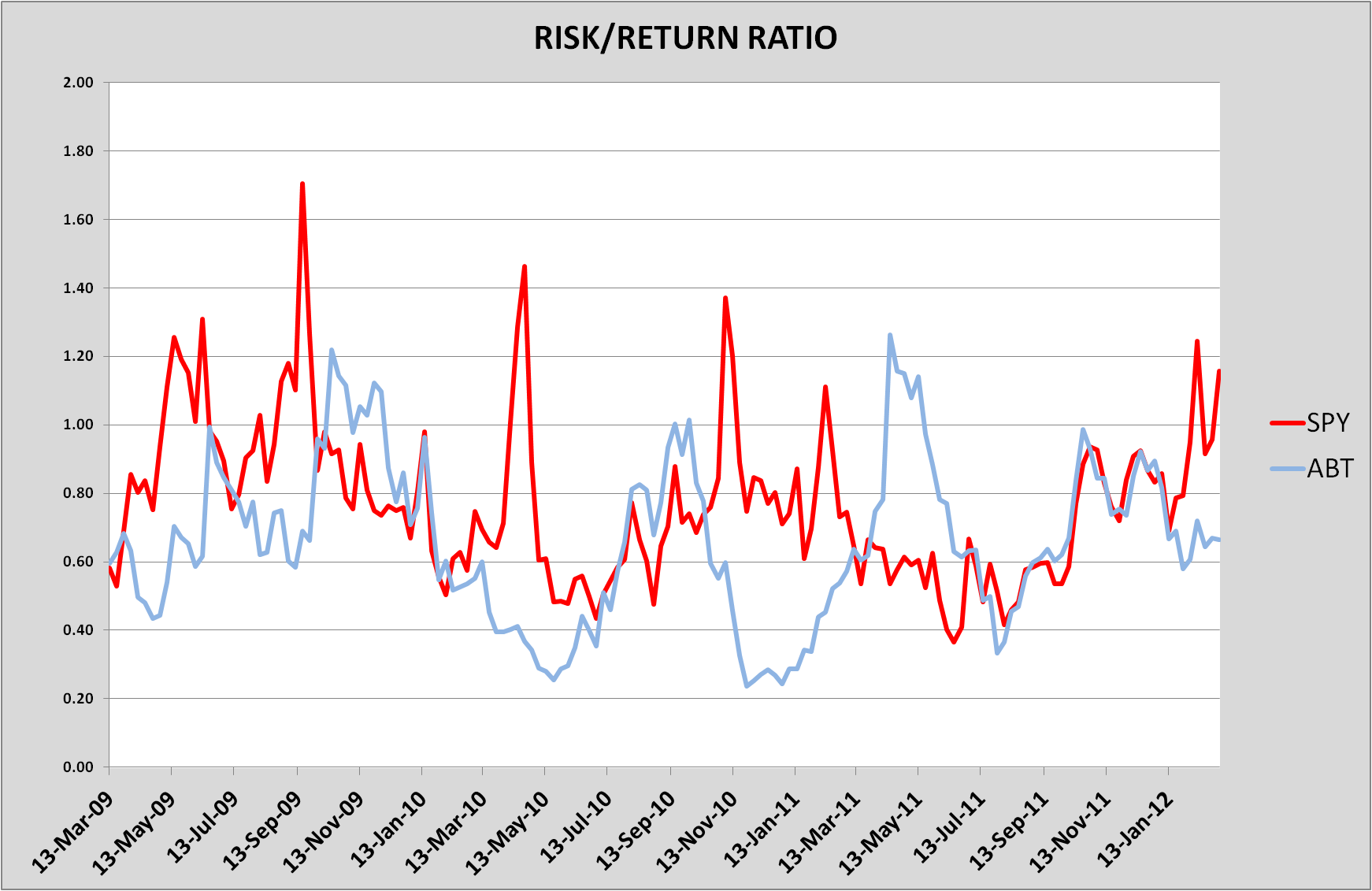 The following chart also indicates that this stock characteristic is correlated to others in the sector. In my view, the Pharmaceutical sector, if it repeats the noted trend, has the potential for out performance.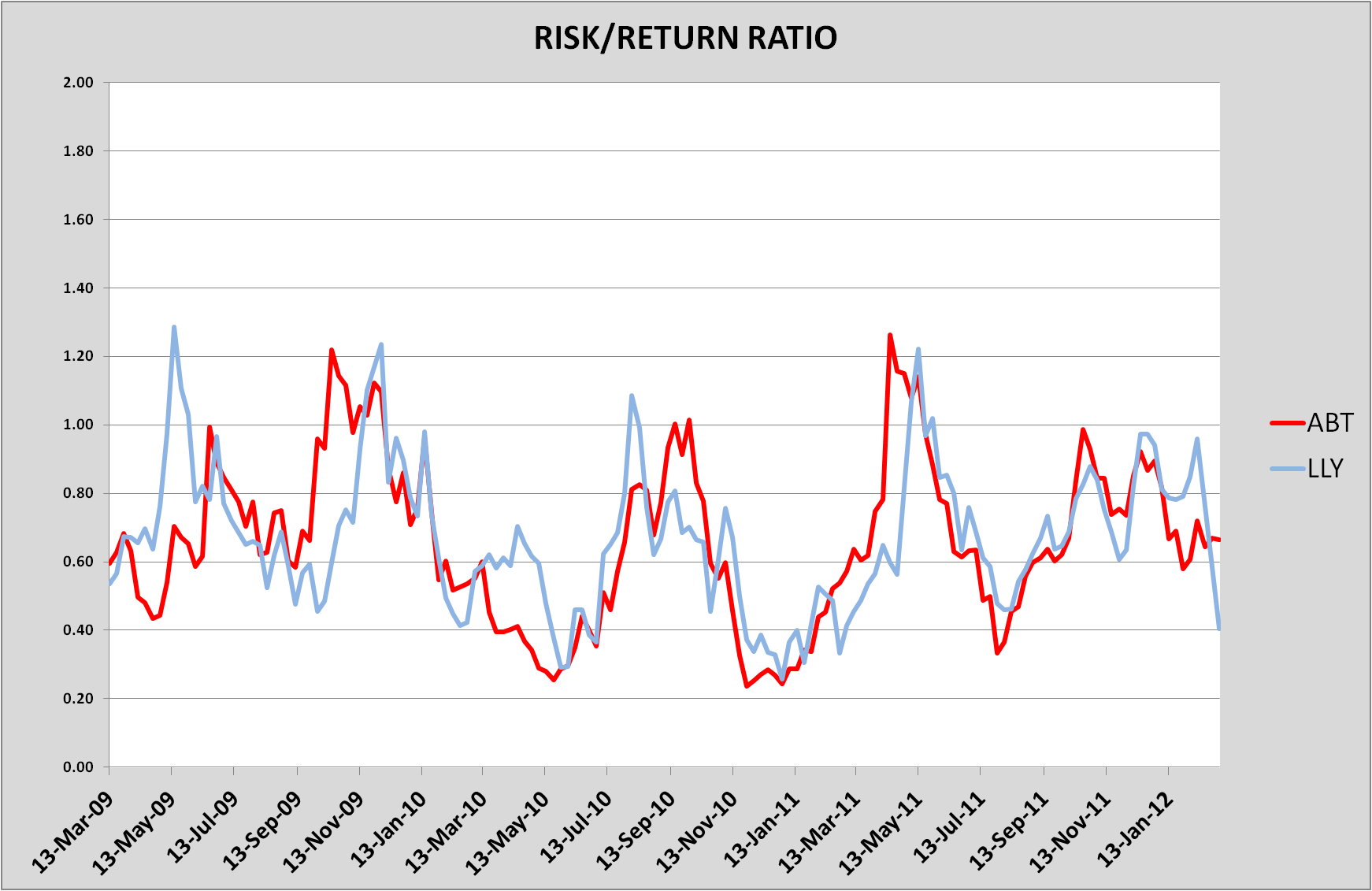 Stocks which could be considered include the following:
| | | |
| --- | --- | --- |
| | Hospira Inc | Pharmaceuticals |
| | Allergan Inc | Pharmaceuticals |
| | Novo Nordisk | Pharmaceuticals |
| | Forest Laboratories | Pharmaceuticals |
| | Dr Reddy's Labs | Pharmaceuticals |
| MRX | Medicis Pharm Corp | Pharmaceuticals |
| | Elan Corp | Pharmaceuticals |
| | WuXi Pharma Tech | Pharmaceuticals |
| | Par Pharma | Pharmaceuticals |
I have compared a portfolio comprised of the above stocks to the Specialty Chemical portfolio which I constructed on 15 January 2012. If the trends in risk/return hold then I would expect the Specialty Chemical to weaken a bit, and the Pharmaceuticals to strengthen.
I will endeavor to keep readers updated on my Instablog.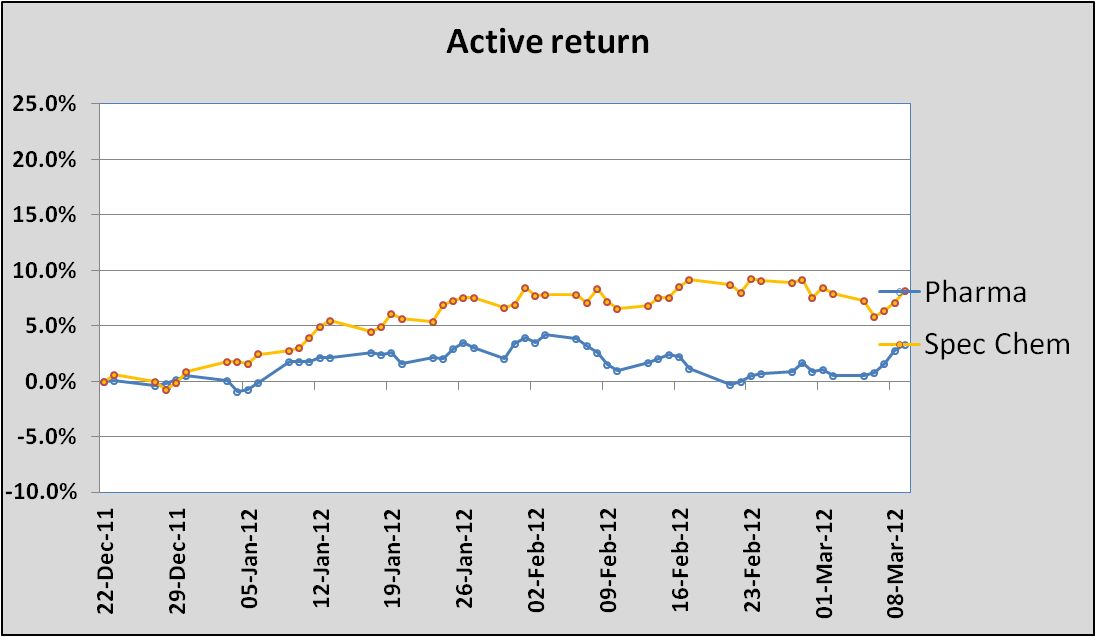 Disclaimer: The content in this document is provided as general information only and should not be taken as investment advice. The contents in this explanatory paper shall not be construed as a recommendation to buy or sell any security or financial product, or to participate in any particular trading or investment strategy. The ideas expressed on this site are solely the opinions of the author. The author may or may not have a position in any security referenced herein. Any action that you take as a result of information or analysis on this site is ultimately your responsibility.
Disclosure: I have no positions in any stocks mentioned, and no plans to initiate any positions within the next 72 hours.