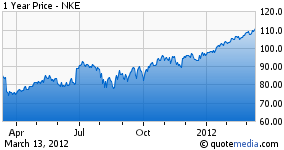 Nike Inc. (NYSE:NKE), the 800 pound gorilla of the athletic shoe and apparel market, reports its third quarter fiscal 2012 financial results on Thursday, March 22, 2012, following the close of regular stock market trading hours. Nike has been on a tear for the last year. Based on its excellence of execution regarding new product initiatives, cost reduction and avoidance initiatives and upcoming sales catalysts, I feel confident they will meet or exceed the Street's expectations and give positive guidance.
I was fortunate enough to work "inside the berm" as a consultant developing Nike's global supply chain and U.S. Distribution Business Continuity Program. The Nike World Campus has this raised bank around it which they describe as the berm. Nike employees talk about being inside the berm or outside. If you have the chance to go inside the berm, do it. It is a wonderland of sports memorabilia and beautiful buildings and landscape. Employees run during lunch break on the Michael Johnson track or work out at the world class gym. After work, you can have a microbrew on the campus pub along a beautiful man made water feature.
Things may have changed since my time there in 1999 and 2000, but I'm sure it's all for the best. I refer to my time spent at Nike as the highlight of my consulting career. Please review the following bull case for Nike.
Diverse Product Mix
Demand for Nike products continues to grow. When I first started at Nike I had no idea how many differing products they offer. There are too many to list. You can safely say that if it has anything to do with sports they sell it. From watches to swimming caps Nike has it covered. Nike has been creating demand for years with its innovative products. Nike's addressable market is conservatively estimated to be $75 billion. The U.S. footwear, apparel and equipment distribution centers are located in Memphis Tennessee. Nike derives revenues from a diverse product mix of approximately 65% athletic footwear, 29% apparel and 6% equipment.
Competitive Advantage
Nike is number one in sports footwear and number two for athletic apparel. Nike's major competition in footwear is Adidas Ag (OTCQX:ADDYY) with a market cap of $16 billion and a forward P/E of 15. You can call them competition, but Nike is clearly focused on insuring they stay on top.
Nike is constantly analyzing its competition, both existing and potential. They keep a virtual full court press on competitors at all times. Regarding apparel, Under Armour, Inc. (NYSE:UA) and Lululemon Athletica inc. (NASDAQ:LULU) are the new kids on the block as far as competition in the apparel market. LULU, with a market cap of $10 billion and a forward P/E of 45, and UA, with a $5 billion market cap and a forward P/E of 32, are David's to Nike's Goliath $50 billion market cap and forward P/E of 19. UA and LULU have made inroads into the apparel market but Nike's ties with major athletes and sports teams have stood the test of time. Nike just recently signed the latest hot NFL prospect Andrew Luck out of Stanford. It seems you can't watch a sporting event today without seeing the famed Nike Swoosh.
Future Catalysts
March Madness is upon us which should provide an opportunity for Nike to showcase new products. The 2012 Summer Olympics and NBA playoffs roll around a few months later providing another selling point. Finally, a new release of Nike's Converse brand in China should boost profits.
Conclusion
With Nike's 18.40% yoy quarterly revenue growth and declining product costs Nike should see a significant improvement in its bottom line. The European business is struggling with only a 2% increase in quarterly revenues, but problems there are offset by Nike's main markets. Emerging markets and the U.S. make up the bulk of Nike's sales, and they are both up significantly by approximately 25% year over year while product costs are down due to a slump in the price of cotton.
The company continues to revolutionize the athletic shoe and apparel market and its advertising strategy is remarkable. Nike is not just an athletic shoe and apparel company, but a culture unto itself. With the quality, breadth and depth of Nike's products and personnel, there is nowhere but up to go for Nike's share price.
As always, I suggest layering in to any position a quarter at a time over a month long period and placing a stop loss order to minimize downside risk. This article is for informational purposes only. Use this as a starting point for your own due diligence and research methods.
Disclosure: I have no positions in any stocks mentioned, but may initiate a long position in NKE over the next 72 hours.