Investors continue discovering and buying NextEra Energy (NYSE:NEE). The stock is trading near a new 52-week top after a stock price rise of 40% in less than a year, despite a low-for-a-utility dividend yield of 1.9%.
With very low natural gas generation fuel costs, strong Florida state growth for its two utilities, and growing demand for its clean energy generation capacity, the company is well-positioned for the future. At a market capitalization of $130 billion and a beta of 0.16, NextEra Energy is less volatile than the overall stock market - a plus for investors seeking stability.
2019 Results
For full-year 2019, NextEra Energy's net income was $3.77 billion, or $7.76/share, compared to $6.64 billion, or $13.88/share, in 2018.
Big items for 2018 compared to 2019:
*$1.4 billion less of operating income in 2018 was offset by
*$700 million less of interest expense and
*a giant one-time $3.9 billion gain in 2018 on disposal of investments primarily from the deconsolidation of NextEra Energy Partners.
2019 was the first full year of NextEra Energy's ownership of Gulf Power. Gulf Power contributed about 5% of operating income.
NextEra Energy is the holding company for two regulated retail utilities and one unregulated generation subsidiary. The three operating segments are Florida Power & Light (FPL), a regulated utility serving five million customer accounts on Florida coasts and the largest U.S. regulated retail electric utility; Gulf Power, a regulated utility serving 470,000 customers in eight counties in northwest Florida; and NextEra Energy Resources (NEER), the unregulated subsidiary that generates clean energy from solar, wind, and nuclear power. Operating income contributions from each are shown below.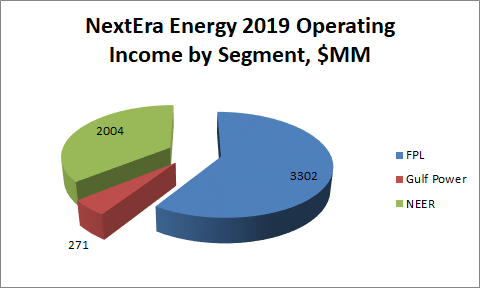 NextEra Energy Competitive Advantage and Competitors
I last reviewed NextEra March 12, 2019. The stock price is up 40% since then, while the Dow Jones Utility Index (DJU) is up 20%.
NextEra Energy's results are strong and are expected to continue to be so for at least three reasons:
Position in growing Florida electricity market.
Use of abundant, very cheap natural gas to generate electricity.
Generation subsidiary meeting growing nationwide demand for clean energy (nuclear, solar, wind) as more states require their utilities to ramp up generation, or purchase, of clean-sourced electricity.
Although regulated utilities each have their own territories, and so, don't compete directly, it's worth noting Exelon (EXC) also has considerable nuclear generating capacity as well as renewable energy capacity.
NextEra's utilities have no exact competitors - utilities are given a monopoly on their service areas in exchange for heavy regulation - but it can be compared to companies in the 15-stock Dow Jones Utility Index (DJU).
Other electric utilities in the index are American Electric Power (AEP), AES Corp. (AES), Consolidated Edison (ED), Duke Energy (DUK), Edison International (EIX), Exelon, First Energy (FE), Sempra (SRE), and Southern Company (SO).
Market Drivers and Growth
Electricity use depends significantly on economic and population growth. Last year's U.S. electricity generation total of 4,121 billion kilowatt-hours (kwh) was down slightly from the all-time 2018 high of 4,178 billion kilowatt-hours. The largest demand categories are residential and commercial use.
Year-to-year differences in electricity use, particularly in the commercial and residential sectors, are driven by weather, especially the number of heating degree days in the summer.
Fuels used to generate electricity have changed from baseline coal, once 40%, toward natural gas and non-hydro renewables, as the graphs show.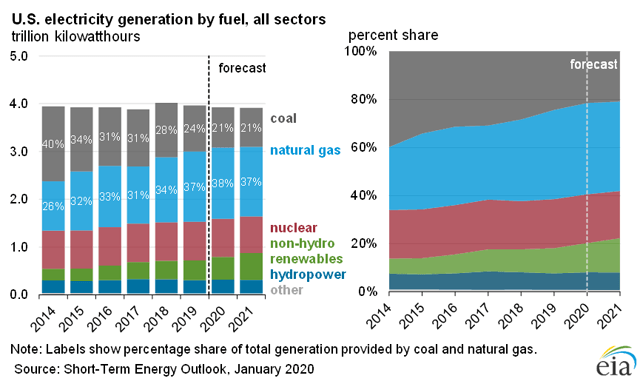 Natural gas is especially prominent in Florida - an advantage for NextEra, because natural gas has become even cheaper.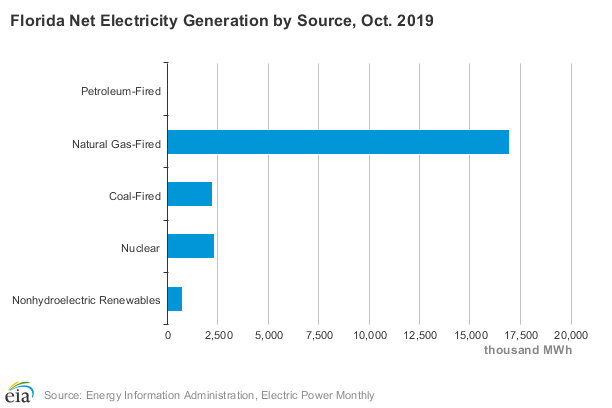 U.S. natural gas prices, Henry Hub, $/MMBTU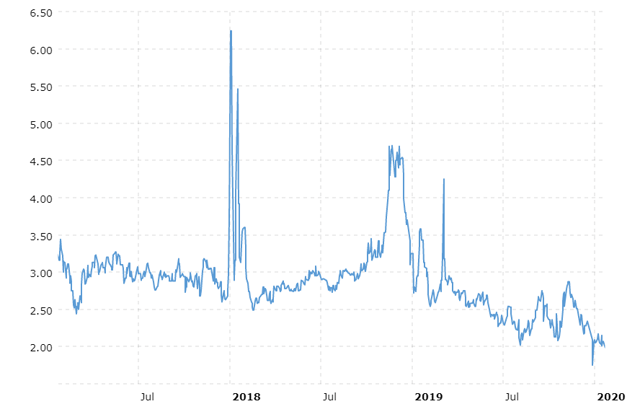 (Image Credit: Macrotrends, left axis is $/MMBTU)
A small element of potential growth is that in July 2019, NextEra completed the acquisition of Trans Bay Cable. This is a 53-mile, high-voltage direct current underwater transmission cable running from Pittsburg, California to San Francisco, California. The cable can supply more than 40% of the electrical power used in San Francisco, important infrastructure in the face of 2019 scheduled blackouts over fears of above-ground transmission lines sparking fires.
Overview
NextEra Energy is a holding company that grew from a utility founded in 1925. Today, it has a market capitalization of $129.9 billion and an enterprise value (EV) of $177 billion. Headquartered in Juno Beach, Florida, the company employs 14,300 people full-time.
*FPL owns 27,440 megawatts of generation capacity;
*Gulf Power owns 2,301 megawatts of generation capacity; and
*NEER has 23,856 megawatts of generation capability.
FPL
FPL operates wholly within Florida. Assuming all of the units that are gas, gas/oil, or gas/oil peaking are preferentially fueled by (cheaper) gas, natural gas represents 75% of capacity. Of the remainder, coal is about 3% of FPL's generation capacity, nuclear is 13%, and solar is 9%.
The U.S. has a huge resource supply of natural gas, resulting in low, steady long-term prices. In particular, natural gas co-produced with oil from North Dakota and Texas has garnered low to even negative prices. Like other gas-fired utilities, FPL can essentially - via its capital investment in generation - arbitrage between the low price of natural gas and the competitive, but higher, price of electricity. In 2019, from FPL's operating revenue of $12.2 billion, it paid only $3.26 billion for fuel and $1.52 billion for operations and maintenance.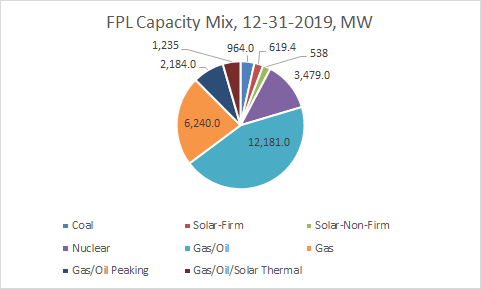 In keeping with this advantage, FPL customer bills are 30% below the national average.
Gulf Power
Gulf Power's much smaller level of generation capacity at 2301 megawatts is fueled 29% by natural gas and virtually all of the rest by coal.
NextEra Energy Resources
Outside of Florida, NextEra Energy Resources owns many nuclear and renewable generation units. This is a considerable growth advantage, according to the company's fourth-quarter presentation and report, due to "the best renewables development environment in our history, adding more than 5800 megawatts to contracted renewables backlog and commissioning another 2700 megawatts of wind and solar projects."
Notably, 15 states (but not Florida) plus Washington D.C. and Puerto Rico have official targets to get at least 50% of their electricity from clean sources by dates ranging from 2030 to 2050. Taken together, these states make up 28% of total U.S. electricity demand. Clean electricity is typically defined as fueled by nuclear, solar or wind: disagreement continues as to whether hydropower also goes in the clean source category.
More concretely, a total of 11 states plus Washington D.C. and Puerto Rico have enacted legislation requiring 50% or higher clean energy sourcing.
NextEra Energy Resources' 23,856 megawatts of generation facilities are majority (67% of capacity) wind.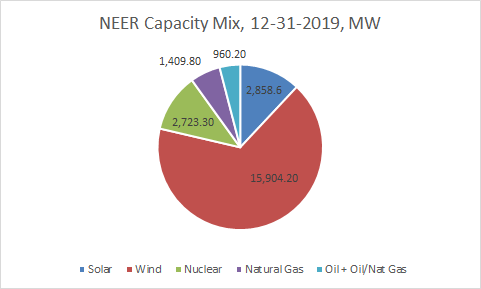 Regulators
The company has oversight from and reporting responsibilities to the Florida Public Service Commission. Trans Bay Cable is subject to national Federal Energy Regulatory Commission (FERC) rate setting, with revenues paid by California Independent System Operator.
In rate cases, NextEra answers to input from a wide variety of customer-stakeholders.
Company Governance
As of October 4, 2019, Institutional Shareholder Services (ISS) ranked NextEra's overall governance as 4, with sub-scores of audit (1), board (9), shareholder rights (2), and compensation (4). On the ISS scale, 1 represents lower governance risk and 10 represents higher governance risk.
At December 31, 2019, shorted shares were only 1.4% of floated shares.
Insiders own a negligible 0.16% of stock.
In January 2020, the company was named to Fortune's 2020 list of the "World's Most Admired Companies" and again ranked first in the electric and gas utilities industry.
Stock and Financial Highlights
NextEra's January 28, 2020 closing price was $265.81/share, 99% of its 52-week high of $268.96/share. Its market capitalization is $129.9 billion. The stock price is an astonishing 40% above its year-ago price of $189.50/share.
NextEra's trailing price-to-earnings ratio is a very steep 34 at last year's earnings per share (EPS) of $7.76. The company expects continued compound annual growth rate in adjusted earnings per share (a non-GAAP measure) of 6-8% through 2021 plus an additional $0.15/share from its Florida acquisitions, notably Gulf Power.
As of December 31, 2019, NextEra had liabilities and long-term debt of $61.9 billion and assets of $117.7 billion, giving it a liability-to-asset ratio of 53%, an improvement over last year's 64%.
The company's ratio of EV-to-EBITDA is 17.8, well above the preferred ratio of 10 or less, suggesting the stock is not discounted.
NextEra's dividend is $5.00/share, so its current dividend yield is 1.9%. The company has said it plans to increase dividends again; last year, the increase was announced in February.
The company has an average analyst rating from fifteen analysts of 1.8, or "Buy" leaning toward "Strong Buy."
As of September 29, 2019, most of NextEra stock was held by institutions, some of which represent index funds that match the overall market. The top seven holders are Vanguard with 9.1%, BlackRock with 7.7%, T. Rowe Price with 5.4%, State Street with 5.2%, J.P. Morgan with 2.5%, Bank of America with 2.3%, and Fidelity with 2.0%.
Notes on Valuation and Beta
The company's market value per share is three and a half times its book value of $75.37/share, indicating very positive market sentiment.
NextEra's beta is an attractive, hyper-stable 0.16: its stock moves directionally with the overall market, but to a far smaller extent (less volatility). This is characteristic of utility stocks.
Positive and Negative Risks
The interest rate environment could change and affect NextEra's debt costs, Florida growth could slow, and weather always remains a factor.
Other risks, both positive and negative, include natural gas prices, continued growth in electricity sales, asset reliability, changes in regulation in other states away from requiring clean energy, and wind resources.
Recommendation
Despite its price at yet another 52-week high and a 40% stock price increase in less than a year, I recommend NextEra to investors interested in its position as the country's largest clean power generator that also has healthy, growing, consumer-friendly (less expensive) utility retail operations in the attractive Florida market.