The exchange traded fund that follows the rare earths metal industry is recovering along with the improved economic outlook. Rising demand for rare earths could help make this ETF a rare opportunity.
Market Vectors Rare Earth/ Strategic Metals ETF (NYSEARCA:REMX) is up 12.4% year-to-date. The fund gained 4.8% Friday on the back of a new deal struck by Molycorp (MCP).
"Economic turmoil in the U.S. and Europe has hurt rare-earth stocks, like other mining stocks," Anthony Young, an analyst with Dahlman Rose & Co., said in a Wall Street Journal article. "But I remain extremely bullish on the rare-earths sector over the next three to five years. Whether prices for these materials increase or decline, demand is going to remain extremely strong."
Current world demand for rare earths is estimated at 136,000 metric tons per year and meeting supply levels, but industry expert Marc Humphries of the U.S. Congressional Research Service expects global demand to increase to 185,000 tons by 2015 and cross 200,000 tons by 2020.
Additionally, Dr. Randolph E. Kirchain believes that advancements in green technology to reduce greenhouse gas emissions will also require huge supplies of rare earths, reports Esther Tanquintic-Misa for the International Buisness Times.
"To meet that need, production of dysprosium would have to grow each year at nearly twice the historic growth rate for rare earth supplies," Kirchain said. "Although the rare earths supply base has demonstrated an impressive ability to expand over recent history, even the rare earths industry may struggle to keep up with that pace of demand growth."
Rare earth producer Molycorp shares surged 19% Friday after it announced the acquisition of Neo Material Technologies to strengthen its role in the production of rare earths related products, reports Tara Lachapelle for Bloomberg.
China, the world's largest supplier of rare earths, could double exports this year to capitalize on short-term price increases, according to the Business Insider. The Chinese Ministry of Commerce revealed that Chinese exports only made up 49% of the government's quota in the first eleven months of last year due to slower global demand. [Toyota's Hybrid Tech May Pressure Rare Earth ETF]
"Export quotas may be met this year as overseas demand recovers," Wang Caifeng, a former official overseeing the rare earth industry with the Ministry of Industry and Information Technology, said in the report.
Market Vectors Rare Earth/ Strategic Metals ETF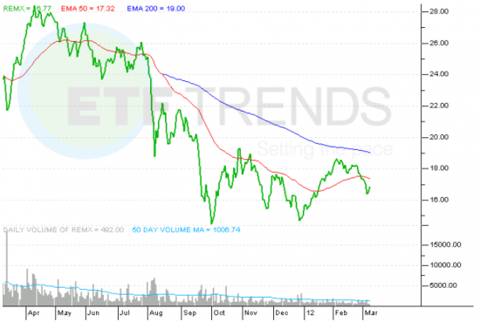 Max Chen contributed to this article.
Disclosure: I have no positions in any stocks mentioned, and no plans to initiate any positions within the next 72 hours.