The Japanese yen exchange traded fund has been on an extended losing streak as the yen currency drops to a 11-month low against the dollar on higher optimism over Greece's financials and improvements in the U.S. market.
CurrencyShares Japanese Yen Trust (NYSEARCA:FXY) was down 0.9% Friday. The fund has lost 5.6% over the past month. In comparison, the a ProShares UltraShort Yen ETF (NYSEARCA:YCS) was up 2.0% Friday and is 11.9% higher over the past month.
The U.S. dollar strengthened to as high as ¥82.60 on Friday. Shortly after the jobs report revealed a nonfarm payroll increase of 227,000 in February, the U.S. dollar rose 0.7% against the yen, according to The Wall Street Journal.
Greece also announced its plans to go ahead with its debt restructuring plans, which has also pulled investors away from the safe-haven yen currency.
The Bank of Japan may not help to further depreciate the the Japanese yen, reports Leika Kihara for Reuters. BOJ officials hinted that they have done their part to bring the yen back to manageable levels and may save further easing policies for any potential crisis down the line.
"October-December GDP was revised up and the BOJ may raise its assessment on output. When it sees the outlook brightening, it's hard to justify easing again," said Junko Nishioka, chief economist at RBS Securities Japan, in the Reuters article.
Still, the government is pressuring the bank to depreciate the currency as the strong yen is hurting its export industry and the economy is experiencing deflationary pressures. [Why Japanese Yen ETFs are Getting Crushed]
"It's hard to beat deflation with increases in asset purchases alone. But additional easing is needed and markets want it," Takehiro Sato, chief economist at Morgan Stanley MUFG Securities, added.
CurrencyShares Japanese Yen Trust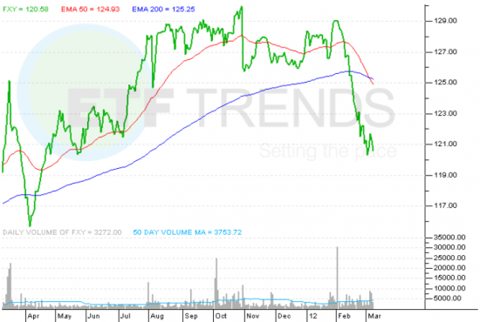 Read the disclaimer; Tom Lydon is a board member of the funds for Rydex|SGI.
Max Chen contributed to this article.
Disclosure: I have no positions in any stocks mentioned, and no plans to initiate any positions within the next 72 hours.