"Opinions are like smart phones, everybody has one."

- Cameron Kaine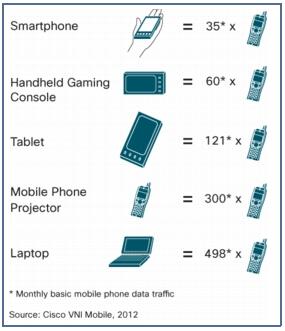 Part 2
It's hard to imagine that there is anything more popular on the market today than smart phones. As great and as ubiquitous as they are, they do present some challenges not only for the manufactures but for the carriers that provide the networks to support communication. The fact is data demands have and will continue to apply pressure on our communication networks to be more open and accessible and minimize as much traffic congestion as possible. This will not be an easy endeavor, as it will require significant CAPEX by the carriers to improve network speeds and bandwidth.
A recent study by analysts project that smart phone usage on a global scale will only continue to explode upward. When you couple that with a recent Cisco (NASDAQ:CSCO) sponsored survey called "Global Mobile Data Traffic Forecast Update, 2011-2016" the issue gets a bit more "attention-grabbing" as it showed that global mobile data grew by 133% during 2011 - the fourth year that traffic more than doubled. A few of the highlights in the survey were as followed:
The Mobile Network Through 2016
Mobile data traffic will reach the following milestones within the next five years.
Monthly global mobile data traffic will surpass 10 exabytes in 2016.
Over 100 million smartphone users will belong to the "gigabyte club" (over 1 GB per month) by 2012.
The number of mobile-connected devices will exceed the world's population in 2012.
The average mobile connection speed will surpass 1 Mbps in 2014.
Due to increased usage on smartphones, handsets will exceed 50% of mobile data traffic in 2014.
Monthly global mobile data traffic will surpass 10 exabytes in 2016.
Monthly mobile tablet traffic will surpass 1 exabyte per month in 2016.
Tablets will exceed 10% of global mobile data traffic in 2016.
China will exceed 10% of global mobile data traffic in 2016.
Global mobile data traffic will increase 18-fold between 2011 and 2016.
By the end of 2012, the number of mobile-connected devices will exceed the number of people on earth, and by 2016 there will be 1.4 mobile devices per capita. Mobile network connection speeds will increase 9-fold by 2016.
Benefiting from this growth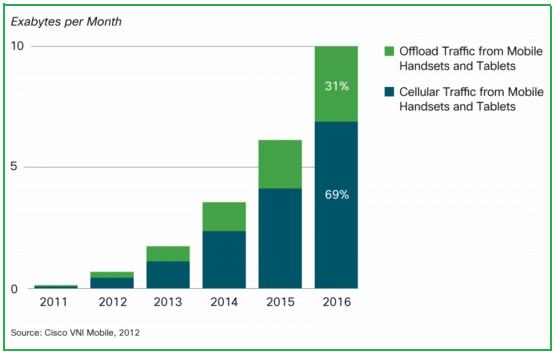 So taking a careful look at the graphic above, several questions should be raised - the first being, how can investors anticipate such an event and capitalize on it? In terms of your portfolio is it better to add cloud service providers such as Microsoft (NASDAQ:MSFT) and Oracle (NYSE:ORCL), wireless carriers such as AT&T (NYSE:T) and Verizon (NYSE:VZ), content distributors such as Amazon (NASDAQ:AMZN) and Netflix (NASDAQ:NFLX), network infrastructure firms such as Juniper (NYSE:JNPR) or better yet a company such as Hewlett Packard (NYSE:HPQ) that has the benefit of addressing three of these concerns? The opportunities are endless.
Please bear with me as I walk you through a series of possible investments regarding the proliferation of smart phones, tablets, data traffic, wireless carriers as well as the network expansion that it will require to support global data demand. It is clear from Cisco's survey above that the telecom sector will certainly be forced to try and keep pace with growing data problems. But since we have been taught that "great problems bring great opportunity," I like to think that the end result will be a "great portfolio." In the first part of this article, we are going to look at the possibilities presented by cloud service provider firms.
Microsoft (MSFT)
Software giant Microsoft has excited me all year but the excitement has been taken up an extra notch as it approaches its release of Windows 8 - an event that I have recently stated will add $8 to its share price. However, the biggest impact in my opinion is going to arrive with the company's cloud strategy - something that I think already sets it apart from other names such as Oracle and IBM (NYSE:IBM).
For software giant Microsoft, its cloud initiative has been ongoing as several of its most popular titles are becoming available on a subscription basis instead of the typical software box. But I have come to realize that its cloud strategy comes in all forms, but none will be as significant as its Azure platform, one that is designed to be open and flexible that enables users to build, deploy as well as manage applications across global networks. What makes this platform so unique is that it also allows easy integration of public cloud applications to existing enterprises while also enabling networks to build and run highly available applications without focusing on the infrastructure.
How successful that transition is remains to be seen. But considering the fact that several other cloud firms have made significant acquisitions for cloud advancement, Microsoft will certainly need to step up its game in order to leverage its enterprise dominance. From an investment standpoint, at $32 and trading at a P/E of 11, value investors with 12-24 month investment horizons should consider giving the company a long look at current levels and expect that Windows 8 and Azure to bring in some significant gains.
Oracle (ORCL)
As with Microsoft Oracle will have a say in the cloud footprint when it is all said and done. For now, the question is which one is more ready to address the demand that it will require. I am not ready to take sides at this point, but I will say that these two will be one of the leaders in an overly crowded space. Oracle Exalogic Elastic Cloud X2-2 is a standard that will indeed become a force. The X2-2 is considered somewhat of a building block that provides a fully integrated Private Cloud platform that is ideal for a wide range of mission-critical enterprise application workloads, from middleware and custom applications to packaged applications from Oracle and hundreds of third party application and tool vendors.
How can investors not get excited? As the cloud continues to consolidate the company will remain one of the top players within the space as well as the enterprise. The company realizes the importance of not resting on its laurels because the competition for its current business as well as those heading for the cloud is growing fierce - particularly from IBM and Microsoft. But managing the competition is nothing new for the company. Yet, it would seem that the market would have understood this and not have overreacted to its recent report. As the stock is now trading at $30 with significantly more upside over the next 12 - 24 months, value investors would be vise to make a play here as the stock can reach $40 to $45 during that span.
EMC (EMC)
As far as cloud titans are concerned a list would not be complete without EMC. The company focuses on making corporate infrastructure simpler to manage and more efficient to operate. Its cloud solutions allow companies to establish a presence by utilizing virtualization technology. The company makes this complicated endeavor as simple as possible form a management standpoint and brings efficiency to the operation. What also makes EMC so special is the fact that is has partnered with several of companies that it also competes with. As far as the stock is concerned, it is certainly not cheap at a P/E of 26 and sitting at its 52-week high of $29.
Though the company also enjoys a strong share as well as a great reputation, one has to think that the competition will eventually catch up. Names such as Hewlett Packard and Dell (DELL) come to mind in terms of the competitive threats. EMC could grow its cash flow at less than 5% from here on and still be undervalued by around 20%. Although It will be hard-pressed to outperform if IT spending crumbles in 2012. However, today's price makes this look like a risk worth taking. Investors may want to wait a bit to see if the market strips out even more expected growth and valuation, but a price in the low $20s or lower it would be extremely hard to pass up.
VMware (NYSE:VMW)
As far as the cloud goes, VMware stands out because it is one that focuses on the hybrid concept - one that allows clients to create and manage the applications and services that you need to run businesses most effectively. Its hybrid cloud services features high performance, comprehensive security, high availability to deliver exceptional quality of service, interoperability and the ability to scale with business operations. The good thing is the company also provides clients with flexibility and portability to move applications between clouds without rewriting them - from private to public clouds and back.
From an investment standpoint it also helps that the company holds almost 75% of the server virtualization market share. However, it is hard to build a case for the company that it can still grow at the rate that it previously did - particularly on both increasing penetration of server virtualization, and at the same time compete with other firms in the virtual desktop market. Because of its success the company has become a target of the competition, but that is a great problem to have. And for investors, an excellent risk to take.