In a recent post highlighting the top current stock prospects from my watchlist, I mentioned that GameStop (NYSE:GME) looked to be the most interesting name. At around $24, the stock is trading in middle/upper end of its 52 week trading range: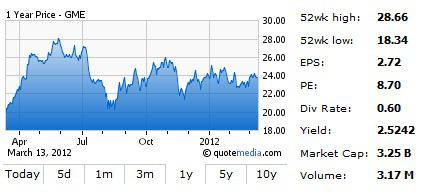 Perhaps the most noteworthy detail about stock might be the short interest, with over 50M shares sold short or about 45% of outstanding float. One of GameStop's most prominent detractors is famed short-seller, Jim Chanos. While Chanos is famous for his short call on Enron, he doesn't base his bearish GME stance on shady accounting or management malpractice. Instead, Chanos predicts that GameStop will join the likes of Blockbuster and music labels/retailers as victims of digital distribution and technology obsolescence. But GME seems attractive on some fronts.
First, even Chanos concedes GME looks cheap at these prices but he asserts it will look cheap all the way down. Taking a look at the last 5+ years results, GameStop doesn't look like a company headed for the scrap heap:
| | | | | | |
| --- | --- | --- | --- | --- | --- |
| Year | 2007 | 2008 | 2009 | 2010 | 2011 |
| Revenue | $5,319 | $7,094 | $8,806 | $9,078 | $9,474 |
| Oper Cash Flow | $420 | $494 | $549 | $644 | $591 |
| Cap Ex | ($134) | ($176) | ($183) | ($164) | ($198) |
| Free Cash Flow | $286 | $318 | $366 | $480 | $394 |
| Total Assets | $3,776 | $3,776 | $4,483 | $4,955 | $5,064 |
| FCF return on assets | 7.6% | 8.4% | 8.2% | 9.7% | 7.8% |
As a value investor, I am most interested in free cash flow and on that metric, the company is very healthy, with ~$400M FCF in 2011 and over $700M over the last twelve months. Based on these metrics, the company is ridiculously cheap, selling below 6x its 5-year FCF average.
Second, a huge factor in Blockbuster's demise was its overleveraged balance sheet but on this front, GameStop looks solid. The company is debt free and has ample cash on hand to fund operations and capex. Management is looking to return capital to shareholders with buybacks and a recently instituted dividend.
Of course, an examination of the company's financial statements are a look back -- Chanos is looking ahead to the future and on that front, there are some concerns. As broadband speeds increase, consumers are increasingly turning to digital games on PCs, consoles and smart devices but GameStop has only a small presence in the digital gaming market. Management is targeting $1.5B in digital revenue by 2014 but even if the company manages to hit that goal, digital will still only comprise 13% of projected total sales.
Chanos contends that modest expansion won't be enough to offset the deterioration in its packaged games segment. Burrowing even further, it is clear that the used game market is vital to GameStop's viability. That segment comprises roughly a quarter of sales but makes up about half of profits so GameStop is operationally leveraged to this market. If digital distribution seriously erodes new game sales, the effect will trickle down to used games as well. Additionally, large retailers like Amazon (NASDAQ:AMZN), Best Buy (NYSE:BBY) and Wal-Mart (NYSE:WMT) have moved into the used game market and could steal share from GameStop.
Thus we arrive at the core questions surrounding an investment in GME: how will the growth of the digital game market affect the packaged games market and at what pace? And will GameStop be able to manage this disruption in its business, especially in its used game segment?
Recent reports suggest this process may already be happening as NPD reported a February decline of 24% in US video game retail sales, following a 34% drop in the previous month. The drop could be due to lack of killer new games and consoles but also partly due to increased interest in casual and mobile games. Even the company acknowledges that the digital market will be a major factor in the gaming industry. But all this does not necessarily preclude an investment in GME. Good investments are defined by first and foremost by price paid and even a company in a declining industry can be a good investment at the right price. Making that assessment with GameStop, however, requires a fair amount of projections and forecasts about what the industry will look like in a few years time, a task for which I am ill-suited. A valuable but often overlooked investment tool is the ability to say, "I don't know."
Still, GME looks like a dangerous short -- a debt-free, cash-rich retailing company with lease flexibility that still generates copious free cash flow. The company buys back shares, which could potentially set up a short squeeze and is so cheap, there is some speculation it could be bought out by private equity.
GameStop looks unreasonably cheap but I do not know what the future holds for the industry and so can not get comfortable taking the other side of the bears' bet. Analyst opinion is conflicted -- Morningstar rates the stock 2 stars on fears of digital disruption, Zack's puts the stock at neutral while S&P rates the stock a buy at 4 stars. At the very least, I would like to see prices at or below its 52 week low before taking another hard look.
Disclosure: I have no positions in any stocks mentioned, and no plans to initiate any positions within the next 72 hours.