On Monday, Majesco Entertainment (NASDAQ:COOL) reported first quarter earnings and a new 2012 guidance. Shares were sent down close to 14% during Tuesday's trading session. Shares opened the day down 10% and fell further as the market rallied.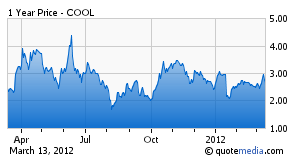 Sales for the first quarter were $66.2 million. This marked a 37% increase on last year's first quarter figure of $48.5 million. Margins remained high with a rate of 35%. International sales were $16.7 million for the quarter, or approximately 25% of revenue. International sales have been strong and are the key to licensing revenue that Majesco gets from foreign distributors. Net income (on a non-GAAP basis) was $7.3 million, which was a slight decrease from $7.5 million reported in last year's first quarter. The company paid several one time fees to end underperforming and an unreleased game from its lineup. With 4.2 million shares outstanding, earnings came in at $0.18 per share. This is flat with last year's first quarter and fell $0.02 shy of analysts' targeted earnings. The decrease was due to one-offs.
In 2012, two downloadable content add-ons for the newly released Zumba Rush game will be available, which should provide a glimpse if loyal Zumba players will download content offered each year. Majesco continues to invest in online and mobile games at an aggressive pace, which could be $4 to $5 million for 2012. Guidance for 2012 is $130 to $140 million in revenue. Earnings per share are expected to fall in a range of $0.25 to $0.30. Last year's earnings were $0.28, so the upside is not currently present in the guidance, which likely spooked investors. Remember, several investors who sold shares may have been taking profits from their buy-in of under $1.
The company has also restructured its game release schedule and will be releasing "fewer, bigger, high quality titles". Four mobile titles are expected to be released in 2012. A new Zumba game is scheduled to be released during the 2012 holiday season, which should really bring the stock into the spotlight around October/November. An NBA motion based game for XBOX 360 Kinect is in the works and could be a game changer as there is no key leader in the NBA video game market. A fitness game from Harley Pasternak is also being developed.
In a January 6th article, I disclosed my long position in Majesco Entertainment. After Tuesday's selloff the company now represents my seventh largest position in my portfolio. In that article, I listed 8 reasons to buy shares of Majesco and will now take a follow-up look.
1. Strong Sales of Zumba Fitness
Zumba Fitness continues to be the cornerstone of Majesco Entertainment. The video game series makes up 77% of revenue for the company (compared to 61% in the first quarter of 2011). Majesco has done a good job of maintaining sales in the series but needs to diversify away from a single blockbuster franchise.
2. Release of Zumba Rush
In February, Majesco Entertainment released Zumba Rush on the XBOX 360 platform. Sales figures have not been released, but the game continues to be on the Amazon best selling video game list.
3. Acquisition Target
I listed Activision (NASDAQ:ATVI) as a good buyout company of Majesco shares. Since the Guitar Hero franchise was discontinued, the company could use a franchise series to complement Call of Duty. Zumba games do not have the high inventory costs of musical equipment associated with Guitar Hero games. The drop in the share price of Majesco could have large companies taking a look at Majesco.
4. Three Straight Quarterly Earnings Beats
The company actually missed analysts' target for the first quarter which broke the trend of earnings beats. Earnings for the current quarter are estimated to be $0.05 and I think those could prove conservative with amazing numbers from Zumba Rush and continued sales of other Zumba games.
5. Price to earnings
Tuesday, the shares of Majesco ended at $2.56. With a current company forecast of $.25 to $.30 for 2012 we can come up with new price to earnings numbers. The range for price to earnings is now 8.7 to 10.2. Earnings for 2013 are estimated to be .35 by analysts on Yahoo which would have a price to earnings of 7.3. I think on a simple valuation standpoint the company should trade closer to 12 times projected earnings which would mean shares are worth $3.30 taking the mid range of $0.275 in earnings. However, with a string of hit games and improved earnings, shares could shatter that target.
6. Analyst Activity
Since that article, Ascendiant Capital Markets initiated coverage of the stock with a "BUY" rating. An analyst from the company was present on the conference call during the question and answer segment so we'll see if there is any activity from the call. There also could be new upgrades or downgrades following guidance.
7. Balance Sheet
In the mentioned article, Majesco had $20 million in cash. That position has grown to $22 million and no long term debt. The company also has $15 million available in credit if needed. This large position of cash serves the company well as it transitions into mobile and social games and needs cash for research and development.
8. Facebook Games
Shortly before earnings, Majesco announced it has created Mini Putt Park, a new Facebook game that will likely premiere in April. The game will allow users to create their own golf courses and play on courses designed by friends. It will be the first game created internally by Majesco Entertainment for a social platform. Parking Wars 2 has 20,000 monthly users (down from 30,000 in January). Cooking Mama Friends' Café now has 520,000 monthly users, which is a significant increase from the 220,000 mentioned in January. Time will tell if the new Mini Putt Park game will be successful.
My first article about Majesco Entertainment came in November. I recommended buying shares of the company back then when they were trading above $3. In that article, I also mentioned the company as a buyout target of a large video game company like Activision or Electronic Arts (NASDAQ:EA). In that first article four months ago I placed a long term price target of $10 if a buyout is not reached. I continue to hold my position in the company and will be closely following that target as I hold shares for the long run.