With the wave of disappointing news coming out of the gold mining sector, it is indeed no wonder that many investors who seek exposure to the precious metal are looking at gold ETFs (NYSEARCA:GLD). Miners have been plagued with significant inflationary pressures, operating difficulties and risk of increased royalties and taxes that should cause one to think twice before investing.
Agnico Eagle Mines (NYSE:AEM)
Agnico Eagle is a prime example of what can go wrong in this sector. Investors have suffered greatly as shares of the company have been decimated over the past 52 weeks from a high of $76.46 to about $35.46. The share depreciation began with the temporary shutdown of the Meadowbank mine due to a kitchen fire and peaked with the production suspension of the Goldex mine due to ground instability.
The negativity does not seem to end, however. On March 12, 2012, law firm Siskinds LLP announced it filed a proposed class action in the Ontario Superior Court of Justice against the company and certain officers of the company. The Law firm alleges that the company failed to disclose the risks regarding the ongoing water inflow at the Goldex mine.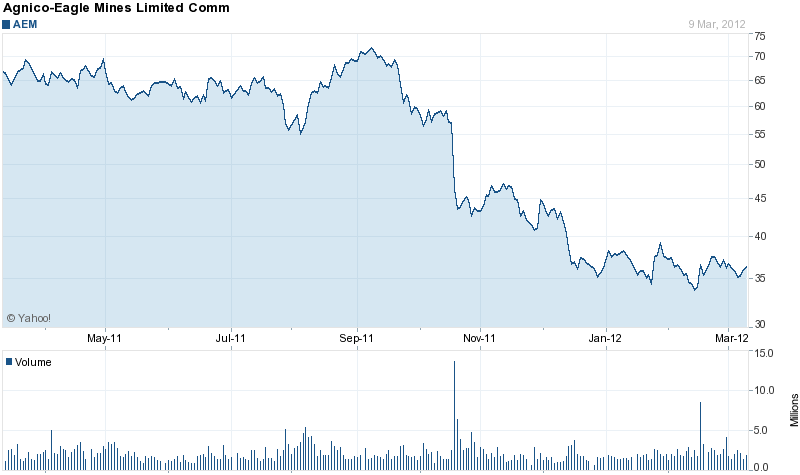 Nevsun Resources Ltd. (NYSEMKT:NSU)
Nevsun is currently a gold miner in Eriteria, however, it will turn into a copper miner in 2013. Shares of the company always traded at a discount to peers due to political risk. However, more recently in February, shares dropped from about $6.60 to $3.84 as the company revised its estimated gold resource from the March 2011 technical report estimate.
The company added that production guidance for 2012 has been cut by nearly half, from 2.5 million tonnes to 1.3 million. Of course, many investors still wonder if additional revisions to the resource are to come once copper production will commence from its Bisha mine.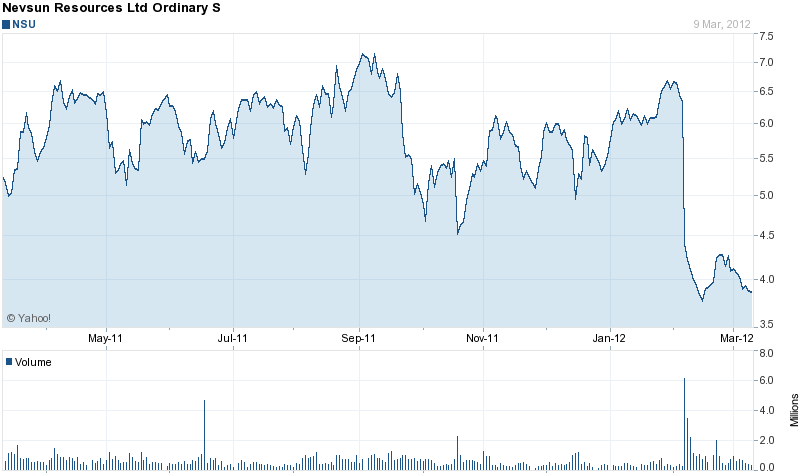 Kinross Gold Corporation (NYSE:KGC)
From a 52-week high of $18.25 to $10.95, Kinross is one of the worst performing mid-tier gold producers in the past 52-weeks. The company recently reported a $2.9 billion goodwill impairment charge related to its Red Back acquisition, which essentially confirms that Kinross overpaid for the Red Back asset.
In addition, as reported recently here, the company's Fruta del Norte project in Ecuador might not receive the necessary permits needed to begin construction. The company wants to renegotiate the currently signed agreement under which it agreed to a windfall profits tax; a very onerous factor on after tax internal rate of return -- a key measurement of economic viability.
To read more of problems facing Kinross see here.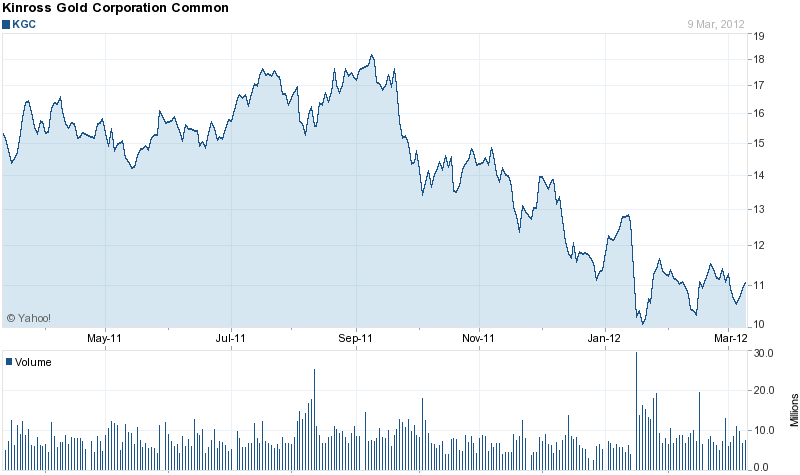 Judging from the few (out of many) examples presented here, it is understandable to see the skeptics of the miners flocking to ETFs. After all, with gold ETFs life becomes easier; one does not need to worry about a resource revision, cost inflation, royalties, taxes and production cut surprises. With pure exposure to the metal, investors have to predict only one item -- the future price.
Personally, I disagree with those that paint the entire sector (juniors, developers and producers) with one brush. Sure, ETFs and similar products are attracting some of the money that would flow to gold stocks, however, high grade -- economical deposits are becoming harder and harder to come by. Identifying those deposits that offer high returns for reasonable prices is the way investors will make money in this sector.
Disclosure: I have no positions in any stocks mentioned, and no plans to initiate any positions within the next 72 hours.