Coeur Mining: Due Diligence Is A Serious Matter
Summary
The company reported a net loss of $270.96 million or $1.23 per share, including non-cash write-downs of $277.7 million. Mainly $250.8 million impairment for the Silvertip mine.
Coeur Mining produced 94,716 Au Oz of gold and 3.176 million ounces of silver during the fourth quarter. Average realized gold and silver prices for the quarter are $1,342 per Au Oz.
CDE should be used mostly as a short-term trading tool.
Looking for a helping hand in the market? Members of The Gold And Oil Corner get exclusive ideas and guidance to navigate any climate. Get started today »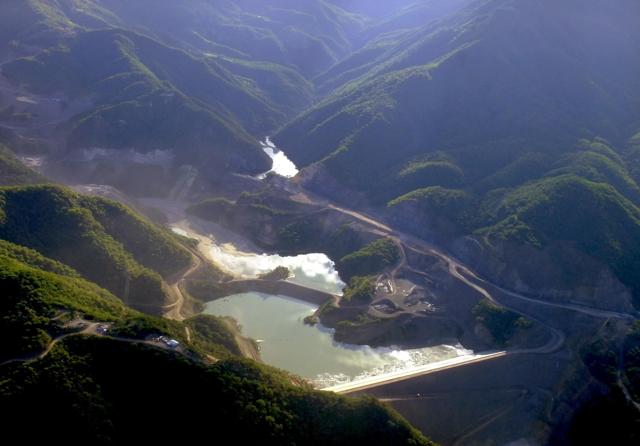 Image: Palmarejo gold and silver complex in Mexico Source: Coeur Mining
Investment Thesis
Chicago-based Coeur Mining (NYSE:CDE) fits perfectly with the profile of a North American gold/silver producer with a gold sale representing ~75% and a silver sale of ~25% of the total production in the fourth quarter of 2019.

The company operates only four North American mines after the recent decision on Silvertip. Palmarejo and Kensington mines are leading producers, whereas the Silvertip mine continues to be a problematic ramp-up phase and will be closed until 2021.
Mitchell J. Krebs, president, and the chief executive officer said:
The decision to temporarily suspend operating activities at Silvertip, which represented approximately 6% of the company's 2019 revenue, was driven by our goal of maximizing the long-term value of the operation,
The investment thesis for this particular gold/silver miner is correlated primarily to the gold and silver price. The company was turning attractive again after retracing, but the recent decision about Silvertip needs to be assessed seriously. A dual strategy with a small long-term investment built on active short-term trading seems the most appropriate.
Below are the historical data for both primary gold mines.


As a reminder, Coeur Mining closed a significant deal with Alio Gold (ALO) for the acquisition of the Lincoln Hill Project and other mineral assets. These assets are adjacent to the Rochester mine.
The company produces and sells lead and zinc as by-product metals. Below is the most recent presentation from the third quarter of 2019.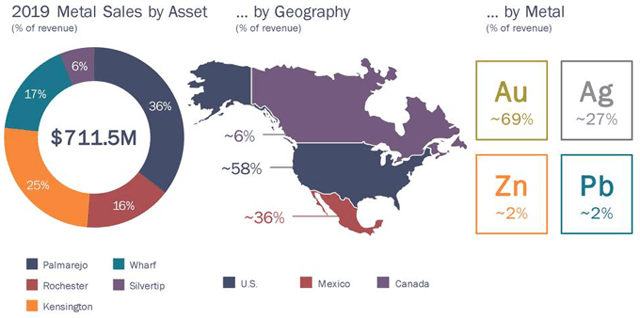 Source: CDE Presentation
Note: On September 25, 2019, Coeur Mining indicated that it sold "2,811,000 common shares of Metalla at an average price of C$1.09 per share between April 25, 2019, and September 24, 2019, for approximately C$3.1 million." "Coeur now owns 20,965,241 common shares of Metalla or approximately 15.9% of its issued and outstanding common shares."
On February 20, 2019, Coeur Mining Announced Its Fourth Quarter Results
Fourth-quarter Production in silver/gold equivalent ounce

SEO or Silver Equivalent Ounce for 4Q'19 has been estimated using a 1:83.5 ratio.

Coeur Mining produced 94,716 Au Oz of gold and 3.176 million ounces of silver during the fourth quarter. Average realized gold and silver prices for the quarter are $1,342 per Au Oz and $16.07 per Ag ounce.
Mitchell Krebs, the CEO, said in the conference call about the Silvertip mine:
We anticipate that the earliest possible restart at Silvertip would be in late 2021. And we'll be driven by the results of our exploration program and the feasibility study as well as prevailing market conditions.
Coeur Mining: Financials And Production In 4Q 2019. The raw numbers
| | | | | | | | |
| --- | --- | --- | --- | --- | --- | --- | --- |
| Coeur Mining | 2Q'18 | 3Q'18 | 4Q'18 | 1Q'19 | 2Q'19 | 3Q'19 | 4Q'19 |
| Total Revenues in $ Million | 170.0 | 148.8 | 143.9 | 154.9 | 162.1 | 199.47 | 195.04 |
| Net Income in $ Million | 2.9 | -53.0 | 0.5 | -19.2 | -36.8 | -24.28 | -270.96 |
| EBITDA $ Million | 42.1 | -12.3 | 7.9 | 14.3 | 7.1 | 37.0 | -214.71 |
| EPS diluted in $/share | 0.02 | -0.29 | 0.00 | -0.09 | -0.18 | -0.06 | -1.23 |
| Cash from operating activities in $ Million | -1.3 | 5.8 | 0.1 | -11.8 | 26.4 | 42.0 | 39.30 |
| Capital Expenditure in $ Million | 41.2 | 39.5 | 17.8 | 27.4 | 20.7 | 30.7 | 20.91 |
| Free Cash Flow in $ Million | -42.5 | -33.7 | -17.7 | -39.3 | 5.7 | 11.3 | 18.39 |
| Total Cash $ Million | 123.5 | 104.7 | 115.1 | 69.0 | 37.9 | 65.3 | 55.65 |
| Total Debt ( including lease obligation) In $ Million | 419.7 | 429.2 | 458.8 | 459.0 | 370.0 | 298.7 | 295.5 |
| Shares outstanding (diluted) in Million | 187.5 | 185.2 | 199.6 | 202.4 | 207.8 | 225.9 | 238.95 |
Data Source: Company filing and Morningstar/YCharts
Trends And Charts: Revenues, Earnings Details, Free Cash Flow, Debt, And Production Details
1 - Revenues and trend. Revenues were $195.0 million in 4Q'19

Coeur Mining posted revenue of $190.5 million with an EBITDA loss of $214.71 million and cash flow from operating activities gain of $39.295 million. The company reported a net loss of $270.96 million or $1.23 per share, including non-cash write-downs of $277.7 million (mainly $250.8 million impairment, and temporarily suspending mining and processing activities at the Silvertip mine).
For the full year, Coeur reported revenue of $711.5 million and cash flow from operating activities of $91.9 million, including non-cash write-downs totaling $320.0 million. For more information, please look at the table above.
2 - Free cash flow is $18.4 million in 4Q'19

Note: Generic Free Cash Flow is Cash from Operations minus CapEx. It is an essential financial component that I am regularly analyzing.
Coeur Mining's free cash flow for the fourth quarter of 2019 indicates a gain of $18.4 million, and free cash flow for 2019 is a loss of $3.9 million. It was the third quarter with positive free cash flow.
3 - Available capital, net debt, and liquidity.

Coeur Mining has total liquidity of $305.6 million in 4Q'19. Total debt is now $295.5 million, and net debt is $239.9 million. Financial ratios, please see below: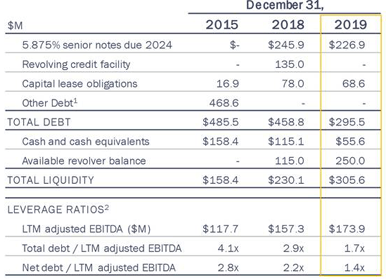 Source: CDE presentation
Mitchel Krebs, the CEO, said in the conference call:
Given the attractive returns and results from our investment in exploration, we plan to substantially increase our spending level in 2020 by over 60% to roughly $50 million, which will by far be the largest program in the company's history.
4 - The company is indicating full-year 2020 production guidance.
Coeur Mining indicated total full-year 2020 production guidance of 317-363K oz. of gold, 10.3-13.3M oz. of silver.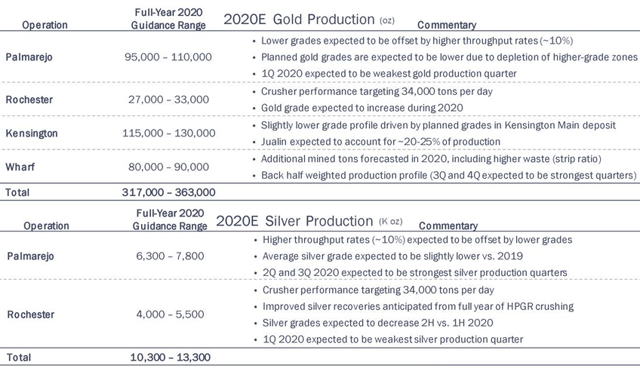 Source: CDE filing
Note: The total proved and probable reserves, as of December 31, 2019, represent 182.9M Oz of silver and 2.564M Oz of gold. Coeur mining stated that gold reserves were lower year-over-year, but silver reserves grew, primarily driven by the replacement of depletion at Palmarejo and conversions at Rochester.

Conclusion And Technical Analysis
Coeur Mining is the perfect North American gold and silver producer.
However, the Silvertip mine, which was acquired in 2017, spoiled the party with a vast non-cash impairment charge and expense of $6 million per quarter for "care & maintenance" until 2021, when the mine is scheduled to re-open.
Pursuant to the Arrangement, Coeur acquired all issued and outstanding common shares of JDS Silver Holdings, Ltd. for consideration of approximately US$147.5 million in cash and US$37.5 million in Coeur common stock, and assumed approximately US$15 million of existing debt.
The Silvertip acquisition will certainly haunt Coeur Mining's management for a long time. It looks like a terrible mistake due to apparently a failure to perform satisfactory due diligence at the time.
The issue is that management is still not able to recognize its error and, consequently, will probably make the situation even more costly.
Technical Analysis (short term)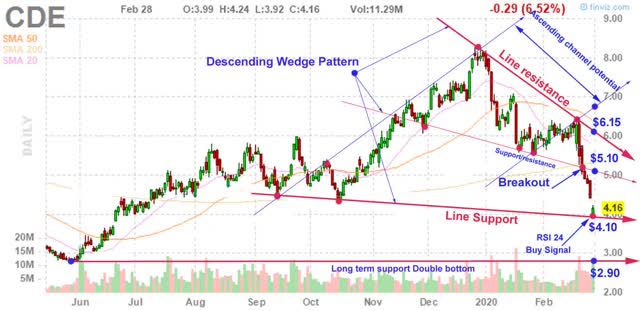 CDE experienced a support breakout last week and quickly reached line support of the descending wedge pattern indicated in the chart above. This drop is probably the combination of the Silvertip news and also a broad selloff of the gold miners on Friday due perhaps to some margin calls.
I believe CDE could be accumulated between $4.10 and $2.90, which is the lower support. The first resistance where I recommend selling a large part of your accumulation is around $5.10, but depending on the gold price, the stock could reach $6.15.
Author's note: If you find value in this article and would like to encourage such continued efforts, please click the "Like" button below as a vote of support. Thanks!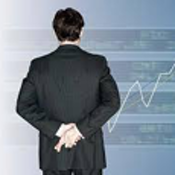 Join my "Gold and Oil Corner" today, and discuss ideas and strategies freely in my private chat room. Click here to subscribe now.
You will have access to 57+ stocks at your fingertips with my exclusive Fun Trading's stock tracker. Do not be alone and enjoy an honest exchange with a veteran trader with more than thirty years of experience.
"It's not only moving that creates new starting points. Sometimes all it takes is a subtle shift in perspective," Kristin Armstrong.
Fun Trading has been writing since 2014, and you will have total access to his 1,865 articles and counting.
This article was written by
Fun Trading is a retired engineer and independent investor. In addition to writing on investing in all aspects of gold, oil, and gas, he runs his own portfolio..
Analyst's Disclosure: I/we have no positions in any stocks mentioned, and no plans to initiate any positions within the next 72 hours. I wrote this article myself, and it expresses my own opinions. I am not receiving compensation for it (other than from Seeking Alpha). I have no business relationship with any company whose stock is mentioned in this article.

I trade short term CDE but do not intend to keep a long term position at the moment.
Seeking Alpha's Disclosure: Past performance is no guarantee of future results. No recommendation or advice is being given as to whether any investment is suitable for a particular investor. Any views or opinions expressed above may not reflect those of Seeking Alpha as a whole. Seeking Alpha is not a licensed securities dealer, broker or US investment adviser or investment bank. Our analysts are third party authors that include both professional investors and individual investors who may not be licensed or certified by any institute or regulatory body.