The Madison Square Garden Company (NASDAQ:MSG) operates primarily in the United States with a focus on the New York area. The company operates in three segments: MSG Media, MSG Entertainment, and MSG Sports.
MSG Sports is the smallest of the company segments. However, it is perhaps the most well known division as it owns the New York Knicks and New York Rangers.

MSG Media segment produces and develops content for various TV and internet distribution platforms, including content originating from the company's venues. It consists of the MSG Networks and the Fuse Networks, which offer sports and musical content. This segment also manages interactive businesses that comprise a range of targeted websites; and wireless, video on demand, and digital platforms.

The MSG Entertainment segment creates, produces, and/or presents various live productions, as well as presents or hosts other live entertainment events, such as concerts, family shows, special events, and theatrical productions. This is largely done in the New York area, but it does have a few venues in other areas.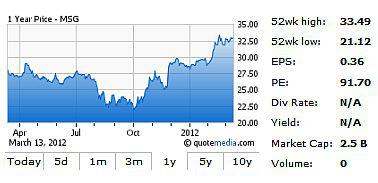 Here are a few reasons why MSG is a good short candidate.
Valuation: As of this weekend, MSG's trailing p/e was 34 and forward p/e 26. In general, those are high P/E ratios for a entertainment/media business. Analyst project revenues to grow at MSG next year at 13%. Those are high P/E ratios for a company projected to grow at 13%.

New York-centric economy: MSG seems very dependent on the New York City economy. That economy has had more than its share of challenges, and remains heavily dependent on the financial services sector. That industry continues to scale back its headcount, and the salary and bonus of executives in the financial industry probably drives some portion of MSG revenues. If their discretionary income falls, so might their spending on entertainment.

Linsanity will not last forever: The NBA and broader sports world has been abuzz about the great impact Jeremy Lin has had on the Knicks. This feel good story could help drive short-term revenues. However, it also seems very possible that this story could be unrealistically raising expectations for the MSG stock price. At some point, Linsanity will be unsustainable and will likely fade into the background. As the buzz in this story falls off, it may likely impact perceptions of the stock as well.

Technical: As I'm writing this article, the stock is trading just under $33. The stock hit its 52 week high a few weeks ago at $33.49. This could serve as a resistance level. Last October, the stock was trading at $22. A 38% Fibonacci retracement would be a pullback to around $29 which perhaps, not coincidentally, is where the stock traded for quite awhile earlier this year. Perhaps the stock might fall back to this level.
The overall stock market has moved up substantially this year. Many think there is a good probability for an overall market correction. If an investor is looking to hedge away some of the risk of a pullback in the market, now may be a good time to establish some short positions, and MSG seems to be one stock in particular in which to build a short position.
Disclosure: I am short MSG.
Additional disclosure: This posting is for informational, educational and entertainment purposes only and should not be considered investment advice.