Obsidian Energy: In A Precarious State
Summary
Obsidian is attempting to get the revolving period of its credit facility extended, which requires a couple conditions to be met first.
It was not able to achieve those conditions by the first deadline and was granted an extension until March 13.
A further extension seems unlikely due to the reluctance of the credit facility lenders to take on the March 16 senior note maturity.
If negotiations fail, Obsidian will not be able to draw further on its credit facility and the balance will become due in April 2021.
Obsidian's common shares have questionable value in the current market environment due to low commodity prices and the credit facility issues.
This idea was discussed in more depth with members of my private investing community, Distressed Value Investing. Get started today »
Obsidian Energy (NYSE:OBE) is attempting to get the revolving period of its credit facility extended, but is facing significant challenges in doing so. The credit facility lenders are willing to extend the revolving period, but only if Obsidian gets a rent reduction and the credit facility doesn't take on the additional risk from Obsidian's near-term senior note maturities.
Negotiations are ongoing to extend the senior note maturities, although the first deadline already passed and the March 16 note maturity means another extension beyond that date is unlikely.
If the credit facility revolving period extension falls through, Obsidian may not need to restructure immediately, but will face an April 2021 repayment deadline for its large credit facility balance and won't be able to draw further on its credit facility in the meantime.
Obsidian's common shares are of questionable value in the current market environment, as shown by its considerable credit facility issues.
Credit Facility Situation
Obsidian's credit facility revolving period was previously set to expire on February 28, but it announced on February 27 that it reached an agreement to extend the revolving period to May 2021 and the term period to November 2021 if certain conditions are met.
These conditions include Obsidian reducing the net rent payable for its office lease to $10 million CAD per year and getting the maturity dates of its March 16, May 29 and December 2, 2020 Senior Notes extended until at least November 30, 2021. If those conditions aren't met, then the revolving period was scheduled to end on March 4, but it got an extension until March 13 now.
The rent reduction appears to be the easier of the conditions to meet. With downtown Calgary office vacancy rates still above 20%, it would make sense for the landlord to have a tenant paying a reduced rate rather than have it sit empty for a while.
The extension of the senior note maturities until November 2021 appears to be a more challenging discussion given that the original deadline has passed with no agreement. If no agreement is reached by March 13, there probably won't be any further extension granted by the credit facility lenders given that there is a $10 million USD senior note maturity on March 16. The credit facility lenders don't appear to be willing to let Obsidian pay for the senior notes with the credit facility.
If no agreement is reached in time, Obsidian's credit facility revolving period will expire on March 13 and it won't be able to draw further on the facility. This won't necessarily mean that Obsidian will restructure immediately. The credit facility balance doesn't become due until April 2021 and Obsidian can probably manage the 2020 senior note maturities through working capital and positive cash flow. It may halt second half 2020 development activities in order to generate enough cash flow for the maturities though.
2020 Outlook With No Second Half Development
If Obsidian halts development in 2H 2020, it may average around 25,000 BOEPD for the full year.
At current strip prices (including roughly $43 USD Edmonton Mixed Sweet oil), Obsidian would be expected to generate around $238 million USD in revenues after hedges.
Obsidian has a decent amount of oil hedges for Q1 2020, but its hedges start tailing off after that.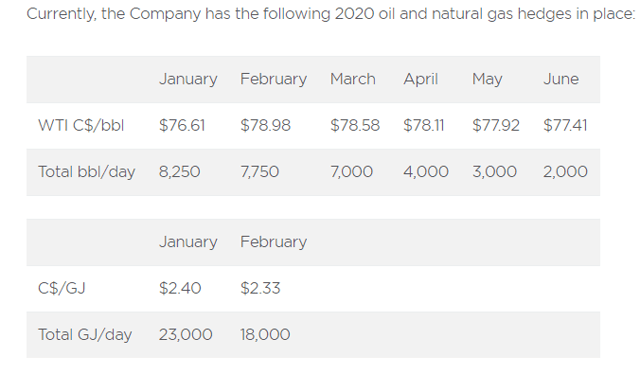 Source: Obsidian Energy
| | | | |
| --- | --- | --- | --- |
| Type | Units | $ USD/Unit | $ Million USD |
| Light Oil And NGLs [BBLS] | 4,653,750 | $38.00 | $177 |
| Heavy Oil [BBLS] | 1,423,500 | $19.00 | $27 |
| Natural Gas [MCF] | 18,286,500 | $1.40 | $26 |
| Hedge Value | | | $8 |
| Total Revenue | | | $238 |
Obsidian would then be expected to generate around $85 million USD EBITDAX after hedges. This would probably allow it to deliver close to $30 million USD in positive cash flow assuming that there is no second half development activity. This would cover its $27 million USD in senior note maturities and keep its credit facility borrowings constant.
| | |
| --- | --- |
| | $ Million USD |
| Revenue | $238 |
| Less: Operating Expense | $99 |
| Less: Transportation | $20 |
| Less: Royalties | $19 |
| Less: Cash G&A | $15 |
| EBITDAX | $85 |
Valuation
The current market environment is not promising for the value of Obsidian's common shares. The credit facility lenders are not interested in having the senior notes be repaid via the credit facility. The outcome of the negotiations to extend the senior note maturities is uncertain. Whatever price Obsidian could get for its properties now is likely less than it was a few months ago, given that commodity prices have fallen and its credit facility situation looks tenous.
Obsidian's debt in the above scenario would end 2020 at around 3.7x hedged EBITDAX or 4.0x unhedged EBITDAX at current strip prices, which is a level at which there may not be any value left over for Obsidian's common shares.
Obsidian's credit facility lenders aren't interested in taking on more risk (by taking on the senior notes), but they also aren't interested in forcing a liquidation in the current market environment (hence the April 2021 repayment extension even if the revolving period is not extended). Thus Obsidian's common shares could benefit if the oil pricing environment improves by next year.
Conclusion
Obsidian is a company that largely serves its creditors now, with its credit facility revolving period extension dependent on negotiations with other creditors. It may not end up restructuring in 2020, but will be a debt zombie even if it gets a revolving period extension until next year.
This situation is a negative for Obsidian's common shares, as the challenges in getting its revolving period extended points to Obsidian's precarious situation. The hope for the common shares is that Obsidian can linger around for a while and then have oil prices rebound before its debt matures in 2021.
Editor's Note: This article covers one or more microcap stocks. Please be aware of the risks associated with these stocks.
Free Trial Offer
We are currently offering a free two-week trial to Distressed Value Investing. Join our community to receive exclusive research about various energy companies and other opportunities along with full access to my portfolio of historic research that now includes over 1,000 reports on over 100 companies.
This article was written by
Elephant Analytics has 15 years of analytical experience and unique skills in numerical analysis and practical mathematics. He is currently ranked in the top 2% of analysts by TipRanks.
  
Elephant Analytics has also achieved a top 50 score on the Bloomberg Aptitude Test measuring financial aptitude (out of nearly 200,000 test takers). He has also achieved a score (153) in the 99.98th percentile on the WAIS-III IQ test and has led multiple teams that have won awards during business and strategy competitions involving numerical analysis. In one such competition, he captained his team to become North American champions, finishing ahead of top Ivy League MBA teams, and represented North America in the Paris finals.

Elephant Analytics co-founded a company that was selected as one of 20 companies to participate in an start-up incubator program that spawned several companies with $100+ million valuations (Lyft, Life360, Wildfire). He also co-founded a mobile gaming company and designed the in-game economic models for two mobile apps (Absolute Bingo and Bingo Abradoodle) with over 30 million in combined installs.

Legal Disclaimer: Elephant Analytics' reports, premium research service and other writings are personal opinions only and should not be considered as investment advice. Only registered investment advisors can provide personalized investment advice. While Elephant Analytics attempts to provide reports that include accurate facts, investors should do their own diligence and fact checking prior to making their own decisions.


Analyst's Disclosure: I am/we are short OBE. I wrote this article myself, and it expresses my own opinions. I am not receiving compensation for it (other than from Seeking Alpha). I have no business relationship with any company whose stock is mentioned in this article.
Seeking Alpha's Disclosure: Past performance is no guarantee of future results. No recommendation or advice is being given as to whether any investment is suitable for a particular investor. Any views or opinions expressed above may not reflect those of Seeking Alpha as a whole. Seeking Alpha is not a licensed securities dealer, broker or US investment adviser or investment bank. Our analysts are third party authors that include both professional investors and individual investors who may not be licensed or certified by any institute or regulatory body.