Quicksilver Resources Inc. (NYSE:KWK) is one of the hot young companies spawned by the new unconventional shale technology. There are many things to like about this company. It has many good net acreage positions in many great fields. They are listed below:
The Horn River Basin --130,000 net acres with greater than 10Tcf resource potential.
The South Alberta Basin -- 175,000 net acres (a Bakken play).
The Delaware Basin - Wolf camp -- 150,000 net acres.
Horseshoe Canyon (CBM) -- 316,00 net acres with 250 Bcfe of reserves.
Sandwash Basin (Niobrara) -- 210,000 net acres with > 500,000 Boe resource potential.
Ft. Worth Basin (Barnett) -- 155,000 net acres with 2.6 Tcfe of reserves and > 1.5 Tcfe resource potential.
At first glance, these seem to easily justify KWK's $929.7M market cap. Unfortunately KWK has an enterprise value of $3B, which means it has a lot of debt. It has a Total Debt/Total Capital (MRQ) of 65.04%. Its Quick Ratio is non-existent, but its Interest Coverage (MRQ) is a respectable 2.0. Most of its development has been in natural gas, and natural gas prices have plummeted recently to $2.28 at the time of this writing. This makes natural gas unprofitable for many developers. For new developers like KWK, this is even more true.
More mature developers like Chesapeake Energy (NYSE:CHK) have cut back dramatically on their natural gas development and production. CHK is now heavily emphasizing its oil development. Not surprisingly, KWK has short interest of 19.91% of its float. This company does have some oil field interests, but these have not reached development stage yet. Plus it is uncertain as of yet just how productive the South Alberta Basin properties will be.
Does KWK have some great properties? Yes. In a better natural gas environment you probably would not even think of selling this company. In fact, it might still be a buyout target for a larger oil and gas company. A Chevron (NYSE:CVX) or an Exxon Mobil (NYSE:XOM) could easily afford to wait until natural gas prices rose considerably. You might make a good profit if KWK is bought out.
However, I do not believe in owning stocks just for the possibility that they might be bought out. I remember that Brigham Exploration (BEXP) brought only $4.4B, when it was bought out by Statoil (NYSE:STO) last year, and it had prime oil acreage in the North Dakota Bakken. With KWK's $3.0B enterprise value, a major oil and gas company would have to be very interested in natural gas long term to pay even the $3.0B in enterprise value. This doesn't seem likely for the next year or two. As a matter of fact, one of the oil industry's most prominent seers, T. Boone Pickens, said recently that he does not expect natural gas prices to spike anytime soon.
Looking at KWK from a PE basis, it again seems a great bargain at 2.48 times TTM earnings. Unfortunately this is old news-- these earnings were from before natural gas prices crashed. KWK has no FPE. It is expected to lose money in both FY2012 and more in FY2013. It has a next 5 years EPS growth estimate per annum of -82.97%. You can't get much worse than that, and the trend in earnings estimates is still strongly downward.
The above list includes great properties when natural gas is at $5 or above. KWK does have some hedging, but not nearly enough at high natural gas prices. This appears to be one of the functions that this young development company did not pay enough attention to. KWK needs to be able to sustain itself from its operations. It needs the wells it drills to be immediately profitable. Aside from the normal E&P problems, KWK now has to worry that its wells will not be profitable even if they are incredibly successful.
The two year chart of KWK provides some technical direction to this trade.
Click to enlarge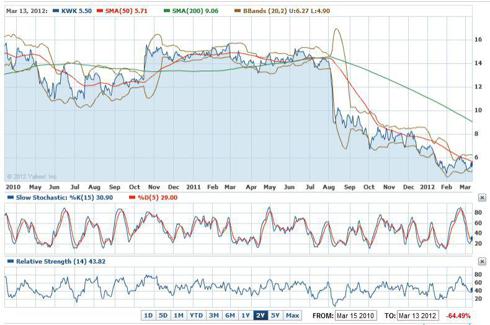 The slow stochastic sub chart shows that KWK is oversold. The main chart shows that KWK is in a strong downtrend. Its 50-day SMA is far below its 200-day SMA, and this has been true since August 2011. You can probably still short this one, and you will likely still make money. The overall market is due for a retracement, although momentum traders have been bidding it up regardless. Still, the retracement will occur.
Plus, there are huge signs of world economic weakness that will likely drag the U.S. economy down significantly this summer and into the fall and winter. Many economists are predicting 1% to 2% U.S. GDP growth during this time. A lot are worried the situation could worsen far beyond that. In fact, ECRI has a recession forecast for the U.S. this year. In such a scenario, KWK's stock price could plummet to even a tenth of what it is now. If energy guru T. Boone Pickens is to be believed, higher natural gas prices-- which seem the only thing that is likely to reverse KWK's downtrend-- are not going to occur for some time.
I personally like many things about KWK. However, in the market you cannot fall in love with a stock-- it does not love you back. You have to simply deal with what you see, and what I see looks disastrous in the short term. Would I buy this stock at a much lower price in the heart of a US recession? Yes, I might do that because I believe emerging market demand will eventually push natural gas prices up to more normal levels. Typically, natural gas prices are 1/6 to one 1/12 of the price of oil. In energy terms, 1 barrel of oil is roughly equivalent to 5.8mmBTU (or 5.8mcf). This makes the norm of 1/6 to 1/12 appear sensible.
As the world energy demand increases, the world will pay a lot more attention to the energy content again. The current price is just an anomaly due to a huge surge in new prolific unconventional natural gas fields in the U.S. The NATGAS act, which may be enacted as soon as this spring, will eventually engender natural gas use in trucking and some autos. The planned new LNG liquefaction terminals for exporting natural gas will eventually allow the U.S. to export any excess natural gas it has.
Note that the U.S. currently has no LNG export capability (only import LNG gasification terminals). China, India, Japan, and Europe will be happy to buy U.S. natural gas for much higher prices than it is sold at in the U.S. Current prices in Japan are roughly $15+/mmBTU. An expectation of $8/mmBTUfor U.S. natural gas within five years seems very realistic. KWK would be very profitable at this price. You may wish to buy it back, assuming it survives the coming downturn. However, you can likely do this at a much lower price, and that is what a successful trader/investor will want to do.
Note: Most of the technical data about KWK are from TDameritrade and Yahoo Finance.
Disclosure: I have no positions in any stocks mentioned, but may initiate a short position in KWK over the next 72 hours.