In 2008, I became a Seeking Alpha contributor to introduce stocks with a low-risk / high reward profile. In late-2010, I shifted that focus to present stocks that have the potential to triple. Both strategies have proven very successful. In this article, I'll discuss one of the strategies that can help you find stocks that are poised to triple.
Before we dive in, it's important to understand that "poised" is the key word. Not every pick is going to triple. However, if half of your picks double and the other half go nowhere, your average return is still 50%. At that rate, $20,000 becomes over $1,000,000 in just 10 years. This is because big winners are more powerful than big losers.
In the Seeking Alpha article "These Stocks Are Poised To Triple In 2012", you can see that my picks returned an average of 109% at their peaks. FYI, I use "peak return" to illustrate the maximum returns that could have been generated from these picks. You can debate whether this is an optimal performance metric-- I won't argue. But consider this -- if given a list of stocks that average a peak return of 100%, could you profit from it?
Of course, finding stocks that are poised to triple isn't easy. For me, twenty years of experience in the Tech sector has proven beneficial. But you don't have to be a technology (or biotech) expert to find big winners. In fact, all you have to do is pay more attention to the world around you.
When I launched Pipeline Data in 2004, one of our first picks came when I noticed someone in the street carrying a strange white device with a white circle in the middle. I took note of it and carried on. About a week later, I saw another white-circled device in public. This time I asked what it was. "It's an iPod. It's awesome!"
I knew about Apple (NASDAQ:AAPL) going back to the early-80s, but the company had been in a rut since 1987. Thus, the iPod hardly attracted anyone's attention. However, by simply staying alert, I picked up the beginning of a trend. Pipeline Data picked up coverage on the company and the rest is history (for Apple and Pipeline Data).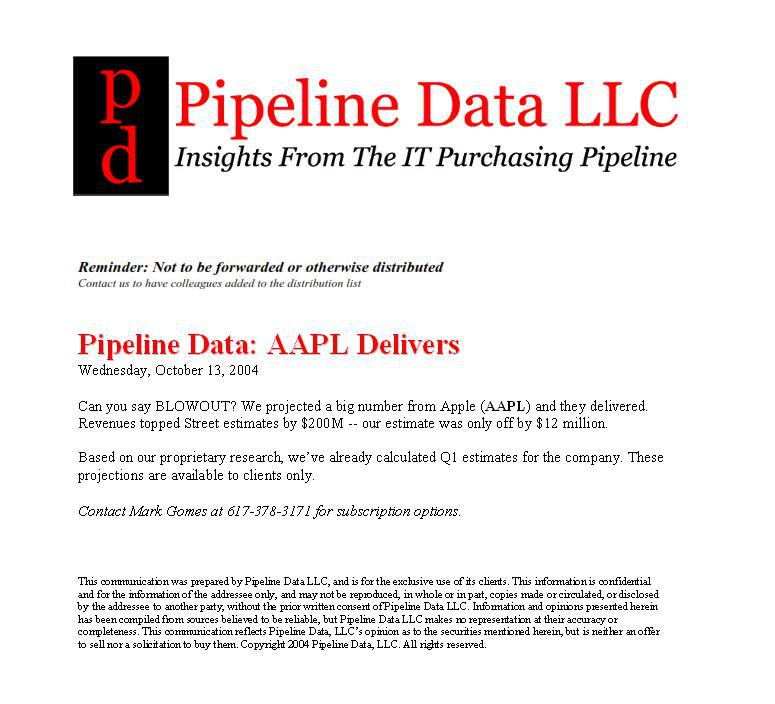 New crazes don't start every day, but they do start often enough to help you become rich. Netflix (NASDAQ:NFLX), Green Mountain Coffee Roasters (NASDAQ:GMCR), Uggs, Crocs (NASDAQ:CROX)x, Monster Beverages (NASDAQ:MNST)…the list goes on. In each case, all you needed was to notice the growing trend before the mainstream media did.
At present, Zumba Fitness is definitely a hot trend. According to the company, over 12 million take Zumba classes every week. According to Google Insights, Zumba Fitness has been on a torrid growth path since 2009. To date, the company remains privately-held. However, a few years ago, publicly-traded Majesco Entertainment (COOL) took a chance and obtained the rights to license the Zumba brand for a line of video games. The bet has paid off. To date, COOL has sold over 6 million copies of Zumba Fitness video games for the Wii and Xbox Kinect. The stock has been on the rise and it seems to just be getting started.
More recently, Lions Gate Entertainment (LGF) latched onto the Hunger Games craze, just before it took on a life of it own. As a result, the stock is up more than 50% this year. Most people who read the books saw the success coming a mile away (it was first mentioned to me over six months ago).
Even more recently, Leapfrog Enterprises (NYSE:LF) has been trying to catch lightning in a bottle with its LeapPad Explorer. The LeapPad might emerge as the iPad for children. However, the company had a hard time keeping up with demand over the holidays, which slowed its momentum. A Google Insights chart for the LeapPad shows this. Will the Leapfrog overcome this early speed bump? Consumers like you (and people you know) will vote with your wallets. That gives you an advantage compared to investors who wait for earnings reports by the media.
You can get in on the ground floor. All you have to do is keep your eyes and ears open. Not on CNBC, but in real life. Peter Lynch said it best -- "Invest in what you know". What he didn't mention is that you can make a LOT more money if you catch on early.
If you think you've seen the next big thing, shoot me an email on SeekingAlpha.com. If I agree, I may write it up and add it to my 2012 list of Stocks That Are Poised To Triple.