The stock market continues to rally, which is lowering dividend yields and making it harder to find good value. So it is important to look for companies that have a very good chance of raising their dividend substantially in the future.
One such company is National HealthCare Corporation (NYSEMKT:NHC). With a dividend yield of 2.6%, strong earnings growth, and a bright future NHC could be raising its dividends for a long time to come.
NHC Profile*:
National HealthCare Corporation operates and manages long-term health care, retirement, and associated assisted living centers, as well as provides home health care and hospice services in the United States. It provides subacute skilled and intermediate nursing and rehabilitative care services; inpatient and outpatient rehabilitation services; senior living services; home health care services; management services; hospice services; and management, accounting, financial, and insurance services to third party owners of health care facilities.
*Profile taken from Yahoo Finance.
NHC:

Div Yield

1 Yr Div
Growth Rate

Annualized 5 Yr Div
Growth Rate

2.6%

7.1%

13.3%

Payout Ratio

Last Year Dividend Was Cut

30%

2004
National Healthcare Corporation is in a growing sector. With the population aging and no sign of Americans becoming healthier on average, they are in a growth industry. As a testament to this, their three year earnings per share (annualized) growth rate is now 23%.
NHC has a reasonable dividend yield of 2.6%. Their one year dividend growth rate is solid at 7.1% and their five year dividend growth rate looks even better at 13.3%. However, their dividend payments have been more erratic than I like to see. They cut their dividend in 2004 and the growth rate has been inconsistent. On the plus side, the payout ratio of 30% is where I like to see it since they have plenty of room to increase their dividends even if earnings struggle.
It is not necessarily obvious how investors will fare if they hold onto NHC for the next 10 years, receiving not only the dividend, but a growing dividend over time. It's important to analyze scenarios for such a company where we look at the dividend yield and growing dividends. I ran the following scenario on our publicly available calculator called Total Returns- Dividends Vs. Price Appreciation. If we buy 1,000 shares today, apply a dividend growth rate of 7% over the next 10 years, reinvest dividends, and assume the price of the stock does not change, we get the following:
Inputs:

Investment

Dividend Yield

Growth of
Dividend (Annual)

$46,000

2.6%

6%

Outputs:

Total Return

Annual Return

FV Dividends

FV Investment

41%

3.5%

$18,860

$46,000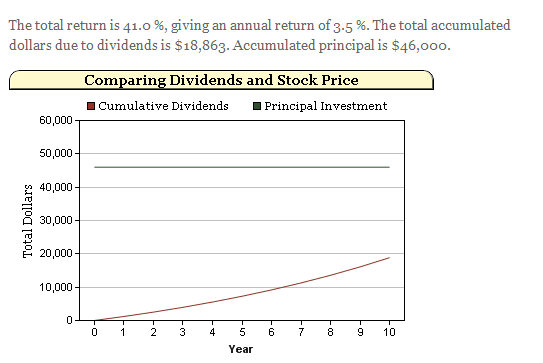 The annual return in this case is 3.5%. I've also included the future value of the dividend income stream compared to the future value of the initial investment. The dividends accumulated to more than $18,000 over the 10 year period. Looked at another way, the price of this stock could fall by 40% during this period and the investor would still break even. Now let's take a look at what happens over 20 years:
| | | | |
| --- | --- | --- | --- |
| Total Return | Annual Return | FV Dividends | FV Investment |
| 145% | 4.6% | $66,828 | $46,000 |
The annual return jumps to 4.6% even with no growth in the stock price. Also notice that the total dollar value of the dividend payments is larger than the value of the initial investment. That is the beauty of high dividend paying stocks over time. The initial investment becomes less and less important.
Dividend paying stocks can also help a retirement plan immensely, especially vs. low-yielding treasury bonds. I plugged in the 4.6% total return figure for a portfolio into our retirement planner in place of the treasury bonds that were there before.
I found that if a typical 55 year old couple with $400,000 in assets moves 50% of their funds from treasuries to dividend payers that give them a 4.6% return, over ten years they will have increased the time that their funds last in retirement by over ten years.
Scenarios such as the ones I've run here can help investors understand the power of dividends over time, especially when those dividends are growing.
Disclosure: I have no positions in any stocks mentioned, and no plans to initiate any positions within the next 72 hours.