In Search Of Dividend Growth: Dividend To Free Cash Flow Ratio
One of the most reliable means of assessing a company's financial standing is its free cash flow [FCF]. It is a measure of financial performance, obtained by subtracting capital expenditures from operating cash flow:
FCF = Operating Cash Flow - Capital Expenditures
The FCF is the cash that a company can generate after accounting for the money required to maintain and run the business. More exactly, the capital expenditures in the formula are the expenditures necessary to maintain growth at the current rate. This highlights the significance of FCF as an indicator of a company's financial flexibility and strength as this cash is available to be used for dividends, share buybacks, reducing debt, growing the business beyond the already planned growth rate, or otherwise enhancing shareholder value.
The objective of this article is to start with a large list of dividend growth stocks; eliminate those with a current dividend yield of under 3%, and try to find the ones with the best potential for maintaining and increasing their dividends in the future. The companies with a low-dividend-to-free-cash-flow ratio have disposable cash to spend as they see fit. The list of companies we start with have shown the inclination to increase their dividends regularly and consistently, so the ones with excess cash are more likely to continue to do so. Therefore, we will utilize the dividend to free cash flow ratios and the payout ratio in achieving our goal.
Pros and Cons of Dividend-to-FCF Ratio vs. Payout Ratio
With regards to dividend growth companies, two metrics are most commonly used to judge the ability of a company to maintain and increase its dividends in the future:
Dividend-to-Free-Cash-Flow Ratio
The Payout Ratio (Dividend to Earnings Ratio)
Here I examine the advantages and disadvantages of the two metrics by playing both sides of the argument. The proponents of dividend to FCF argue that free cash flow is a better measure as it is more difficult to manipulate than earnings since it is not susceptible to accounting tricks. They also argue that it is possible for a company to show positive earnings but have a negative free cash flow. This could indicate a company in financial trouble as it does not have available cash for operations and could be at risk of bankruptcy if it is unable to raise cash.
The proponents of the payout ratio argue that the earnings is a more reliable and consistent indicator than FCF since it is a smoother metric. FCF numbers are lumpy due to the uneven and periodic nature of capital expenditures, so FCF could swing widely from one year to the next. They also counter that like earnings, free cash flow can also be manipulated, such as by delaying or advancing the reporting of capital expenditures.
I personally believe both metrics are essential in the analysis and will use them in conjunction with each other. However, I give a somewhat higher weight to the FCF ratio than the payout ratio.
The primary criterion for this search is the five-year average dividend to free cash flow ratio. This is the preferred metric as it smoothes out the lumpy nature of the variable and gives a better long-term picture.
Additionally, I will incorporate the trailing twelve month free cash flow as well in order to account for the company's more recent performance.
The Search
1. We start with the CCC List
This is a list of roughly 460 dividend growth stocks that have increased their dividends for the past five consecutive years or longer.
2. Current dividend yield of 3% or higher
This reduced our pool of stocks down to 225. Some notable eliminated names include: 3M Company (NYSE:MMM), Walgreen (WAG), Microsoft (NASDAQ:MSFT), Colgate-Palmolive (NYSE:CL), Wal-Mart (NYSE:WMT), Exxon Mobil (NYSE:XOM), Chevron (NYSE:CVX), Coca-Cola (NYSE:KO), McDonald's (NYSE:MCD), Norfolk Southern (NYSE:NSC), and Safeway (NYSE:SWY).
3. Dividend to free cash flow ratio (five-year average) of less than 55%
The lower this ratio the better, as that would indicate a higher denominator [FCF]. This is our primary condition and reduced the pool down to 47 stocks. Some notable eliminated names include: Waste Management, Inc. (NYSE:WM), H.J. Heinz (HNZ), Procter & Gamble (NYSE:PG), General Mills (NYSE:GIS), Nucor (NYSE:NUE), Pitney Bowes (NYSE:PBI), AstraZeneca (NYSE:AZN), Clorox (NYSE:CLX), Darden Restaurants (NYSE:DRI), Kimberly-Clark (NYSE:KMB), AT&T (NYSE:T), Pepsico (NYSE:PEP), and Hasbro (NASDAQ:HAS).
4. Dividend to free cash flow (trailing twelve months) of less than 60%
This shrunk the pool down to 24 stocks. Some eliminated names include: Consolidated Edison (NYSE:ED), Leggett & Platt (NYSE:LEG), Realty Income (NYSE:O), UniSource Energy (NYSE:UNS), and Northeast Utilities (NU).
5. The payout ratio of less than 65%
This is our final condition for good measure. This eliminated only three stocks, Verizon (NYSE:VZ), Empresa Nacional de Electricidad (NYSE:EOC), and Evercore Partners (NYSE:EVR).
Now we have our final selection, which happens to contain 21 stocks.
The Potency Score
The last column of the results table is the Potency Score (PS). The Potency Score System is a stock rating methodology designed for dividend growth stocks. The monthly stock lists have been published here since last October and the first performance update of the system's top picks can be found here: Performance Results. The methodology utilizes a multitude of fundamental data and essential metrics and their interrelations to calculate and assign a Potency Score to each dividend stock, thereby producing a ranked list of stocks. Empirical data as well as theoretical concepts with proven predictive value have been applied throughout the system.
The Potency Score is a measure of the long-term dividend return potential of a company. It encapsulates a company's most important fundamental metrics into a score, allowing easy comparison between stocks. The higher the score, the better the odds of higher long term dividend returns. A good way to get a feel for the Potency Score is to view it as a relative forecast of a stock's seven-year yield-on-cost.
The Results
Data as of close, Friday 03/09/2012
The list is sorted by the 5-year average dividend to FCF ratio
(Click to enlarge)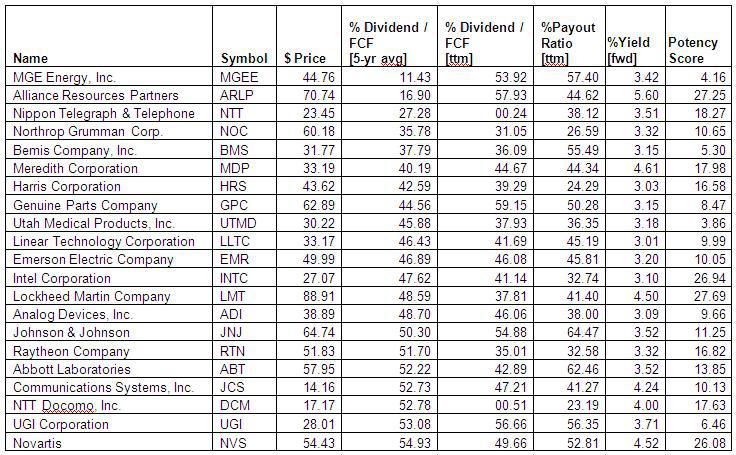 -
Disclosure: I am long INTC, LMT, JNJ, ABT, XOM, AZN, T.
Additional disclosure: I may initiate a long position in any of the stocks discussed over the next 72 hours.