My recent SA article, published 1 April 2020 entitled Trucks Operations Paramount to Food Security, provided a comprehensive overview on logistical challenges and food insecurity in the US. In this article, I will expand and will discuss its impact on food prices globally.
Extreme Meteorological Changes
Whether or not climate change is to be blamed, the fact remains that, during the past decade, more extreme, intense, and unusual once-in-a-century weather patterns have emerged such as floods and droughts that have severely damaged crops.
As the Covid-19 pandemic consumes the world and cripples global supply chains, the ability to either export revenue producing crops or import much needed foodstuffs for a hungry population is severely compromised. Such strains are resulting in markedly higher food prices.
Emerging countries are highly vulnerable, particularly Africa, which is suffering from a locust onslaught. Add in the decades-old problem of water scarcity (particularly clean, potable water) and lack of sanitation Covid-19 will continue to run rampant in these regions.
Global Supply Chain Logistics
The Financial Times article 25 March 2020 How Coronavirus is Affecting Pasta's Complex Supply Chain, outlines the global supply chain complexities with a chart explaining the routes:
Wheat is taken from harvest wheat in Canada.
It is shipped to Italy where it is turned into pasta.
It is then taken by ferry to the UK where it is transported by trucks to distribution centers.
From there, it is transported by truck to supermarkets.
To paraphrase the challenges in this global supply chain:
Chokepoints: Borders close, disruptions at ports.
Labor shortage: Production/distribution staff fall sick, truckers refuse to drive.
Labor-intense food crops such as fruits & vegetables vs mechanized crops like wheat. with harvest season soon arriving.
The aforementioned article provided the estimated seasonal harvest workers required in three European countries. I've created the following chart for easy reference:
| | | |
| --- | --- | --- |
| Country | Workers Needed | Worker Countries of Origin |
| France | 200,000 | Eastern Europe & North Africa |
| Germany | 300,000 | Romania, Poland, Ukraine, Bulgaria and Hungary |
| United Kingdom | 70,000-80,000 | Romania and Bulgaria |
Schengen Area has barred external visitors for 30 days with many European countries closing their borders. The US challenge is the issuance of visas to seasonal Mexican farmworkers. In sum, these factors point to a considerable increase in food prices.
USA: Consumer Food Hoarding
In response to nationwide lockdowns of undermined duration, Americans have wisely stocked up on foodstuffs. The follow chart entitled Americans Stock Up On Food As Covid-19 Concerns Rise 22 January 2020 provided by Nielsen Retail Measure Services and presented by Statista, an online German statistical service, breaks down the non-perishable food items purchased: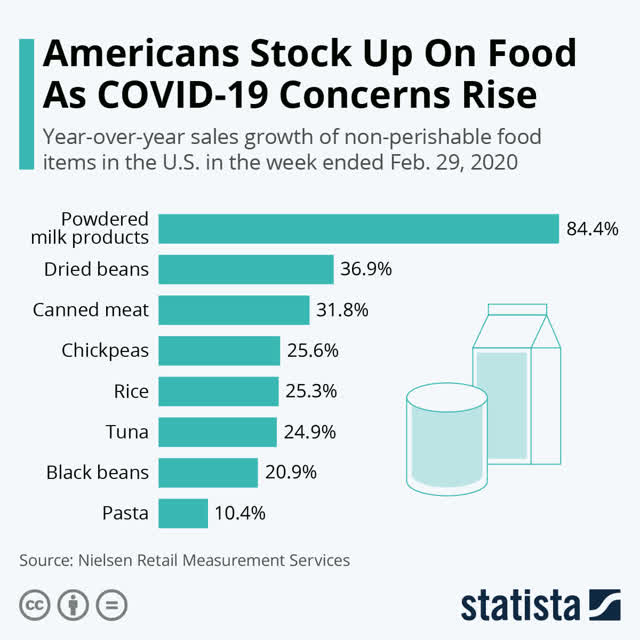 Africa: Locust Swarms Decimate Food Supplies
According to UN reports as presented by The Wall Street Journal article 31 January 2020 Africa's Worst Locust Plague in Decades Threatens Millions, the cause of the locust plague is due to heavier than normal rainfall particularly in areas that are traditionally semi-arid which create favorable breeding grounds.
The UN report indicated that 23.6 million people in the region suffered food insecurity prior to the locust infestation. Eradication is difficult because of lack of funding and that the infestation occurs in regions controlled by militants. The report added that, if left unchecked, the locust swarms could grow 500 times by June 2020.
Finally, the report stated that this has had a deleterious impact on government revenues from crop harvests. For example, Kenya is one of sub-Saharan Africa's leading exporters of fruits & vegetables, and reducing their grain harvest is one of the considerable factors which have increased food prices.
Recommendations
As increasingly more consumers worldwide purchase food for a possible prolonged lockdown, food prices will increase further. For this reason, a good place to consider such investments is the Chicago Mercantile Exchange (CME) which provides indices for the world's key food staples such as wheat (ZWK20), corn (ZC) and Rice (ZR).
Because of the aforementioned dynamics, these indices will most likely become quite volatile throughout the spring and summer, which is why these investments are more suitable to the intrepid, quick and nimble investor.